One of the big loves of my life is reading. I can do without television quite easily but I could not manage if I couldn't occupy myself with something to read. I have shelves groaning with books and magazines are stacked in piles… I have an  eReader so I can read when I can't carry piles of books with me and when I can't read, (because I'm driving, say) I listen to audio books. So maybe it's not reading? Maybe it is that I don't need the visual stimulus of pictures… I just need the words and my mind fills in the gaps.  So, maybe I should say one of the big loves of my life is writing.. that is, writing done by others.
It has to be good writing though, so that I stay interested. I will, honestly, read almost anything, from any genre, but as you'd imagine a big part of my reading involves food – cooking it, eating it, growing it, preparing it… telling stories about it.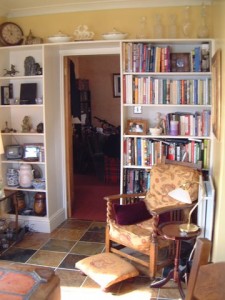 I have shelf after shelf of cookery books. When I'm in the north, I love to sit in that chair, with a cup of green tea, steaming quietly beside me as I read recipes or books on food writing –  from Brillat-Savarin's "The Physiology of Taste,  or transcendental gastronomy"  – he, who famously wrote, "tell me what you eat and I will tell you who you are" and described the first version of what became, in essence, the low-carb diet. Brillat-Savarin (1755-1826) believed that white flour and sugar made you fat and prescribed protein rich meals. If you haven't read him yet and you're curious you can read it for free online, thanks to the University of Adelaide or on Project Gutenberg, or, you can do as I did, and buy a copy.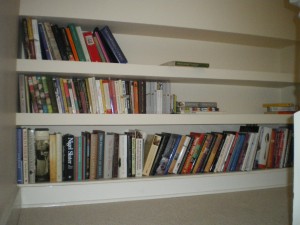 I love reading modern cookery writing too and I have shelves of that in the apartment… that's a picture of the shelves when I had only half unpacked and there's 132 books there. The shelves are full now. Those shelves are half way up the stairs and I sit there, leaning against the wall, reading whatever takes my fancy.  Probably my favourite book of all time, MFK Fisher's The Art of Eating, an anthology of all her works is on that bottom shelf  and I regularly take it out and start reading it again. There are  fascinating books that the Bear finds on his travels and brings back for me because he knows I will love them. He found Laurie Colwin's Home Cooking when he was travelling through the USA and I know I wouldn't have stumbled on that easily but it is now one of my dearly loved books. He also brought home the wonderful Ruth Reichl's  Comfort me with Apples and that started me on a search through Amazon for more books like that.  The whole point of it is, I love to read something that makes me think, that captures my imagination and makes me explore just what it was they felt, what they tasted and what it meant to them.
When I'm not reading books, I'm looking on line and reading blogs and searching out great writers there, too. I was reading the fabulous Gin and Crumpets and something she wrote made me stop and think….it made my mouth water. Potato Focaccia, or as she says, a fancy chip butty. Who doesn't like a chip butty? Well, apart from Brillat-Savarin and his purely protein meals, but he's long gone, so it doesn't matter…
A soft and savoury focaccia with potato…. perfect. Imagine how that tastes…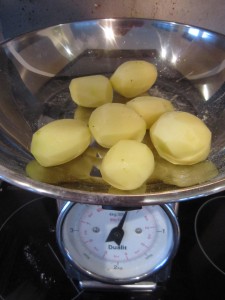 Gin and Crumpets had used, so I surmised from the photographs, smaller potatoes than I had and she'd left the skins on. I had a bag of my favourite Rooster potatoes  (excellent all rounders, good as either chips or mash or roast) so I washed and peeled 250g of them and cooked them in gently simmering water. You need them still to have some body about them as they are going to be cooked again on top of the focaccia, so don't boil them to death.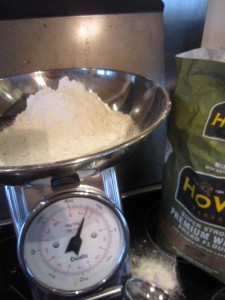 The next thing was to start on the focaccia so 350g of strong bread flour was mixed with one 7g sachet of fast action dried yeast, a teaspoon of caster sugar and two teaspoons of Maldon sea salt.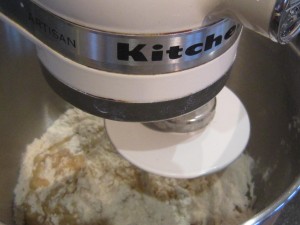 Four tablespoons of olive oil and roughly 150ml-200ml of lukewarm water need to be added to bring it together into a loose dough.
If you haven't got a mixer with a dough hook, just use your hands.  Drop it onto a floured board and upend the bowl over it to stop it drying out. Let it rest for a few minutes.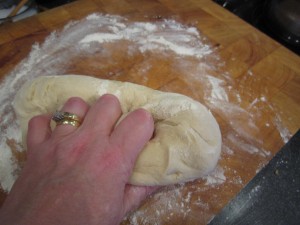 Then knead it… you'll feel it change into a beautifully bouncy, smooth and silky dough.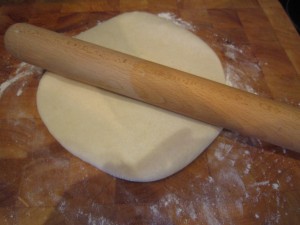 You need to roll it into a smooth oval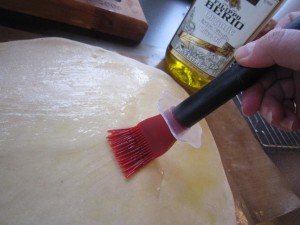 And then lie it on a silicone sheet, ontop of a baking sheet and brush yet more lovely olive oil over it.
Lay a loose piece of clingfilm over it and leave it to rise gently. That depends, of course, on how warm your room is but it shouldn't take too long.
Start the oven pre-heating to 210°C or 410°F and check the potatoes.
They should be tender so drain them and leave them to cool and then have a quick wipe round while you are waiting…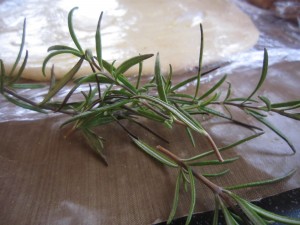 A sprig of rosemary would be good to add, so strip the leaves off the harder stems and chop them lightly.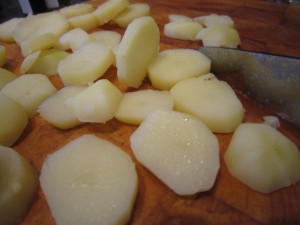 By now the potatoes are cool enough to slice without burning your fingers…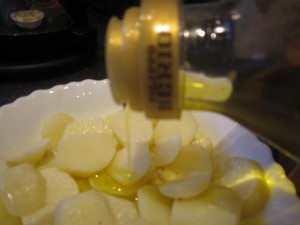 I drizzled the oil over the potato, in a bowl, so I got an even covering and each piece was glistening, then laid them on top of the puffy dough, sprinkling it all with the chopped rosemary and a sprinkle of salt…and into the oven it went.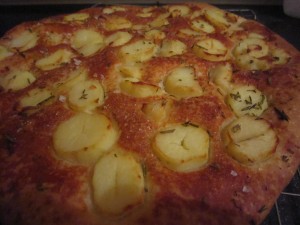 Just under half an hour later and this emerged… golden and glistening, smelling deliciously sweet and savoury – you know just what I mean…
The focaccia bread was light and aerated and the potato on top? It was heavenly… it really was like the best chip butty ever. The taste? The taste was sublime. The potatoes were soft with that sweetness that comes from being cooked properly and then baked, the salt and the rosemary made it savoury, the focaccia was warm and delicious. People looked at it, sniffed it and then tore at it…all of them saying how wonderful it was.
This is what you need to make for parties – it's warm and delicious and it will to help soak up the alcohol and keep people happy and cheerful….
…this is what you need to make it when there's just the two of you and a bottle of wine to share as you curl up on the sofa….
… and you need to make it when there's just you, needing something to sustain you through upset or cheer you through gloom or give you a much deserved treat on a cold Saturday night.
This is heaven.  Really, it is.