When I was back in the North, visiting the family, I went to the local butcher's and bought, amongst other things, a big piece of beef skirt – a long flat piece of beef from the underbelly of the cow. The French call it 'bavette' and seem to value it more than we do. It is really tasty ( and by that I mean REALLY tasty) and you can either cook it slowly to tenderise it or give it a marinade and cook it quickly, keeping it relatively rare and serving it as as a steak.
Well, it is the weekend…. steak and chips and a glass of red seemed an excellent choice.
I don't have a deep fat fryer because I really don't like the smell of frying circulating everywhere through the apartment and also because, coward that I am, I'm always scared it will catch fire. So the chips would have to be made in the oven. That's OK though, they still taste good. I suppose you could also say they were good for you because they aren't deep fried.. they're baked!
First, get your things together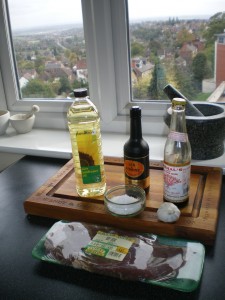 for the marinade – you need
 oil,
Lea and Perrin's Worcestershire Sauce
Soy sauce ( I used some Sweet Soy Sauce, because that was at the front of the cupboard. Otherwise use ordinary soy)
garlic
and salt.
Chop, or crush, your garlic. Mix it with 4 tablespoons of oil,  2 tablespoons of Lea and Perrins and 2 tablespoons of soy sauce. Add some salt. Give it a whisk together with a fork….
See this piece of wonderful beef skirt?  Maybe we should call it bavette, like the French. It sounds so much better, don't you think? And not expensive… this cost me £4.56. Look at the size of it!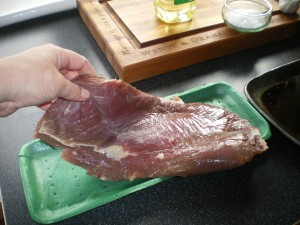 Then, with your fork, give your wonderfully inexpensive piece of beef skirt a good jabbing. This will help the marinade sink in…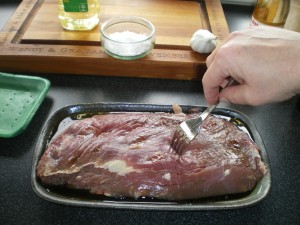 The marinade is essential to prepare it for a quick grilling – that keeps it tender.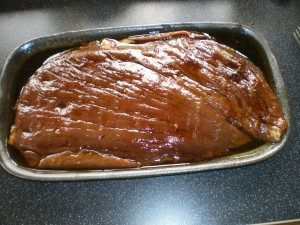 Leave it for a couple of hours (though if you were incredibly organised you could even leave it to marinade overnight. I'm not, so I can't really tell you if it makes it dramatically better. Two hours works fine for me) Keep turning it so it gets an even marinade.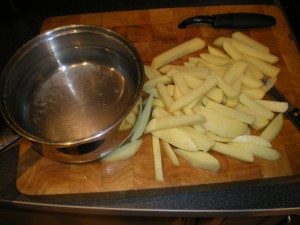 Peel and cut your spuds into chips.
Then boil them for 3 or 4 minutes in salted water, drain them and shake them dry.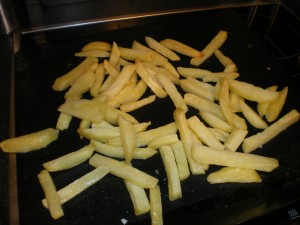 Sprinkle them with oil and a shaking of salt ( I always use Maldon because I love the large crystals and I think it tastes 'cleaner' than ordinary table salt. I'm sure there's a bit of a chemical tang to pouring salt but maybe that is just me being pretentious.)
Make sure the chips have a light coating of oil by rolling them about a bit on a greased sheet and then put them in a hot oven – 170 degrees or so. Because you have partly cooked the potato it will only take about 15 to 20 minutes to cook properly and brown to a delicious chip crispiness.
Now…. heat your grill till it is as hot as it can go. The aim is to get that steak cooked as quickly as possible, leaving the inside pinkish. That will keep it tender. Whack it on the grill and cook it for 8 to 10 minutes, turning it once. It will be gorgeously, glisteningly brown and still pink in the middle.
While that's cooking, you have enough time to make a delicious garlic sauce by chopping some garlic finely, heating it in 4 tablespoons of butter and adding a teaspoon of Worcestershire Sauce. Simmer it gently and get ready to put everything together…..
Take the steak out and slice it across the grain – that's the short side… so it looks like this….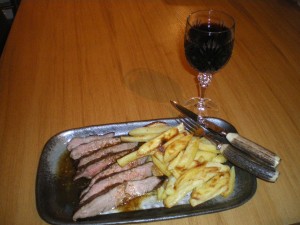 Pile your chips up.
Put the sliced steak on the plate and pour some delicious garlic sauce over the meat.
Pour a glass of red wine.
Remember to wipe your mouth afterwards – that will remove the garlic sauce that may have dribbled and the self satisfied smirk that will be all over your face after making such a delicious meal for two for just over £5.