Remember the polenta? How I said I had an idea for it? Because I'd made a big pan full of it?
Well I also had some broccoli…. and this was Saturday. The Bear was still away and, therefore, unable to kick up a fuss about me making something with broccoli in again. You can just hear the sigh in his words…. "oh not again…"
I'm sure I read somewhere that if you eat something you dislike ten times then you will learn to like it. Perhaps he is just a very slow learner? I don't know. I keep feeding him broccoli. It has to have been more than ten times now, surely?
Admittedly he has stopped clenching his mouth shut and turning his head away in disgust as I try and make him eat it, but he just WON'T give in gracefully. Still, he wasn't there and I could do what I liked!
When I made the polenta, I poured the majority of it into in silicone paper cake liner, in a springform tin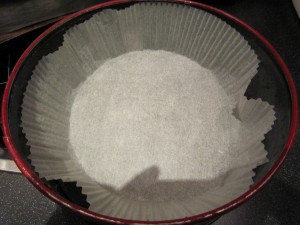 (Whoever invented these deserves a medal… the hours they have saved people cutting and snipping at baking parchment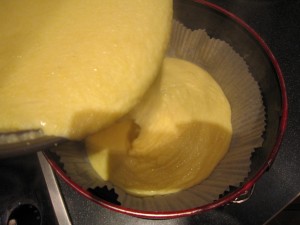 I needed it to set… which it did, overnight.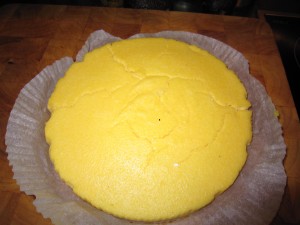 All I had to do was prepare some broccoli…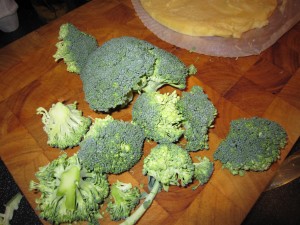 I only used the florets this time – the stalks can be used elsewhere  (I'm fancying Broccoli Slaw later this week) – and put them in to steam, with some chilli oil. A quick way of doing this is to rinse the broccoli, shake off most of the water and put it in a bowl. I drizzle it with chilli oil and then cover the bowl and put in in the microwave for a minute or so on high. This is just enough to soften it and give it a gentle chilli bite.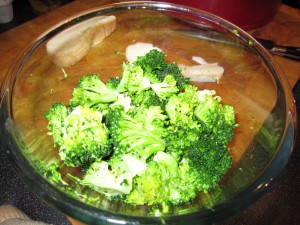 While that is going on, I slice the polenta "cake" in two with the bread knife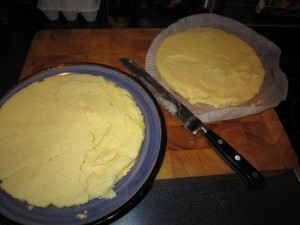 And then (actually, this bit was quite tricky, but I did manage) get the base back in the tin (I put extra tin foil in because I thought the etxra fillings might run out…..)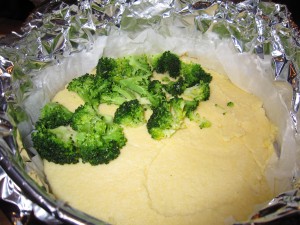 I laid the bright green semi cooked pieces of broccoli on the base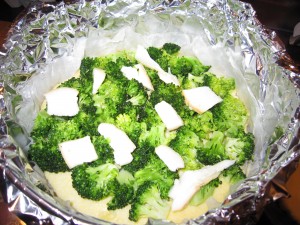 Just because you can… and because you know it is going to make this taste more delicious than anything else….. add a few bits of Tallegio cheese.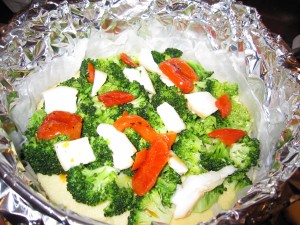 I had some roasted peppers in a jar, leftover from when I made pork and pepper goulash, so I layered them between the broccoli florets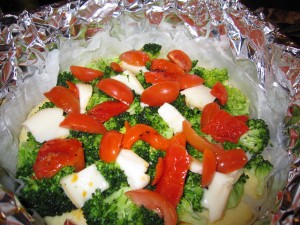 And then added tomato – I thought some quartered little Pomodorinos (tiny little plum tomatoes) would lighten up what is , essentially, a large wodge of polenta and cheese.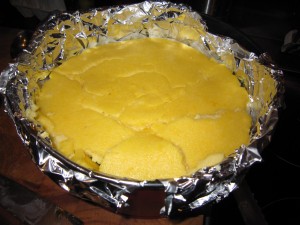 Flip the top over and on to… it might crack or break but don't worry… it will all come together in the heat of the oven
And bake it at 175 degrees for maybe half an hour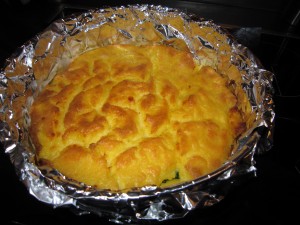 Just look at it!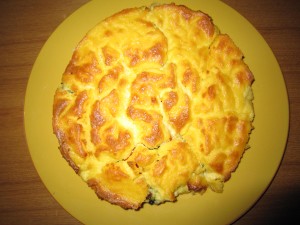 Doesn't that make you feel like smiling? That gorgeous colour? The smell of delicious melted cheese and vegetables?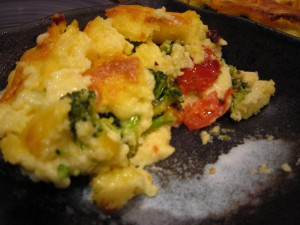 Absolutely perfect with some green leaves.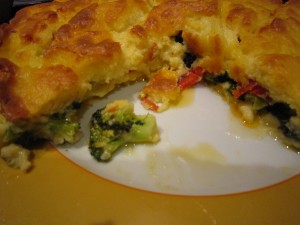 Major plus points – it is gluten free, quick and easy to make, and doesn't cost a lot at all.
In my eyes, though? Best of all? It's got broccoli in it!