At the end of a long and tiring week, when it gets to Friday night, I really don't have the energy to go gallivanting around town. I must be getting old, I suppose, or maybe it is that I really like my home… my sofas, the peace and quiet, the comfort…
I want to come home, sit down and pour a glass of wine, safe in the knowledge my alarm is NOT going to go off at 5.50 am.
And of course, any glass of wine that I pour will be much better than some extraordinarily priced glass bought in a bar, so the pleasure of that  is heightened as I sit there, relaxing. Of course, it is better when the Bear is at home because then we can sit together and talk about the week… but it is pretty darn good when it is just me!
I don't just sit and drink wine though, I need to eat, too. I need something nice and easy… I need something that will restore me after a full week's work …. the best option?  Something savoury and delicious… it could, occasionally, be a takeaway from our local Chinese, but tonight I fancy something  carb laden and heavy on the cheese.
Cheesy polenta, in fact!
I've been thinking of perfecting more gluten-free dishes – my brother is badly affected (though not coeliac) and one of my dearest friends was diagnosed relatively late in life (in her thirties!) as coeliac. As I adore both of them there's every chance that they will come and stay, so I need to be up to the mark should they arrive. The fact that A, my friend, recently moved to the USA, means she is less likely to turn up on the doorstep  but you never know.
So, tonight is not just about sheer self-indulgence – it is about making sure I can make something for my darling brother and my dear friend. The fact that sheer indulgence and a full tummy are the results… well, that is just a bonus!
First, look through the fridge for any cheese that you have – I have some parmesan that could do with being used, some cheddar that needs some surgery (just cut off the mouldy bits, that's fine) and a lovely bit of Italian Tallegio (all soft and rich and creamy)
Get  your polenta out, and a large pan.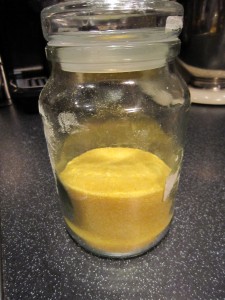 I always have polenta in the house because apart from using it in a polenta recipe (obviously) it is also brilliant for using to dust the outside of the fabulous No-Knead Bread 
When you make polenta to eat, you will need one measure of polenta and four measures of liquid.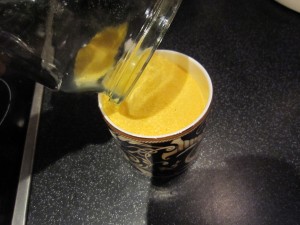 I'm just using a mug here – that's going to make one big, gorgeous portion of polenta for me tonight… some for breakfast (don't grimace like that, it doesn't suit you!)  and enough to make a huge polenta flan. All of that will be revealed in posts to come. If you just want to make enough cheesy polenta for, say, four people, you will only need half a mug. (And, therefore, 2 mugs of liquid.)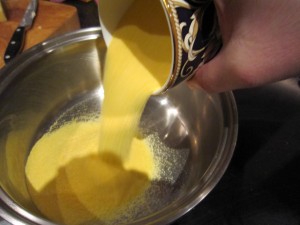 Pour it into a large pan (this will need a large pan) and then add 4 cups of liquid… I am using half milk, half water. You can use plain water… but I am going all out for luscious comfort tonight.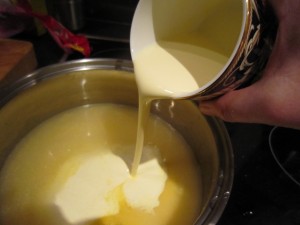 Stir it round so it mixes smoothly and start heating it.
Polenta is rather lovely to make… I  stand there, quite calmly, stirring. It is almost a meditative experience.
Do be careful though – it is so thick that when it gets up to the boil it has a nasty habit of spitting violently at you, if you aren't stirring it.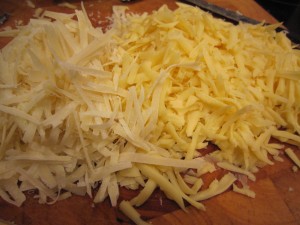 Grate your odds and ends of cheese. I dare say an Italian person might have ideas about what sort of cheese, but I am being very economical and using up all the bits and bobs in the fridge. There's that cheddar I told you about and some parmesan…. you are looking for a huge mound of cheesy goodness.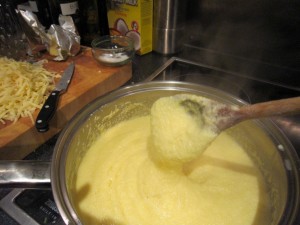 By now, the polenta will have thickened beautifully and be glugging away – when you lift the spoon and drag it, it will leave trails behind it.
Now add handfuls of cheese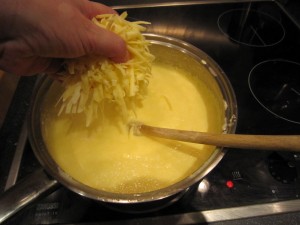 Stir it in… all of it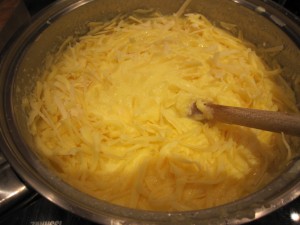 .. and watch it melt into the polenta.. becoming part of the polenta….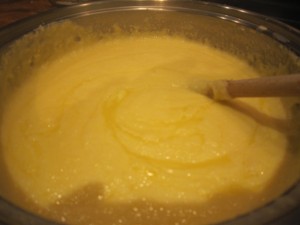 And, as I believe I may as well be hung for a sheep as a lamb, I drop in a chunk of butter and watch that melt into swirls…
Remember I said I had some Tallegio? It's a beautifully soft cheese with a rind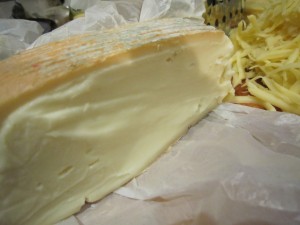 I don't want to stir that in but I do want it in there… so what I do is cut a slice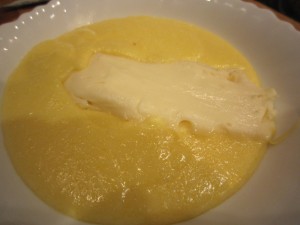 and after putting some hot and steaming polenta into a bowl… lay the slice on top and then cover it with more polenta.
Imagine that – a beautiful, creamy, extra cheesy surprise, melting secretly in your bowl….
Now, polenta by itself is a delicious supper, but I happen to have some roast pork with crackling left over… so a slice of that on the top will be perfect. Those that don't eat meat will still be ecstatic at a bowl of polenta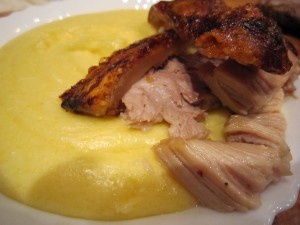 Well!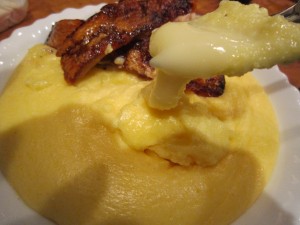 And that Tallegio? Look how it has melted perfectly.
All you have to do now is return to the sofa, bowl in hand, and tuck in.
Friday nights, eh? Who needs to be rocketing about town, spending lots of money when you can be at home eating polenta?