I remember when I was younger, before I learnt how to cook, I used to think it was perfectly sensible to open a can of soup. I really had no idea how easy it was to make soup, nor how much tastier it could be.
I grew up in the decades that considered the launching on the market of a frozen, crispy pancake for frying at home to be a pretty exciting development. When I was  young, most families didn't think it strange  to have cans of soup and there was nothing finer in our young eyes than having cream of tomato soup.
On Sunday nights my brother and sister and I would get things ready for school the next day and, as a treat, we could have supper while we watched television… now that WAS a treat. For every other meal, we ate in the dining room, at the table and television was banned.
Because we had had the traditional Sunday lunch – either at home, or at our grandparents, a two hour drive away across the North Yorkshire Moors – we would have a light, later supper than normal.
Imagine how exciting it was for the three of us to sit down to watch "Planet of the Apes" while Ma heated the tomato soup and spread Ritz Crackers with Philadelphia Cream Cheese and topped them with thin slices of hard boiled egg……. remember those egg slicers?  Sophisticated, huh?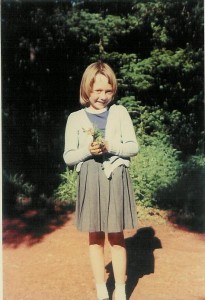 Of course in those days, I was a skinny kid, with knock knees…….. anything was sophisticated.
But how we loved those Sunday night suppers.
I was thinking about the tomato soup and how deliciously rich and tasty it was and how sometimes, as a variation,  we would have tomato rice soup and I thought that maybe I could try making my own version. If I made it myself I would know exactly what went into it and I'd be able to keep an eye on it for the calorie count… with a bit of imaginative taste tweaking I could keep it low calorie….
Tomato soup needs tomatoes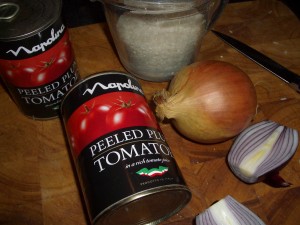 A couple of onions, 200g of  long grain rice, some stock… oh and remember the chilli oil I made? Those chillies have really powered up the oil they are loitering in and have softened beautifully – I shall have a chilli or two from there……… and to soften it all and make it rich and creamy?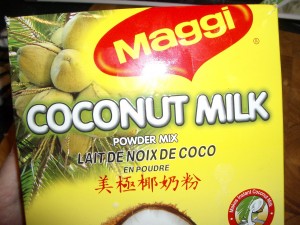 Some coconut milk powder – now this is a brilliant store cupboard ingredient. A spoonful added to spicy food gives a lovely smooth richness… and if chillies are involved, it calms down the heat and adds another dimension to the taste.
Get a large pan – this will make maybe 4 litres – and heat a spoonful of oil. I used the chilli oil and I put in two of the soft chillies.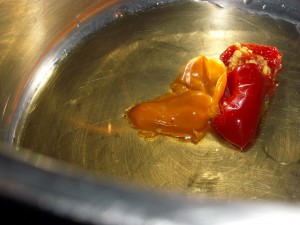 Putting the chillies in at the start means they don't frighten you with ferocious burning tastes.. the cooking softens their fire. If you are giving this to children, miss out the chillies and just use ordinary oil.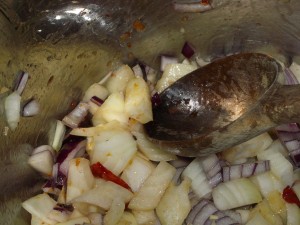 Peel and roughly chop the onion and add it to the oil to soften – don't have the heat too high, you want the onions to soften gently until they are translucent, not sizzle till they are golden and crispy.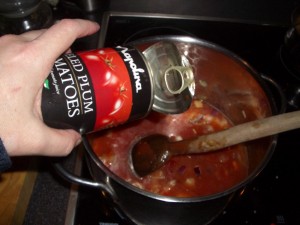 Put in two cans of Italian plum tomatoes – I really like the Napolina ones (and not just because they were on offer in the supermarket)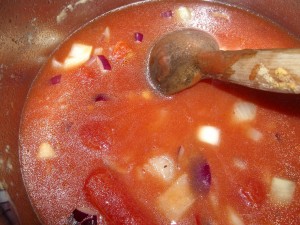 Rinse out the cans with water and add two litres of water with a couple of stock cubes, stir it round and let it bubble gently.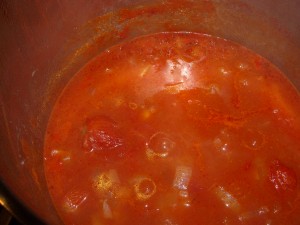 See how it gets thicker and a richer red?
You'll know if it is ready for blitzing smooth because those onions that you chopped will be tender if you take a bit out to check.
I have a stick blender and it truly is one of the greatest kitchen gadgets you can get. If you haven't got one, make sure it is next on your list of things to get – it really does make life so simple. Use whatever you have to whizz that soup base into a smooth and lucious pan of scarlet goodness.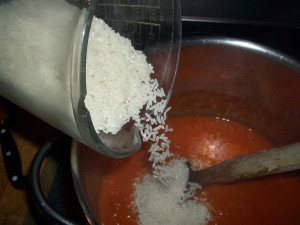 Then, pour in 200g of long grain rice and stir round.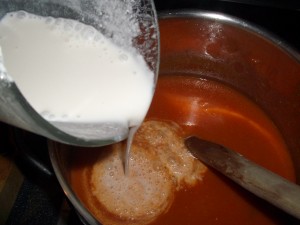 And remember the coconut milk powder? Mix a tablespoon or so in a jug with some cold water, little by little, mixing it smooth so you have maybe a quarter of a pint, and then pour it in.
Stir everything round and let it come back to a gentle boil.
The rice will cook in the tomato soup and thicken it brilliantly.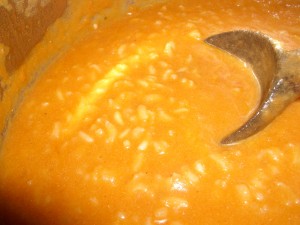 You might want to add some more water if you think it is too thick. I put in another pint jug full.
(Yes, I know I have been talking about litres but it was the old glass Pyrex jug that was nearest. And we all do it… I don't think we Brits have quite grasped metric. Ingredients have to be sold in metric measurements but babies come in pounds and ounces. Make of that what you will)
Check the taste and see if it is what you want. You might want to add a pinch of salt or maybe a pinch of stock granules.
Now for the good news. I sat with a pen and some paper and tried to add up all the calories – 700 or so for the rice. 145 for the coconut milk, 190 for two cans of tomatoes, 120 for the oil… a 120 or so for the onions..and then I looked at the huge pan, full of soup…. there was well over 5 litres there.  Less than 300 calories a litre!
How simple was that? Low in fat, high in taste. Quick to do.
Enough for us to take flasks to work for the next couple of days. And have some to share with friends.
If you were to have a really big mug full of it you would still be under 300 calories…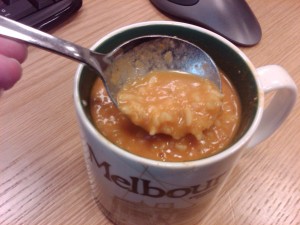 So, there I was at work… with a hot mug full of tomato rice soup… thick and tasty, rich and tomatoey. Still on my diet.
And still, just as I was all those years ago, staring at a screen in front of me. Except this time I wasn't watching "Planet of the Apes"
😉