One of the best things in the world is to be able to spend time with your friends.
And when one of those friends is someone you have known since you were eleven years old, well, it is even better. Let's just say that more than one decade has passed since we met. We could, in fact, be talking about decades in the plural. Several decades.
Be that as it may, it is J's birthday on Christmas Eve. This always gives me great joy because for a few short weeks she is, technically, a year older than me. The Bear and I always try to be back for J's birthday and it is something of a tradition of ours that she and K, her husband, come to stay on Boxing Day.
We cook for them and make it a special night.
I decided to do beef and chose one of the cheapest cuts – plate of beef.  I didn't choose cheap because I wanted to cut corners and costs, I chose it because it has the most incredible flavour.
Plate of beef is the cut from the cow's diaphragm muscles, the underneath of the cow, with the rib bones attached. A related cut is beef skirt that I use when I want to make  steak and chips. Plate of beef is fattier and tougher than skirt and the best way to cook it is to let is cook slowly for a long time and make sure you have some liquid to keep it moist.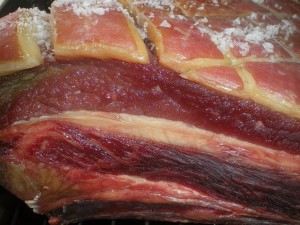 See the layers, interspersed with fat? They need to be cosseted in a low oven so the fat renders down and turns everything into a soft, juicy and unbelievably flavoursome piece of meat. A braise is a good way of doing it but I wanted it as a slow roasted piece of meat….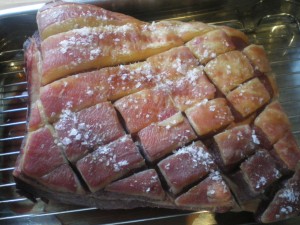 That's a big piece of meat for under £5. The butcher scores the outside so you just need to season it and choose something for the liquid not-quite-braise.
I stand the meat on a rack at first and pour over my favourite marinade – a mixture made with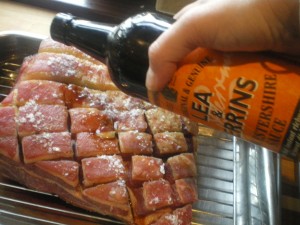 Lea & Perrins Worcestershire Sauce which gives it a sharper savoury flavour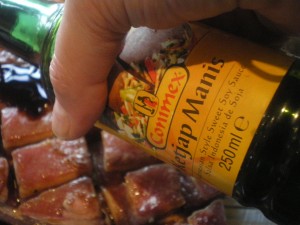 Some Indonesian Sweet Soy Sauce which adds a rounded sweet flavour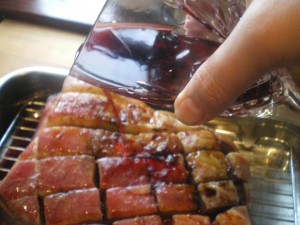 Half a glass of red wine… because, well, why wouldn't you? 
(The Bear saw me walking across the kitchen with the glass and was horrified at the thought I had turned to drink – it was, after all, quite a bit before midday and I was going to be driving)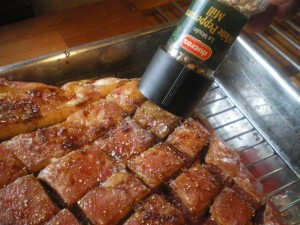 A grinding of white pepper finishes it off.
Pour a glass of water into the tin (not over the meat) to keep the moisture levels up and that's it.
This truly is a delicious marinade for meat – it seems to deepen the meaty flavour and none of the ingredients overpowers the others. It all seems to work really well together. Try it.
I put it in the oven at 1 pm, at 120 degrees C, covered with foil to keep the steam and the delicious juices in and then set off to do other stuff.
When we came back at about 5 pm it all smelled deep and meaty and hinted at juicy, glistening pieces of meat to eat later. The best thing about this cut is that is very forgiving in terms of time.
I took it off the rack and let it lie in the meat juices and marinade, then I just left it as it was until it was ready to finish off.
About an hour before we were ready to eat, I turned the heat up to 175 and took the foil off for the final 30 – 40 minutes.
I set the table and got ready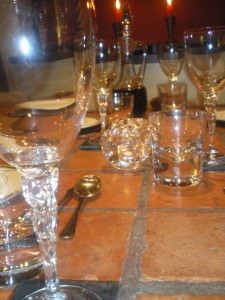 I was going to make the meal a simple one… just meat and some veg… but it was going to be marvellously tasty meat and veg.
Potatoes were parboiled and drained. If you do this in a colander, give them a good shaking so they roughen a bit and and then throw them into sizzling goose fat . I use a baking tray with an shallow edge on it and put a good two tablespoons of goose fat on it and let it heat up for ten minutes or so before I throw on the potatoes.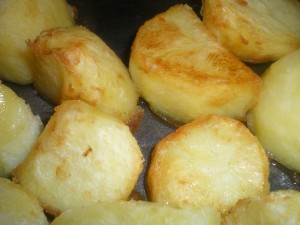 If they have had a bit of roughening round the edges, it lets the goose fat get in and make a lovely crispy and crunchy crust. The insides stay beautifully fluffy.  They just need to be turned so they brown all over.
I steamed some carrots and parsnips ( I had prepared too many batons the day before for Christmas lunch, but, kept in the fridge, they were still perfectly fresh and just needed a light cooking) and then tossed them in with the potatoes.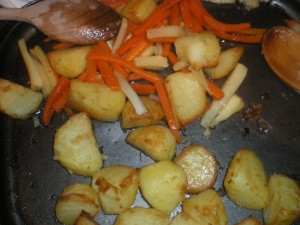 Time to start getting things ready.. so the candles were lit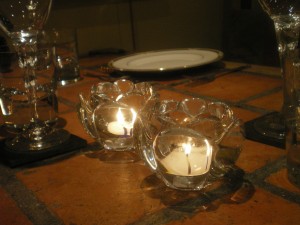 The meat taken out to rest. The pan was deglazed with another half glass of red wine – it sizzled  and spluttered and the meat juices and marinade turned in a gravy that was so delicious you might be happy drinking it.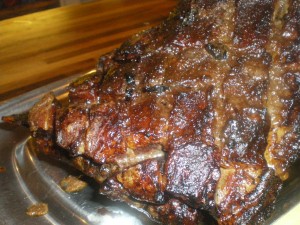 The meat looked fantastic.
The champagne was poured and the birthday girl was toasted (while I laughed quietly to myself because I am not as old as she is…… yet!)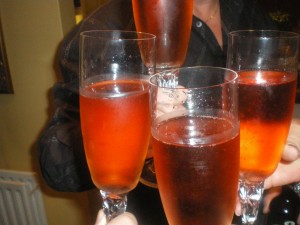 And the meat carved into great, luxurious slices of rich and juicy beef…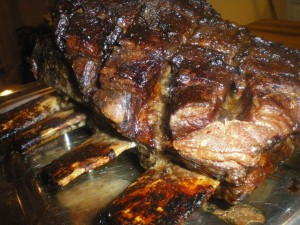 All I needed to do now is call the birthday girl to the table, and get everyone to join her for her birthday meal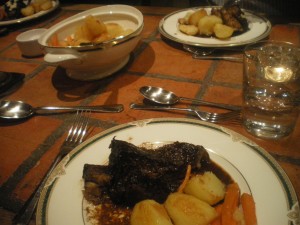 The plate of beef was considered a resounding success – it's an underused cut and perhaps people think it is tricky to deal with or maybe ordinary and boring. It was easy – a marinade, a slow cooking throughout the afternoon with a final burst of heat to finish it off. The flavour is incredible – rich, deep and complex. The essence of meaty beefiness.
Just because it is inexpensive doesn't mean it can't be part of a special dinner.
Find a decent butcher who will sell you this cut and try it yourself. You will be very glad you did.