Remember the crushed potatoes? That lovely perfect mix of crunchy and soft… savoury, yet almost sweet from the proper cooking of the carbohydrates? Now I think they can stand alone as a dish, and in an emergency, when you need something quickly then that is a great option.
I made them last week in under half an hour, but what I didn't go through at the time was what I served them with. I made roast lamb.
Now you know that time was of the essence that night, so what I had to do was to cook something really quickly. I think my favourite meat is lamb, so when I found the perfect quick-cook lamb roast I was in seventh heaven.
Lamb Henry is  a cut, like a shank but cut from the shoulder instead. You can cook it slowly, which is what all the recipes I have found suggest, or, do it like we do – cook it hot and fast!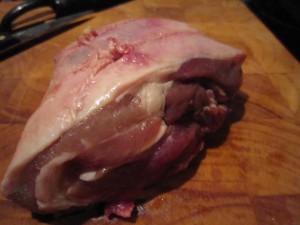 That piece there is more than enough for the two of us – it could easily stretch to three, I think, if I made more vegetables or just increased the potato – and guess what? It cost £2.96.
Now, imagine the pleasure of having a fresh, hot-roasted piece of lamb, mid week, cooked with the minimum of fuss and bother, costing less than a burger from a fast food joint, and ready in less than an hour. You'd be pleased, wouldn't you?
So, first things first, get the oven on to preheat – 180 degrees – and while that is getting up to temperature start on your potatoes and rub the skin of the little lamb henry with salt.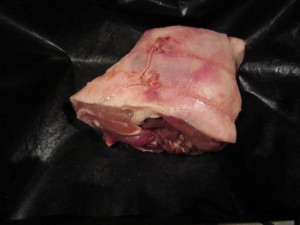 Straight into the oven with it, where it will stay, undisturbed for 45 – 50 minutes.
(You can pop the potatoes in if you are doing them, but they will need only 20 or so minutes)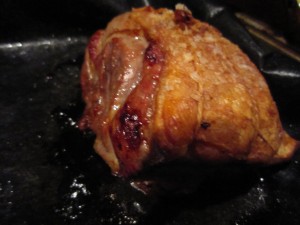 That's it after 45 minutes…..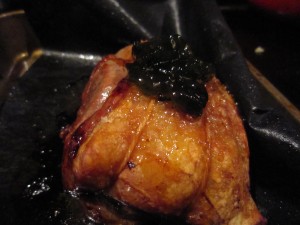 … and a nice thing to do is to put a spoonful of mint jelly on the top, maybe 5 minutes before the end. Or maybe redcurrant jelly?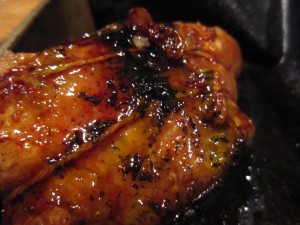 It melts over and bastes that little henry…..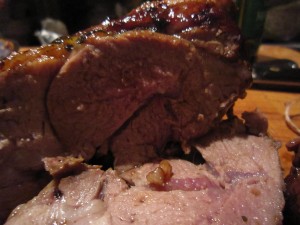 Let it rest for five minutes or so and then cut delicious slices of lamb.
Perfect with crushed and roasted potatoes……
Supper cooked from scratch in just under the hour. Each delicious portion costing less than £2. What more can you ask for mid week?