I think you could safely say that I am a fan of the spud.
I love baby salad potatoes boiled and with a lovely lump of salted butter melting slowly over them…or with a rich mayonnaise …or just steamed with salt and herbs.
I love floury potatoes baked slowly in the oven so they smell rich and delicious and cracking that hard outer skin reveals a steaming and fluffy middle.
I love chips either  eaten from newspaper on the sea front or par-boiled and then baked with a light tossing of oil in the oven in my attempt to lighten the fat load.
I love mash, passed through the ricer and whipped with butter and cream. I can eat it by itself as an antidote to sadness, exhaustion or disappointment.
I love roast potatoes, crisped and crackling from the oven to eat with meat, glistening and delicious.
I love fried potatoes in any of a myriad of ways… frittatas, say or as  sauté potatoes.
I love potatoes in a soup.
Or even in bread.
I think it's safe to say that if a potato can be used in a recipe, I want to  try it. And I probably have.
And then one day….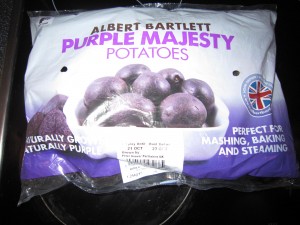 I saw these. Purple potatoes… and by golly, they were purple. Albert Bartlett's Purple Majesty.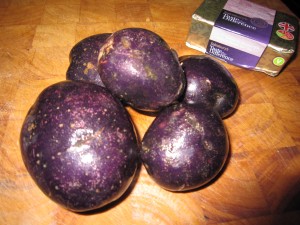 I had to try them because a) they were a potato and b) because they were pretty and purple. Also, I have to say, because Albert Bartlett's Rooster potatoes are my favourite all rounders. They are marvellous for mashing, baking and frying so I was assuming that if they had another kind of potato they would be worth trying.
I didn't use them the night I bought them and I thought I would try one of the recipes on the bag when I had a bit more time.
The next day was a day from hell, it really was. Work was piling up, I was tired and what was worse, the Bear was away so I got back to an empty apartment. I really couldn't be bothered to do anything at all and in a sulky, bad tempered fashion I looked at what was in the kitchen…. which was a bag of potatoes.
Now, I am normally very strict on how I treat potatoes – if they are to be turned into mash then they must be gently boiled  and then passed through a potato ricer to get mounds of fluffy potato that butter or cream can be mixed through. If they are going to be baked in their jackets then they must be scrubbed, pricked, rubbed with oil and salt and baked slowly in the oven so you get a beautifully almost dry potato when you break it open.
I'd never cook a potato in its skin in the microwave – that makes it wet  and solid. It doesn't smell right. And it certainly doesn't taste right. So I'd never do that. Never.
Except that night I was tired and evil tempered and quite frankly, my dear, I didn't give a damn. Besides, it was only me… and I desperately needed something quickly, so I washed a couple of the purple beauties, jabbed them with a knife and set them away in the microwave. I'd eat them and get to bed and maybe the next day would be better.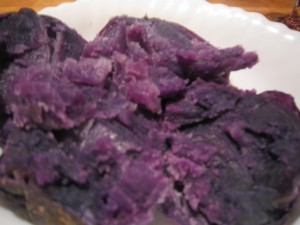 And then I got them out of the microwave and split them open. They weren't wet.
They were, in fact, almost dry (you know what I mean) like a proper baked potato. They certainly smelled nice…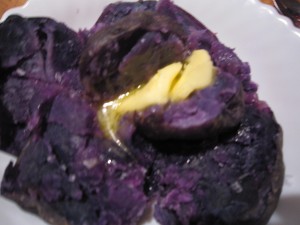 They were purple… definitely purple… and they tasted delicious. They have a lovely rich flavour.
I stuck a great big lump of butter in them and started to eat. I was wrong about microwaving potatoes.  I was so wrong that I put another one in the microwave and ate that after I finished the first bowl.
I really don't know how they do it, or how these potatoes are different  but this is the fastest way to have lovely jacket potatoes. So I did it the next night too….and the next. I finished the bag.
Next time you need a rapid baked potato fix, this could be the answer.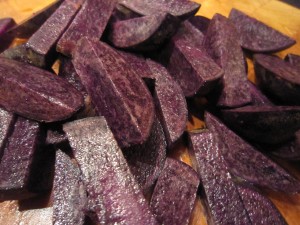 Then, when I had bought another bag and the Bear was home so I needed to do something more than just hand him a bowl of potato (no matter how delicious, he would want something to go with it) he asked if we could have chips.
Now I won't have a deep fat fryer because it scares me a bit – the danger of fire and all that. It would also smell and living in an apartment means that the smell of frying gets everywhere. Thing is, there's something quite delicious about chips…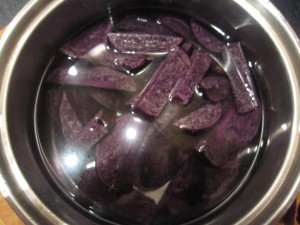 So what we do is cut them and then par-boil them for a few minutes till they are beginning to get tender.
(Look at the gorgeous colour of them.. I really do love that colour. Filled with antioxidants, apparently)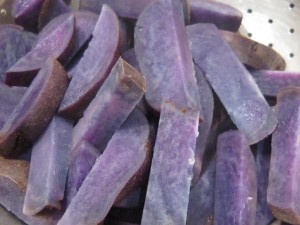 Drain them and shake them so the majority of the water is off them, although the heat will allow the moisture to evaporate.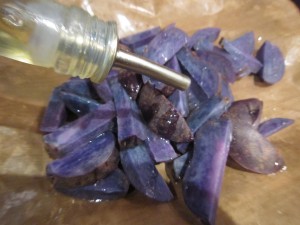 If you use a silcone sheet it makes cleaning up so much faster…. just lay the chips on a piece, which is itself spread over a baking sheet and sprinkle the chips with oil and then put them straight into a preheated oven say, 200°C or 390°F, to cook and to crisp up.
They need a stir or a shake to make sure that they are evenly cooked…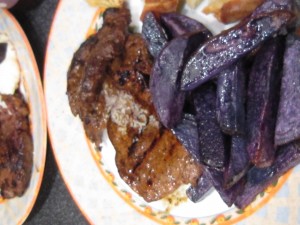 But when they are done?
They were lovely! Again they had that fluffy and very definitely not water logged middle, the outside was crisped and they have a really potatoey taste. I know that sounds a bit silly, but, you know, some potatoes don't taste of anything much. These had a depth of flavour that was almost rich.
The Bear, of course, looked at them oddly when I handed him his supper but he tried them… and ate them and asked if there were any more.
So, if you see a bag of purple potatoes, snap them up. Try them microwaved in their skins – you'll be surprised. Try them as chips….you'll love them. They are so tasty that we finished that bag by doing more chips and more microwaved potatoes…..I'm going to have to get another bag so I can go onto mash.
And then of course, another bag so I can start on the recipes….