I was on a roll with making food from my 400 and Under collection of recipes. I always look out for recipes that provide less than 400 calories per serving because that means we have some leeway with having a glass of wine, say, while still keeping our calories down and, therefore, still (theoretically at least) sticking to a diet. The thought of Moroccan spiced meatballs with egg in a delicious tomatoey sauce seemed too good to be true – a rich and delicious supper that would only add up to (according to Good Food Magazine, where I found the recipe) a mere 377 calories per serving.
It's diet food! And it would be delicious. Who wants to live on cottage cheese and celery when you can have a gorgeous steaming bowl of meatballs? Meatballs in a tomato and chickpea spiced sauce with a lovely egg cooked in there…….I had everything I needed so I started by chopping a small sweet white onion and a small red onion. That's because the recipe said one onion… and these were more midget sized onions.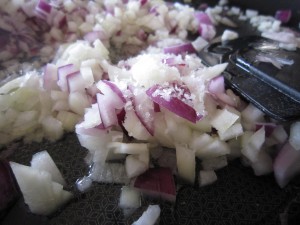 They went into the frying pan to soften while I started on the meatballs themselves. I did have one problem – I had no ground cinnamon and I needed that for a real Moroccan hit. I love the smell of cinnamon (and having made this recipe once, the next time I will add more cinnamon) I did have, however, cinnamon sticks and a large pestle and mortar…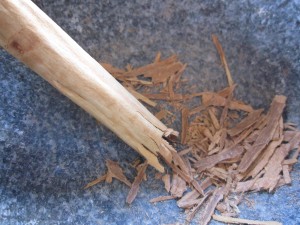 Quite therapeutic to bash and grind the cinnamon into a soft and fragrant powder. But possibly easier to buy it ground…..? I did manage to get some ground cinnamon but there were lots of bits of the stick left. Anyway, I did, in the end, after lots of pounding, finish up with half a teaspoon or thereabouts which I added to 250g of lamb mince.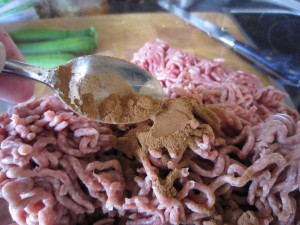 (Having made the dish I have to say that I would, when I do it again, add more than half a teaspoon of cinnamon because I so love that rich and exotic taste and smell. If you aren't as keen on Middle eastern flavours then just stick to the recipe)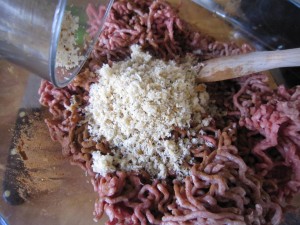 I added 50g of fresh breadcrumbs (I made them by whizzing up a breadbun I had)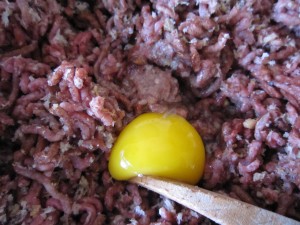 and added an egg, salt and pepper.
By now the onions were beautifully soft and once they cooled slightly, I stirred them in, mixed them round and started to make meatballs. The Bear was called into action… my poor Canon camera gets so much abuse with my sticky fingers but I really couldn't subject it to meatball mix.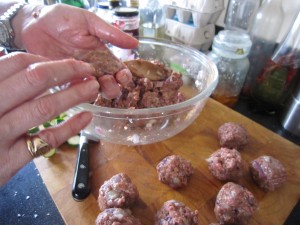 They had to be cooked in the fat left in the frying pan, turning them gently until they were browned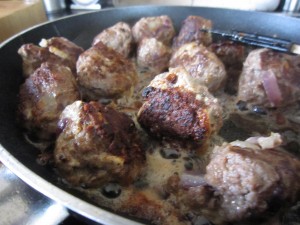 That only takes about 8 minutes – don't worry, remember they do go back into the pan when you have made the tomato sauce. Take them out and put them to one side.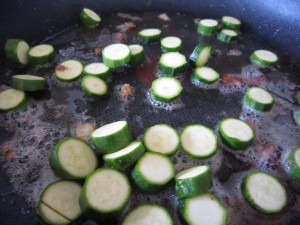 The recipe said use a courgette, thickly sliced but I only had baby courgettes, so I reckoned three of them would be the equivalent of a normal courgette… so they got sliced and gently fried for a minute or so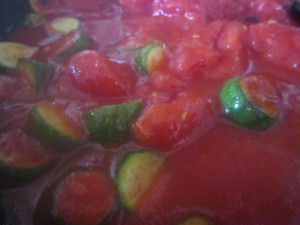 Before adding in a couple of cans of chopped plum tomatoes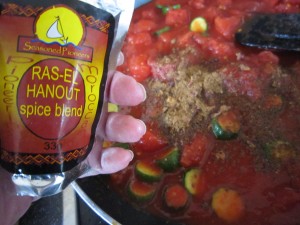 … a teaspoon of Ras-el Hanout – a Moroccan spice blend that you can buy in most large supermarkets nowadays. You can make it yourself if you can't find it – click on that link and it takes to a description and a recipe.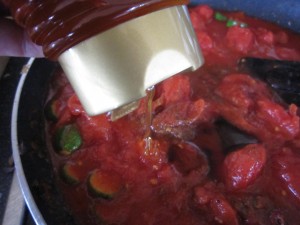 … and two teaspoons of honey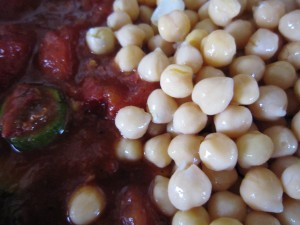 Once the tomatoey mix was soft, a tin of chickpeas was added and the stirred round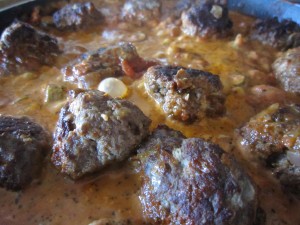 and then the meatballs put in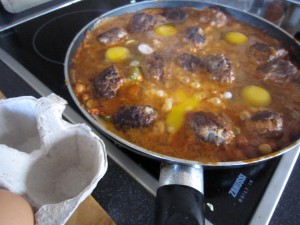 After that, the recipe said to make four hollows in the suace and crack eggs into them… I couldn't really manage – maybe my sauce wasn't thick enough? – anyway, I broke the eggs in and pulled the sauce away from underneath so the raw egg dropped down into the sauce.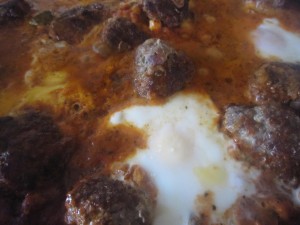 The pan was covered for 5 minutes or so and left on a low heat to set the eggs……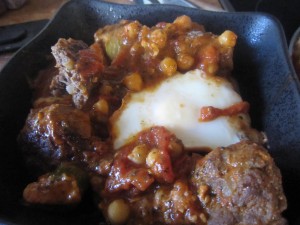 And it was delicious! The cinnamony richness of the meatballs was perfect with the spicy tomato, chickpea and Ras-El Hanout spices and the beautiful egg was the perfect addition in terms of difference in texture and taste.
This is definitely something we shall be cooking again… and it was on our diet! Less than 400 calories per serving….if you stick to one serving that is….oh, it is delicious!
As Good Food doesn't have a link to the recipe – here it is
Ingredients:
1 onion finely chopped; 3 tbsp of olive oil; 50g fresh breadcrumbs;  250g of lean lamb mince;  1/2 tsp of ground cinnamon; 5 eggs; 2 garlic cloves, sliced; 1 courgette thickli sliced; 2x400g chopped plum tomatoes; 2 tsp. of honey; 1 tsp ras-El Hanout spice blend; 400g chickpeas, rinsed and drained.
Fry the onion in 1 tbsp oil until soft, leave to cool. Mix with the breadcrumbs, mince, cinnamon, 1 egg, 1/2 tsp salt and lots of pepper then shape into about 24 meatballs. Fry in the remaining oil in the pan for about 8 minutes until bgrowned. Lift out and set aside.
Add garlic to the oil in the pan and fry till softened. Add courgettes, fry gently for about a minutes then add tomatoes, honey, Ras-El Hanout, seasoning and a couple of tbsp of water. Stir and cook until pulpy
Stir in the chickpeas and the meatballs. Make 4 hollows in the sauce and break in the remaining eggs. Cover and cook for 5 or so minutes over a low heat till the eggs are set.
Serves 4 Preparation 40 minutes, cooking 30 minutes
Per serving – 377 calories, protein 26g, carbs 20g, fat 22g, saturated fat 7g, fibre 3g, sugar 8g, salt 0.94g