All over the world. And wherever he travels  he eats. He has a great time sampling different foods and styles of cooking but whenever he gets back from his travels he always asks for one thing in particular. I would and could cook him anything at all, no matter how involved or time consuming, because I am so pleased that he is home again….. and all he ever wants is his favourite.
I think it happens to us all when you have been away from home for too long. All you want is something that is inextricably tied to memories of home, something that can only be made at home… you'd never be able to get a restaurant to make it for you. They could try but they'd never get it right. Restaurants are fine… they are great in some cases but eating out every night? After a while you need something simple. Once when I had been travelling round the south of India for weeks, eating the most delicious food and learning to make dal, I was preparing to come home and all I could think about was my mother's cooking.  In an internet cafe in Bangalore (this was only a few years ago but BlackBerry's weren't on the market yet) I emailed work and asked the lovely Lolly to phone my Mum and tell her I was on my way back and to please make fish pie for my homecoming! And when I eventually got back, there it was, delicious and perfect and exactly what I needed after so long away.
Homecoming food should be comfort food. It should make you feel surrounded with love. It shouldn't be – it can't be – challenging, it has to be familiar.
So that's what he gets.
And what is it? It's beans on toast with a fried egg. But, like the advert says, it's not just ANY beans on toast with a fried egg… it's the Bear's Beans on toast with a fried egg!
There are specific ingredients, though, that make this special. It wouldn't be the same if I used supermarket bread, no matter what premium range it came from. It wouldn't be the same if I used any old beans and just plonked them on the toast. And it certainly wouldn't be the same if I used ordinary eggs and just fried them any old way.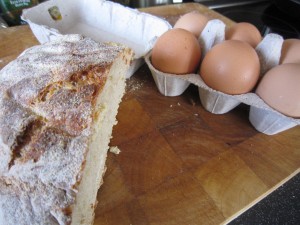 The bread has to be made by me and it has to be No-Knead Bread because that not only tastes good but it has the perfect texture. It doesn't dissolve when you pour the beans over it. Go and follow that link for a step by step look at making it. I have to start it the day before I need it but that's good, when I start the bread I know my Bear will be home soon.
Those eggs? They are the gorgeous free range eggs from our local farm shop. Free range makes such a difference and the quality of their eggs reflects this. They are large with golden yolks and taste simply delicious.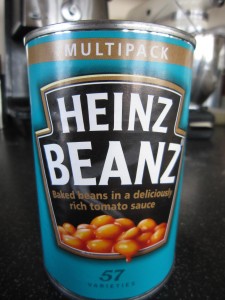 And the beans? Well, they just HAVE to be Heinz.
So far so good.
And now to start it. The thing about beans is that they can – even the best of them – be a bit watery. We don't like that. We like them heated gently and slowly till they become rich and thick.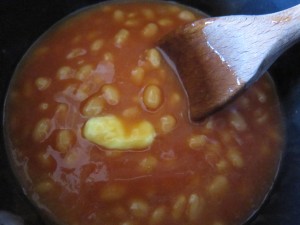 ….. and with a knob of butter added to them to make them taste even better.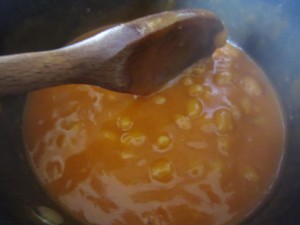 The bread has to be cut thick, but not too thick and toasted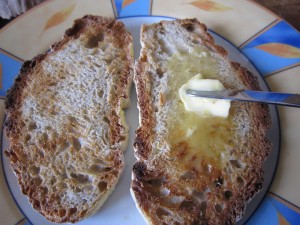 …..before being spread with salted Normandy butter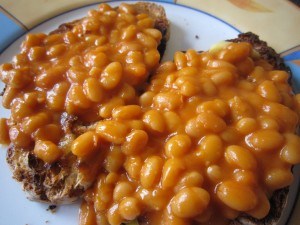 …. and piled high with beans. See how thick they are? How tasty they are too…..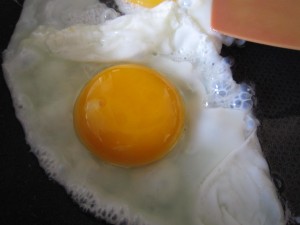 The eggs are cooked in oil with some chilli oil poured in (ohhhh… how good that makes the eggs taste. Just a bit of a bite to them!)
And then you put the eggs on top.
It really is delicious. The yolk spills out and mixes with the beans and the toast mops up all the delicious dribbles.
It still needs just one extra thing though for the ultimate, homecoming comfort food….Heinz tomato sauce……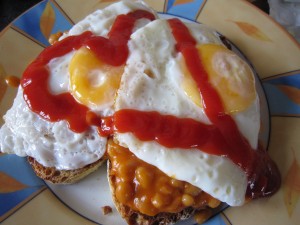 And that's why you can't get that in a restaurant. 
There are so many specifics and the biggest of them all is that the cook has to make a tomato sauce heart over the top.
Perfect homecoming food that says welcome back and come on in, you've been missed.