It's obviously the weather for comfort food…the cold and damp and gloom affects everyone's mood and general levels of happiness.  I am still working as a temp and that is not helping matters either. It's good that I have work, but how I long for a real job with some sense of security because working week by week means I can't plan anything. The uncertainty just nags away at me.
Ho hum.
I seem to have been working my way through my favourite comfort food recipes…recipes that can be relied upon to make me feel safe and happy. I was reading one of my friend's blogs, Anne's Kitchen, and her take on dal reminded me just how much I love it… and how long it had been since I served dal for supper.
One of my favourite things to eat (and, now, a favourite of The Bear's, too) is dal. Beautifully soft and fragrant lentils, or split peas, chickpeas or beans, spiced with chillies and assorted spices and served with steamed basmati rice.
 There are hundreds of recipes for dal but this one is one I have developed over time and one that we love.
I travelled round the south of India (surely one of the most beautiful places on earth?) before I met him and ate dal all the time…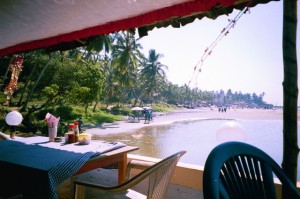 and what follows is  an amalgam of all the lovely dals I ate on trains, in cafes,  in railway stations….at  beachside huts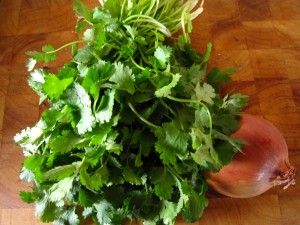 I saw some brilliantly fresh coriander in my local Asian supermarket. It was a sign, I felt, that I had to buy it and go home straightaway and start on dal.
Before you do anything else, you need to get the spice mix right. I love the slight popping effect of the mustard seeds in the finished dish. I start by heating the frying pan with a splash of chilli oil and adding chopped onion to soften slightly before adding heaped teaspoons of kalonji (black onion seeds, or nigella), brown mustard seeds and fenugreek seeds.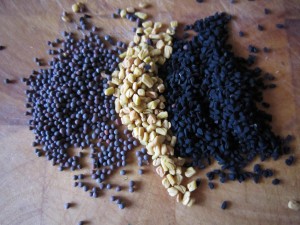 They pop slightly as they heat and add a delicious fragrance and flavour to the finished dish.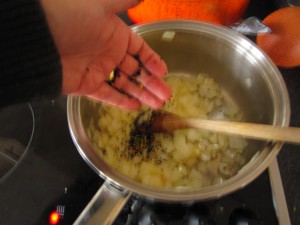 A teaspoonful each of tumeric and cumin powder add a deep rich smell and taste… and a pinch of asfoetida gives it a pungent, almost garlicky hit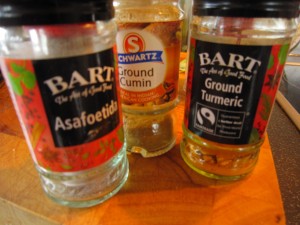 Just put them in and stir them round mixing everything so the ground spices cover everything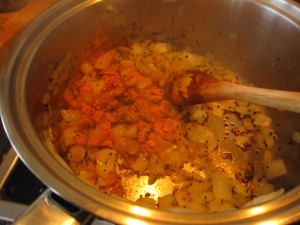 I adore coriander and I have that lovely big bunch, so I like to chop the stems and add them at this stage too – layer upon layer of delicious herbs and spices transform a simple dish of lentils into something truly marvellous
I do need to add heat, of course, and I have some fantastic dried chillies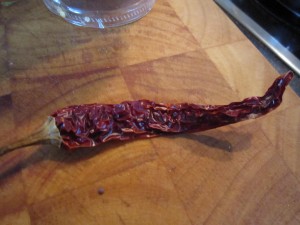 That can bubble away in the dal as it cooks…..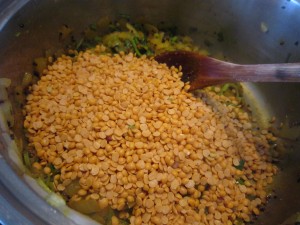 So, to the mix, add a cup full of yellow split peas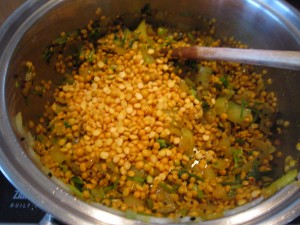 And a cup full of lentils.
Two different sizes, you'll notice, which adds a delicious variation in the finished dal…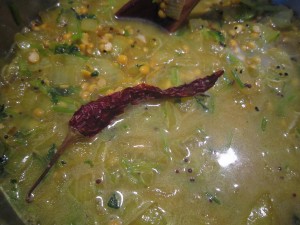 Add two cups of water and stir it round….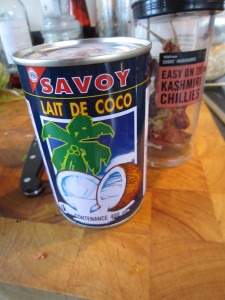 and add a tin of coconut milk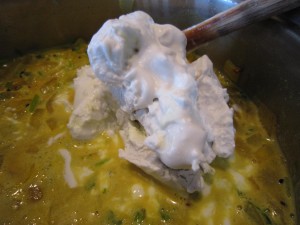 Look at that lovely rich cream…. stir it round…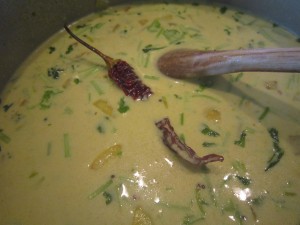 and just leave it so simmer away…..it will take about an hour.
While that is chugging away gently, I make the rice, the way I was shown by an Indian friend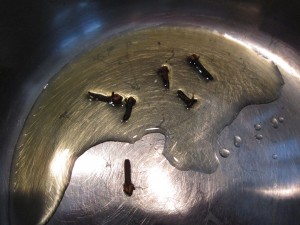 I heat some the indispensible chilli oil and throw in 6 cloves. Count them, don't just thrown in a handful, because at the end, it is a good idea to know how many you are looking for. Cloves are marvellous but biting on one, unexpectedly, suddenly makes you think of the dentists, not of comfort and happiness.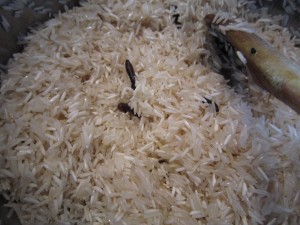 Throw in a cup full of rice and stir it round so it gets a coating of chilli oil and the slight scent of cloves, then add a scant cup and a half of water a decent pinch of salt  and bring it to the boil.
Turn down the heat and let it cook until the water is absorbed.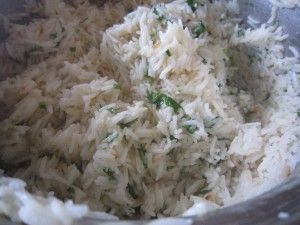 Now, all you do is take it off the heat and lay a clean teatowel over the top of the pan and put the lid back on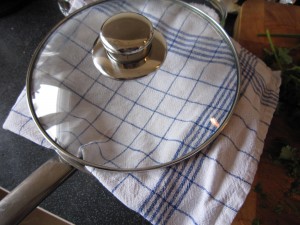 What this does is absorb any extra steam and moisture and your rice turns out beautifully fluffy, with each grain separate and perfect.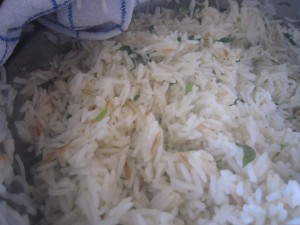 Perfect!
All you need now is to serve up the dal….with fresh coriander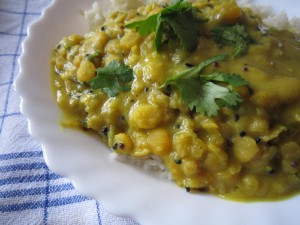 Look at those little mustard seeds… the split peas and the lentils…but to make it absolutely perfect and in homage to my love of the south of India, some shavings of raw coconut add the finishing touch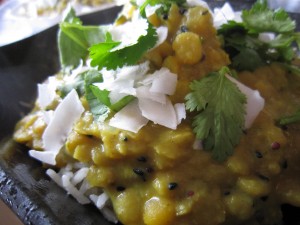 Utter, absolute luxury from the most basic of ingredients.  Utter and absolute comfort food, costing pennies.
What more could I want?  (Well, apart from a job!)