I was wondering what to make for supper and looking round to see what we had when I spotted the last  Bramley apple in the fruit dish. My aunt has a huge tree in her garden so whenever I go to see her, I come away with the cooking apples.
Chicken, I thought. Chicken casserole and I'll add the apple… and make the gravy with a bottle of cider! And maybe dumplings to go on top…. just the thing for a blustery day. So off I went to the butcher's and came back with legs and thighs (my favourite bits of the chicken – so juicy and flavoursome) I got a leek, some sweet onions and a couple of carrots, too.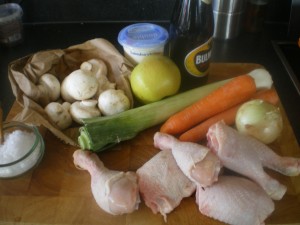 First thing to do was brown the chicken in the casserole dish. If you are using a slow cooker, just brown them off in a frying pan. It won't take long and it does make a difference. Besides it melts out some of the fat which is a good thing.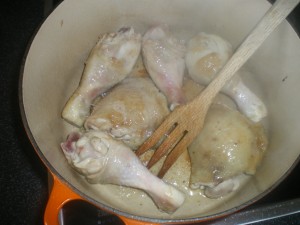 While they are browning chop your vegetables. You of course can add whatever you fancy. Onion and leek are good as they sweeten over the cooking time and I am going for a sweetly savoury, rich and delicious casserole here, a soothing meal rather than a spicy one. Carrots look pretty, so they can go in!
Take the chicken out and add your vegetables, stirring them round gently so they pick up some of the brown and caremelised bits of the chicken that are stuck on the dish.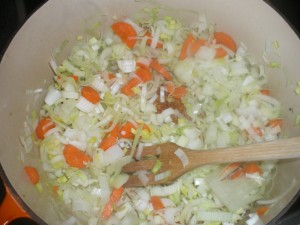 Then lay your chicken bits on top the vegetables. I sprinkled some Knorr Granulated Bouillon over the chicken (much easier than cubes) as I needed some stock in there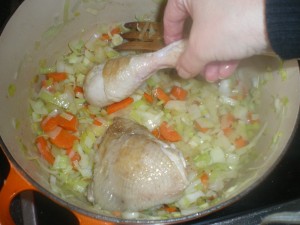 Then, pour in the Bulmer's apple cider!  Look at it froth beautifully. That is going to go perfectly with the apple and make the stock taste delicious. The smell as it hits the hot dish is incredible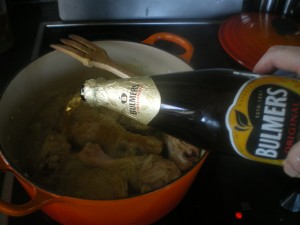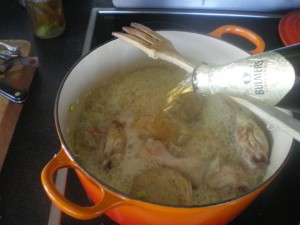 I peeled the Bramley, cored and cut it into pieces and quartered some mushrooms. They went in on top of everything.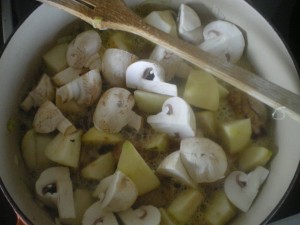 And that was it….into a preheated oven at 160 degrees so it could bubble away this afternoon. A couple of hours at the most and it would be ready.
But I wanted this to be the perfect casserole. Dumplings are always a good move… light and tasty, floating on top of delicious gravy….
For them you need flour – I used 40 g of self raising  – and 20 g of beef suet. This will make 6 lovely little  dumplings, perfect for the two of us and with two of them left over so that a certain person can take some casserole for his lunch the following day. Double the quantity, I think, for more people.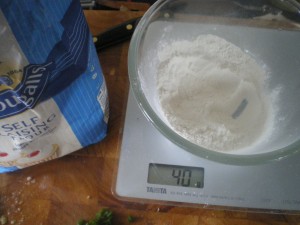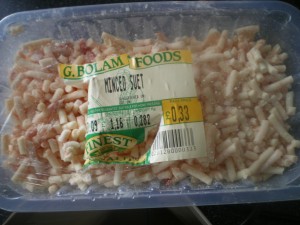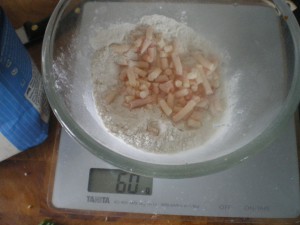 When I make dumplings, I often chop into the mix some herbs – maybe lemon zest and some thyme, or chives… and there I was staring at the chopping board where the peel from my Bramley lay…. why not, I wondered? I nibbled a bit of the peel – definitely sharp flavoured and appley. If they added just a hint of appleness to the savoury dumplings… well, that might just be considered a triumph!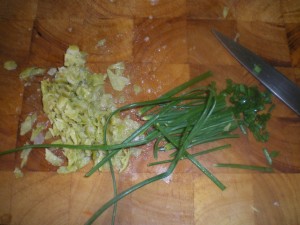 So I chopped the apple peel finely and chopped up some chives
I added some salt to the suet and flour and a tablespoon or so of  cold water… then stirred in the chopped chives and apple peel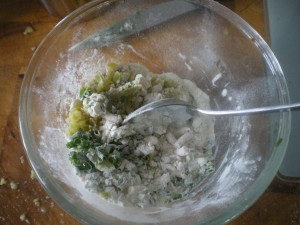 Look how the colour changes slightly as it comes together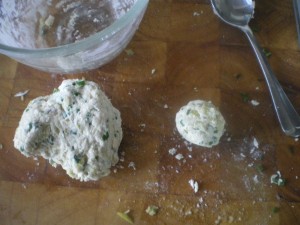 Then I rolled the dumpling mix into 6 little balls.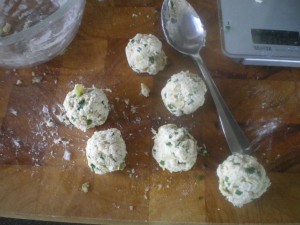 Before you put the little morsels of dumpling loveliness into there, stir in, if you have any, a spoonful cream. Cream in a chicken gravy is perfect. The apple and cider sharpen it so it isn't too rich and the mixture of it all together is just so delicious.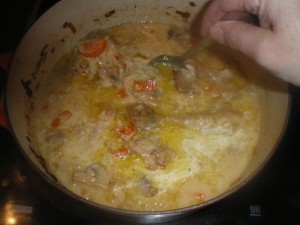 Then, add the dumplings.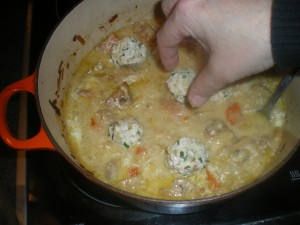 I pop them on top of the casserole (remembering to leave space for them to expand a bit) maybe half an hour before I am ready to serve it. If you are doing this in the slow cooker then just turn the heat up to high for the last half hour.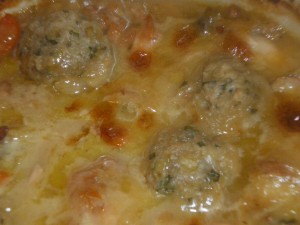 Look at them… flecked with the green of the chives and the apple…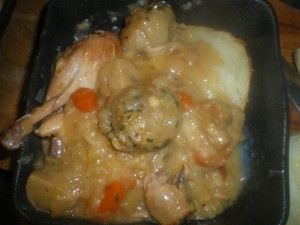 And that, let me tell you, was delicious. The chicken was tender, the gravy was smooth, both sweet and savoury and the dumplings had a gorgeous taste of apple running through them. How inspired was I to think of adding the peel?
I think I am on to something with that!