It's been some time since I managed to sit down and tell you about something delicious… but as you know, I have rather a lot on. I've been so busy trying to sort out our move to Malaysia.
I swear, I thought I was a relatively organised and tidy person… but going through all the paperwork I have to sort out before we go, it appears I have been slowly, but surely, turning into one of those women you see on television programmes where their hoarding has got out of hand. I must have just filed every single bill and statement that I ever received and do I need them? No, I don't.
Ballpoint pens…. who needs over a hundred half used ballpoint pens? I mean, hardly any of us write any more – we email, we text… but there they were…pen after pen in drawers  and on shelves, in handbags. And the paperclips? Where did they come from?  I am almost certain that I have never in my life bought a box of paperclips so they must have come with stuff I'd received and I kept them, thinking they'd come in useful at some point. There were rubber bands, half used Post-It pads and that peculiar dust and grit that seems to collect in any drawer that has Stuff in. I reckon we all have a drawer with Stuff in – it's where we put things that don't have a natural home anywhere else. That might explain why I also found two Swiss Army penknives, a small toffee hammer, a ball of string, my old cat's vaccination record, a nail file, instructions from an old iPod shuffle, a broken travel alarm… oh the list went on.
And that was without starting on the clothes.
Twelve huge  bags of clothes on the first sort….. The Great North Air Ambulance were getting the lot.
After all, we are going to south east Asia for three years and the temperature there is roughly 28 degrees C all year round. I wasn't going to need all the warm things I had to have so I could live without frostbite on the north east coast. I wouldn't be working for a start, so all of my business suits were going.
I seem to have kept every pair of jeans I ever owned……
……..and I have finally come to the conclusion that I will never fit into those 24 inch Levi's again. I looked at them and wondered how I ever did get into them…and why I thought that with a little cutting back I would get anywhere near them. Still, it shows my optimistic side, which is always a good thing.
It also seems that I won't be getting anywhere near the 26 inch, the 28 inch and the 30 inch Levi's….. there's a pattern emerging, do you see? I have grown fatter, year by year. It's been gradual and it has been over couple of decades… I always thought, though, that maybe one day I would regain my teenage litheness.
It wasn't to be, of course.  Age does that to a person. As does eating delicious things.
Delicious things are one of the great joys of life and sharing something delicious with friends increases the general happiness quotient of any get together. What follows is one of the delicious things I can blame for the no-longer-fitting Levi's.
The Bear and I had gone to our friends' house for lunch so we could take a break from packing and sorting and all talk about our move to Malaysia. C&C had lived there for 18 months, some years ago and still go at least a couple of times a year, so they are an absolute mine of information. They were doing the main bit of lunch and I said I would do the pudding.
I wanted to do something different and I had something in mind.
Remember when I took it into my head to make Strawberry Surprise Marshmallows? I'd found some freeze dried strawberries at Healthy Supplies and realised that their sweet almost-crunchiness would be perfect hidden inside some home made marshmallow. Healthy Supplies really is a treasure trove because I also found freeze dried strawberry powder there that made the most delicious sweet coating to stop the marshmallows sticking together. There are things in their on line store that you'd never get in a supermarket – go and look, you'll be amazed and delighted at what they have.
Brendan from Healthy Supplies had liked what I'd written about his freeze dried fruit and asked if there was anything I'd like to have a go with and after looking through the list, I spotted mulberries.  How could I resist that? Something I'd read about but never tried… AND they were called Pearls of Samarkand! With a name like that, they just called out to me…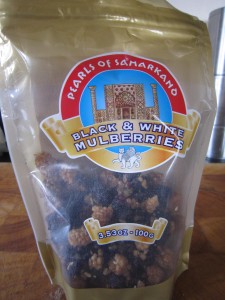 There are two kinds of mulberrries, black and white.  Aren't they strange? Knobbly and bulbous – but what really matters is the taste of them. The white ones taste almost honeyed – they are sweet and musky – and the black ones are sharper and fruity and after nibbling a couple I'd started to get an idea…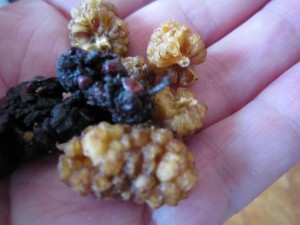 I'd made a polenta and honey cake before and I liked it but I thought there was room for improvement. Polenta in a cake gives it a wonderful dense and grainy texture; adding honey to the cake and serving it with cream makes it into a wonderful dessert.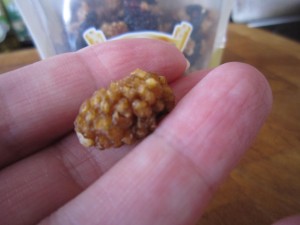 Because the white mulberries tasted like honey they would be marvellous with a honeyed cake and the black, sharper mulberries could go in the cake to add a deliciously fruity contrast.
So… to begin.
First of all, get the oven going to preheat – you will need it at 170 degrees C/325 degrees F. The cake takes only a few minutes to prepare so you need to have the oven on at the start.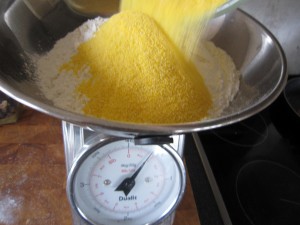 330g of plain flour was mixed with 150g of fine polenta (cornmeal) and 2 tablespoons of baking powder and a teaspoon of salt.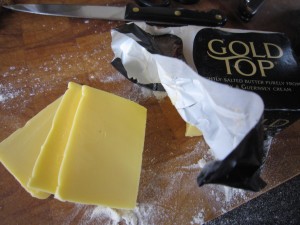 I sliced up some good butter and melted it in a Pyrex jug in the microwave on a low setting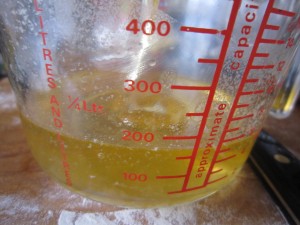 I was going to need 250 ml, so just pack it into the jug till you get the rough measure – anything extra you can use to grease the baking tin.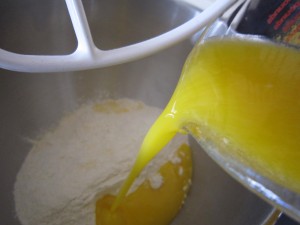 Mix the melted butter with 2 eggs, 180ml of runny honey and 435 ml of milk and pour it into the mixing bowl.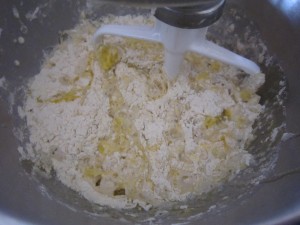 Then whizz it all round gently – don't whip it to death, just make sure it is blended.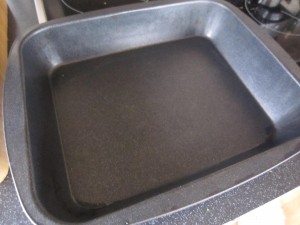 This is going to be a lovely deep and square cake, to be sliced easily at the table so I used a smallish baking/roasting tin (if you're interested, it measured 13×9 inches) That was greased with the residue from the melted butter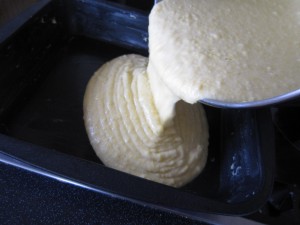 You can see the graininess of the polenta – that will add fabulous texture.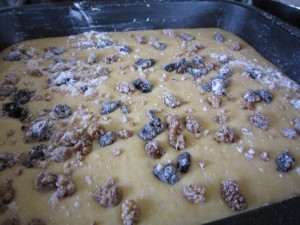 Because I didn't want all the fruit to sink to the bottom of the cake, I scattered most of the packet (saving a mainly white ones) on top of the mix. I dusted the fruit in flour to stop them sinking too quickly and then put the tin in the oven for half an hour.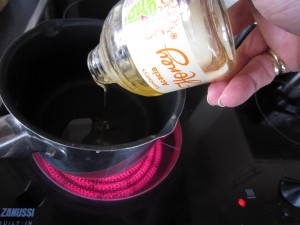 While the cake was cooking, I needed to make the honey syrup that was going to be drizzled over the cake so in a pan I gently heated 125ml of Acacia honey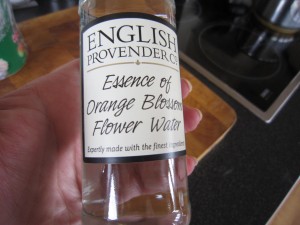 And because I wanted it to have a light and flowery hint about it (and because I had a bottle of it and I need to use it before we move) I added a good amount of English Provender Essence of Orange Blossom Flower water… maybe 4 tablespoons or so. Don't worry if you haven't got any – you can miss it out… or perhaps use orange juice instead?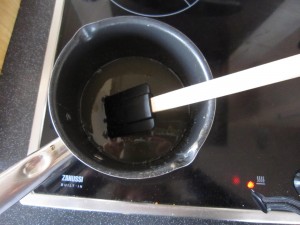 Stir it all round, over a gentle heat until it comes to the boil and blends beautifully,  thickening slightly, making a rich and fragrant syrup.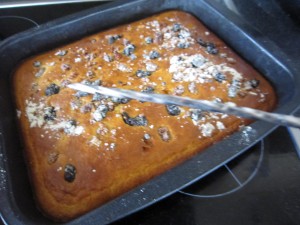 Check whether the cake is done after 25 minutes or so. Does the skewer come out cleanly?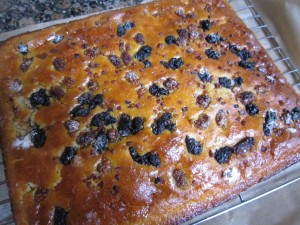 Now it is out, make sure you have the cake on a rack and you can wipe up any mess from this next step…. you are going to pour the honey and orange blossom syrup over the cake, covering it completely. It needs to cool before you serve it…..
That was the easy bit….we then had to get it from my kitchen to our friends' house without making a mess.
Still, we got there and settled down for a marvellous time.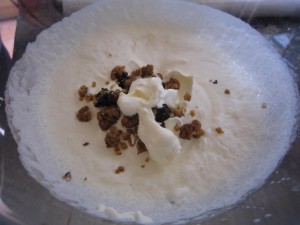 I'd brought along the rest of the mulberries and when we were ready for pudding I added them to a bowl of whipped cream…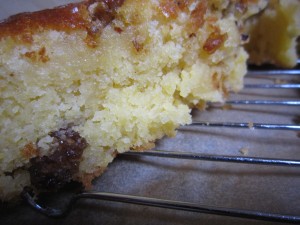 The cake was firm and studded with mulberries. It wasn't  too dense… there was a light crumbliness to it that you get when you use polenta.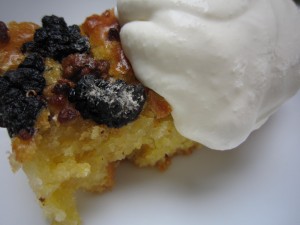 And with a dollop of whipped cream and those honey flavoured white mulberries it was the perfect summery mouthful.
It was even worth eating knowing I would never get back into those jeans. Some things are worth more than being able to wear the jeans of my youth. I know when I was younger I'd never even eaten polenta, never mind had it in a cake and mulberries were the stuff of nursery rhymes. I like being older. I eat better for a start!
So. Mulberries? A definite yes. They were perfect in that honeyed cake. They were delicious to eat by themselves…. thanks Brendan! Keep on sourcing such delicious and original ingredients – I just wish I could have shared a slice of cake with you.