Today is the last Bank Holiday of the year in England so we decided to make the most of it. A extra day added to our weekend – what bliss!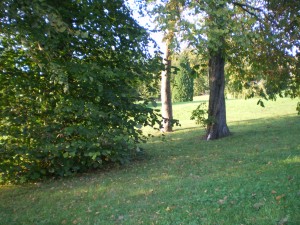 The weather is good so we decided to go looking for more fruit.. and what fruit we found. We live on the top of a hill and at the back of where we live is a lovely park. Parts of it are overgrown – so much so that the apple trees appear to be fruiting blackberries as well. The brambles reach up and entwine through the branches so that blackberries are dangling down from ten feet or so.
Apples  weighed down the branches of the trees, deep in the undergrowth. One bump against the trunk and the apples fell down, bumping against branches and disappearing into the tangled brambles and grasses onto the ground. It's so overgrown that I couldn't even see them after they landed.
Within minutes we had a bag full. We had to ignore all the huge, fat, shining blackberries because I just don't have the time to deal with them today and there's no point picking them if you can't cook them the same day.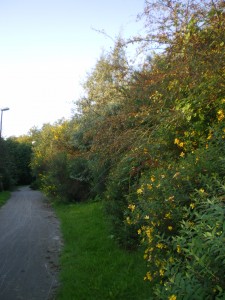 As we walked back round to our apartment, I saw something drop to the path in front of me. It was a fat, ripe plum. I must have walked by that tree a hundred times before and not noticed it was a plum tree. In my defence, it is in the shrubbery, lining the path. Maybe it's just that everything is fruiting this summer. Trees at home that I know have not fruited in 20 years are now covered in apples.
Anyway, I didn't need anymore encouragement than that – I handed my bag to the Bear and dived into the shrubbery to get to the plum tree. Before I knew it, there were a dozen juicy Victoria plums falling first into my hands and secondly into the forage bag.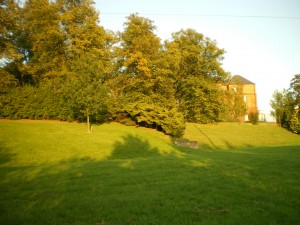 We had to stop. I didn't think there was going to be so much fruit but with quarter of an hour we had two bags full.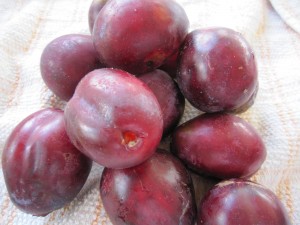 The plums were large and sweet – definitely part of a fruit garden at one point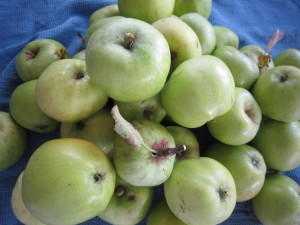 The apples were various sizes and what I call "ear biter" apples – you know, the sweetly sharp ones that make you squeak with delight when you bite into them as they sort of tweak you behind your ears? I love apples like that.  We seemed to have brought home more than we thought. I also brought home several small spiders and a caterpillar or two. No wonder I was feeling itchy after crawling through those bushes.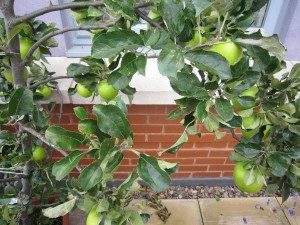 And out on the balcony I had another apple tree, a Greensleeves which is also a sharp and crisp apple.
I was going to have do a lot of apple cooking.
This coming week I am going to make Apple Butter, an apple cake and Toffee Apple Crumble as we are having a guest for dinner one night. And there were plums to cook as well….so much fruit and so little time.
First will be the Apple Butter, something I have wanted to make for a long time. There's no butter in it… just apples, spices and some sugar, cooked until the natural sugars in the apple caramelise and turn it a soft brown, leaving it soft and smooth, (which is why it is called butter) perfect to spread on bread. What a great way to use up the apple bounty. It preserves them, too,  making a delicious treat for later in the year. 
I'd better get a move on, then… just as well this a holiday!