Because I have just got a new job (my contract arrived today) and my birthday is next week, we are having a couple of our dearest friends round for supper, to help celebrate.
I don't normally make puddings or desserts for everday meals but when I am cooking for friends, I always do something. This wasn't going to be a fancy, high-end cuisine extravaganza, this was going to be laughter and celebrating with friends – we wanted good food but easy food. I wasn't looking to show off, just feed us all well and keep us happy and relaxed.
You know the kind of meal I mean.
I made broccoli and almond soup to start with and then for the main course I made slow roasted plate of beef, as I did at Christmas for other friends. The pudding had to be something that would fit well with that and as it was bitingly cold outside I felt I was justified in making what could, perhaps, be called a substantial pudding.
The weather has been improving recently and, at long last, there's sunshine and brightness in the day time.  Soon, I'll be moving towards lighter and fresher meals, something with more zing about them, but there's time enough, I reckon, for one more rib-sticking pud.
Apple Crumble. That would be just the thing… the slightly crunchy yet soft, crisp top, over sweet and molten apples, with a river of thick cream poured over the top…. except…. except I wanted to make it even nicer. But how? I thought and looked through my cupboards…..
And the answer? Toffee Apple Crumble.
The secret ingredient? A bag of fudge – good, crumbly, buttery fudge.
First of all though, I needed apples. I wanted good, crisp and sweetly-sharp apples so these juicy Braeburns were perfect.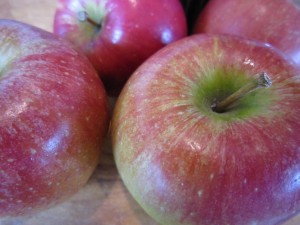 So, peel and cube those four lovely apples and then, because I am getting this ready mid-afternoon so all I have to do is tonight is pop it in the oven as we sit down to dinner and as I don't want those apple pieces to look horribly brown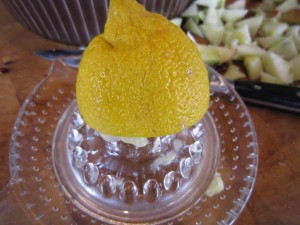 the juice of a squeezed lemon sprinkled over the apple will keep all the pieces bright and also add a touch of sharpness, which will be a lovely counterpoint to the lovely sweet softness of the rest of the crumble.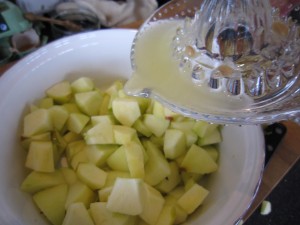 After rubbing round a lovely deep oven proof bowl with butter, just drop the apple in and scatter with a sprinkle of sugar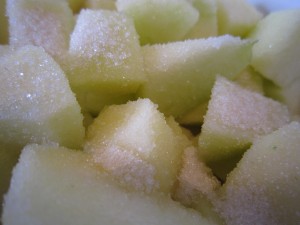 And then… remember that fudge?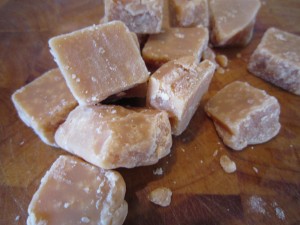 That needs cutting into smaller pieces and do try not to eat too many bits. Both the Bear and I might have stolen a piece or two…..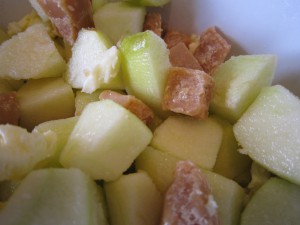 and scatter them amongst the apple.
Now you need to make the crumble, which is probably the easiest thing in the world to do.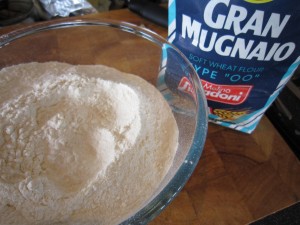 In a big bowl put 300g of plain flour, 200g of softened butter and 175g of golden granulated sugar and start to rub it between your fingers so it blends together and starts to look a bit like breadcrumbs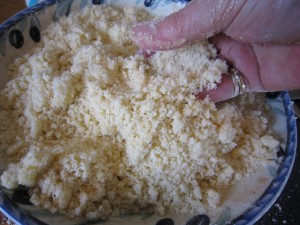 which can then be sprinkled over the apple and fudge pieces.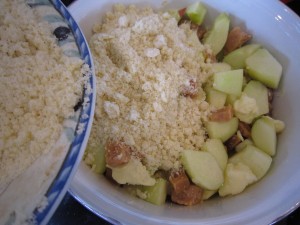 If you give the dish a gentle shake from side to side the crumble mix settles down around the apple.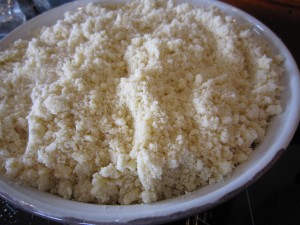 And that's it.
Now, though, for a confession.
Our friends arrived, just after 8 pm and we started toasting each other with pink champagne… then we started eating. I put the crumble into the oven at 180 degrees and we swapped to red wine to go with the long roasted plate of beef.  We were getting slightly giddy. We carried on laughing and pouring wine.
Then, forty minutes later, or thereabouts,  it was time to have pudding…. and oh, it was gorgeous.
Beautiful, bubbling fudgey-toffee-appley sauce coming up round the edges of the crumble… the smell…. oh it was beyond divine. The thick Jersey cream was perfect poured all over it…
So perfectly divine that I completely forgot to take a picture of it. 
All I can say was well, you know what crumble looks like – it looked like that.
What you need to know was that the fudge pieces were an inspired addition and it was so utterly gorgeous our friends took the rest of the bowl back home so their children could finish it off today.
The only other thing? I wish I had made another one so we could have some more today!