Now the shooting season is in full swing, it isn't unusual to spot birds waiting to be prepared if you walk into my brother's kitchen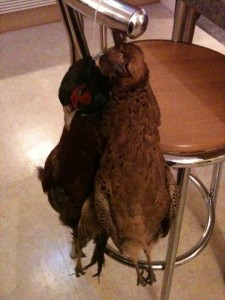 The pictures in this post were all taken by my brother and sister in law, with her phone, as they breasted a pheasant, so that we can all see how easy it is.
Yes, I have plucked a pheasant and yes, it is incredibly messy (if you want to do that then put the bird inside a large plastic bag and pluck inside there…. otherwise the feathers go everywhere. And let me tell you, they are the very devil to hoover up.) It's also incredible time consuming.
If you just want to have the breasts of the pheasant, this is the best way to do it.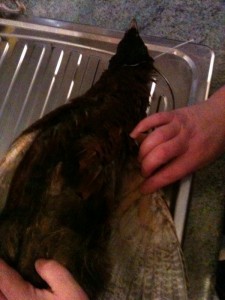 Lay the bird out on the draining board and spread the wings – you will be able to feel that the skin is slightly looser. Pinch a bit between your fingers so it is lifted up from the actual flesh and slide the knife in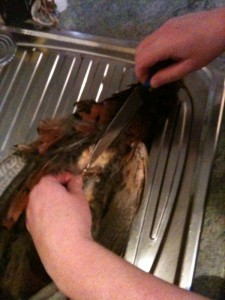 And with a sharp knife, cut the skin, straight down the middle. It's quite easy.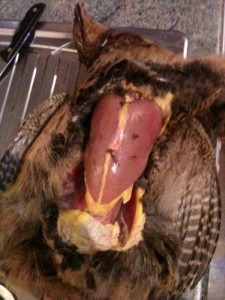 You can easily pull it away from the flesh.
See that yellow fat? It tastes harsh and not very pleasant at all, so trim that off as well.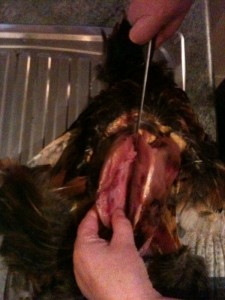 Then, get your sharp knife and cut down the breastbone, slicing off the breasts.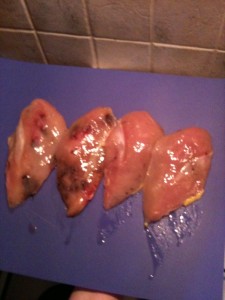 And there you are…. a few minutes work and you have four lovely pheasant breasts. No feathers flying everywhere, either.
See the ones on the left? Those marks are where the bird was shot, so run your fingers over the flesh and make sure there's no lead shot left in there. You'd hate to be faced with the dentists bills of your guests!
All you have to do now is think what recipe you are going to use for them.
(I'm not a pheasant plucker……)