The weather is getting worse and, while it is lovely to live in an apartment where three of the walls are windows, it does get gloomy when you are surrounded by rain spattered glass and grey clouds. When that happens, the only thing to do is put the lights on and make everything look cosy and then curl up, knowing that something meaty and tasty is in the oven….. just relaxing while the smell of roasting meat fills the room. It's a smell that has always reassured me that things are happy and well in the family.
 A smell that was a constant in my childhood and it means home and happiness with loved ones. My wonderful brother and I are very similar in many ways. One of our favourite things is the crispy, fatty bits on a roast joint… all juicy and packed with flavour.
Not everyone likes this of course….The Bear has many good points and I am always glad I married him, but one of his finest points is that he doesn't like crackling or the fat on a roast. That, of course, is good for me as it means that I don't have to share. My brother used the same criteria when he got married – my sister in law is absolutely fabulous and we all love her dearly (he made a brilliant choice, marrying her) but again, she hates that sort of thing. Perfect. There's nothing finer in our eyes that a gorgeous piece of crackling and the two of us have been known to stand in the kitchen at home dividing up the crisp and tasty skin….
Anyway, while I was shopping I'd spotted this marvellous piece of pork. Outdoor reared and free range meant that it was guaranteed to be tasty. The rain was bouncing off the pavements outside and I just knew that roast pork would be the perfect  antidote to the gloomy rain blues.
Pork shoulder is a great cut because it isn't expensive but, as with most things, treated with care and respect you can produce the most delicious meals. Time is what shoulder needs, time and heat and salt. That's all.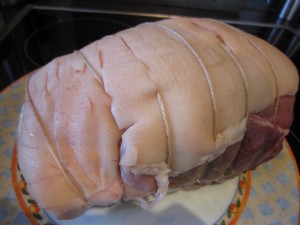 This was a lovely piece of pork shoulder with a good layer of skin around it, which is just what you need to get perfect crackling.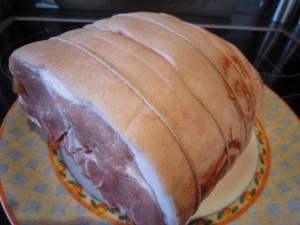 Pork shoulder needs slow cooking and it will turn into the softest, tenderest piece of meat ever. The rind will crisp up (if you slice at it) into delicious strips of hard, crunchy and tasty crackling.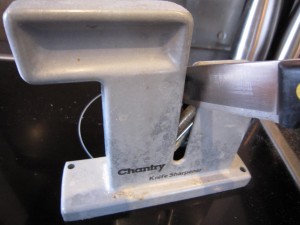 But the rind is tough and to get through it you need a very sharp knife. Butchers will slice the rind for you and, in fact, most joints come with the skin cut already but I like to get a lot of narrowly spaced slashes so I start by sharpening my favourite filleting knife.
I've never yet managed to use a sharpening steel so I use the Chantry knife sharpener which is one of my better kitchen equipment buys. All you have to do is run the knife through the middle a few times and the blade is perfectly sharp, which is something I have never achieved using a steel.
While you are doing all of this, get the oven preheated to 230 degrees C/450 degrees F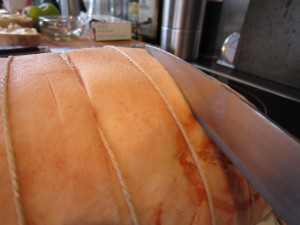 There were some slashes in the rind already but I sliced between them, so each strip of rind was about 1 cm wide, if that. Be careful, if you are slashing not to slice into the meat itself – just cut the rind and the fat below.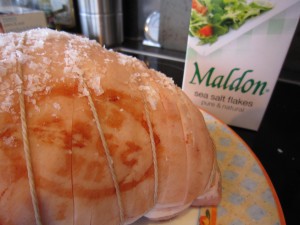 The next thing is to get some kitchen roll and dry off the rind before rubbing it over with a smear of oil and then some salt.
What you have done is wiped off the water and added some oil to help start the crisping process and salt to drive out extra moisture and add flavour.
I like to use Maldon sea salt as the crystals are large and easy to pack into the slices of rind. Maldon has a great taste as well. When the pork comes out of the oven the rind will have crisped and almost bubbled up with flecks of salt crystals embedded into it to make the crackling taste divine.
By now the oven will be bouncingly hot so get the pork into a roasting tray and put it into the oven for twenty to thirty minutes.
This is a very hot oven and what it does is sear the rind and start making the crackling. If the oven isn't hot then the rind won't ever get crispy.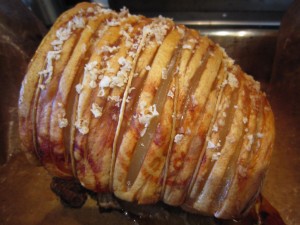 After the first burst of heat you will see, when you peek inside, that the slices are separating and the rind is starting to cook. You just know, when it looks like this after half an hour that it will have the perfect crackling when it is finished!
You can turn the oven down now to a moderate 170 degrees C/340 degrees F and just leave the joint to cook slowly for a two and a half hours……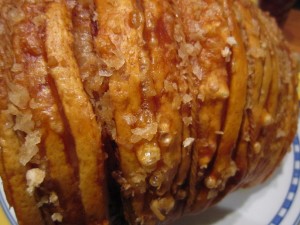 There now.
Golden, bubbled and crisp. Studded with salt crystals promising that every mouthful will be deliciosuly savoury.
When you get it out of the oven if you rap on the top of the crackling it makes a hollow sound.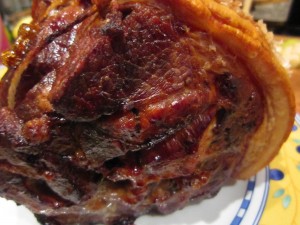 The meat is dark and caramelised from the fat dripping over it as it roasts.
The fat layer has almost disappeared in the long slow cook, making the meat juicy and the crackling crisp.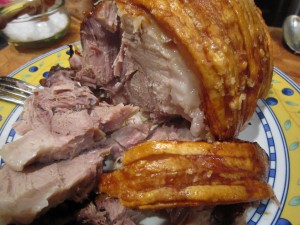 The crackling strips snap easily into bite sized bits…. perfect for nibbling at while you slice the pork……
A wet grey afternoon can be ignored because you are inside, in the warmth with a marvellous meal, just ready to share with your loved ones.
That is Heaven… that is my guilty pleasure and that is one more reason to appreciate the Bear not liking everything I adore!