It was really hard trying to think what to call this post. The original recipe called it Tomato Pudding and I just didn't think that really described it.
I'd bought the book, "First Ladies Cook Book – favourite recipes of all the Presidents of the United States" while we were on a weekend break in the north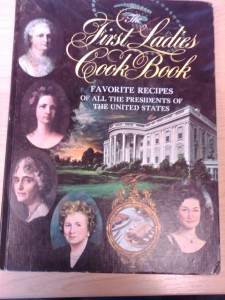 One of the recipes in there was, apparently, a favourite of Dwight D. Eisenhower (34th President, from January 20, 1953 – January 20, 1961) and was called Tomato Pudding. Doesn't sound attractive does it?
The recipe, as it was written didn't sound that interesting either:
Tomato Pudding.
1  10-ounce can of tomato puree, 1/4 teaspoon of salt, 1 cup of white bread, cut into 1 inch cubes, 1/4 cup boiling water, 1/4 cup of melted butter and 6 tablespoons of light brown sugar.
Add sugar and salt to the tomato puree and water and boil for 5 minutes. Place bread cubes in a casserole. Pour melted butter over them Add the tomato mixture. bake uncovered for 30 minutes at 375 degrees F. Serve with quail or roasted meats.
So, a President of the United States of America, thought this was the bees-knees? And served it as a delicacy at State Dinners?  Bread and tomato?
But I could see that there was potential here… I thought at the time that the recipe was overheavy on sugar and just using puree would make the bread a rather solid block, so something was needed to lighten things up. I would, perhaps, use chopped tomatoes so there would be a difference of texture within the dish and then I needed to think what would be best served with it.
My brother makes sure that my freezer always has some game in it and I often roast a little pheasant or other bit of game, so a dish that would work alongside a roast morsel of something or other would be good.
You often find pheasant served with croutons or fried bread and I was thinking of this tomato pudding as working along those lines.
And this is what I came up with.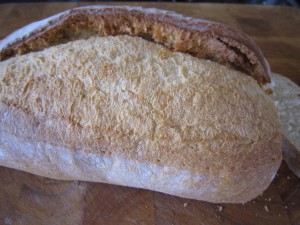 I had some crusty bread… I sliced about half a loaf and then cubed it. This filled a large square baking dish.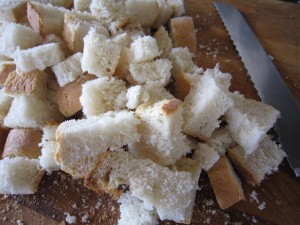 The original recipe asked for melted butter to be poured over the bread cubes but I thought if I replaced that with a drizzle of oil that would lighten it and make it a healthier option. If I used chilli oil then that would add a subtle bite to the whole dish. Chilli oil doesn't overwhelm you with the taste of chilli, but rather comes in as a subtle afterburn, a tingle really, just enough to give things a bit of bite and interest. Even if you don't like chillies, you should try it at least once. You will probably be very pleasantly surprised.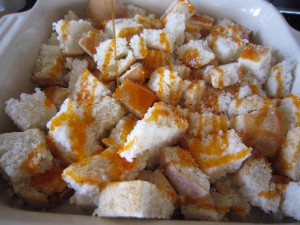 The original recipe used tomato puree and diluted it with water and added a huge amount of sugar.  But in the interests of dragging this dish into the 21st century and making it slightly more healthy for us….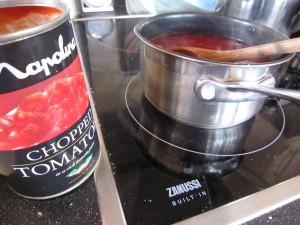 …I thought that chopped plum tomatoes would lighten the texture, giving it a bit of interest, so that it wasn't just solid tomato paste covered bread.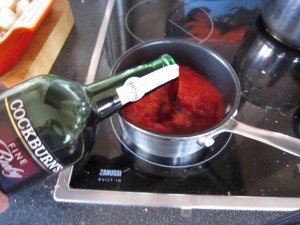 And not sugar to sweeten things, but port. 
If the original recipe used tomato puree, that seems to me to be a rather solid substance so the water would be necessary. Using chopped tomatoes means there's more liquid there so you wouldn't need to add too much port.
 That would add another level of flavour (and don't worry, any alcohol would evaporate in the cooking, so any children eating it won't end up rolling drunk)
Port is sweet and I had a bottle that needed using up. If you don't have any, use water and add some sugar… but I don't think you need to add the original 6 tablespoons.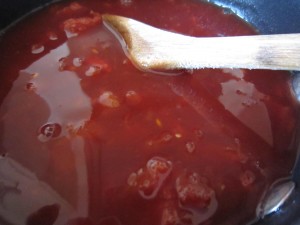 Stir it round and cook it down a bit.
Just boil it down gently until it reduces a bit.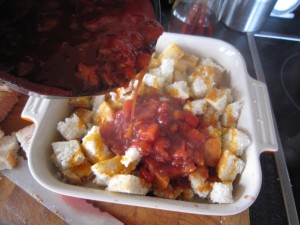 Then, pour it over the bread cubes.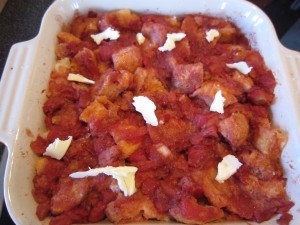 And just because I have been cutting back on  all sorts of things to make this a healthier, tastier dish, I thought a few knobs of butter on the top would help it cook and get a lovely crispy top.
I put it into the oven, alongside some pheasant to serve with it, at 175 degrees C  for 30 minutes.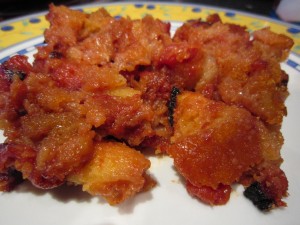 And what was it like?
Really rather good. A crunchy, savoury top and a meltingly tomatoey middle. The contrasts of textures was appealling and the taste was excellent.
I think there's room for improvement – maybe add some garlic to the tomatoes? – but served with a little pheasant leg and breast it really was rather delicious. I shall make it again to serve with roast pork and maybe add some chopped apples to it to break up the texture even more. There's all sorts of tweaks I can think of with this.
Using half a loaf of bread (the staler the better, I think) a tin of chopped tomatoes, a dash of oil and a slurp or so of port (if you want to add it) you have a very quick and easy side dish that costs coppers.
So, Dwight D. Eisenhower, thanks for the idea. If it was good enough to be served in the White House in the 1950's, then with a bit of tweaking it is good enough to be served in our house today.