I do so love a Saturday – there's the knowledge that you still have Sunday to come and that tonight you can treat yourself knowing that the weekend is still stretching ahead….
I have a really horrible cough (caught while in hospital) with no Bear about to look after me so I need something that will make me feel better and burn away all those germs… what better than bacon wrapped, cheese stuffed chillies? Actually, I don't need a cough as an excuse to make these. They are the kind of delicious snacketty bits that you might want to make every weekend. I read about them in one of my favourite blogs "The Pioneer Woman" and tried them out. Ree, The Pioneer Woman, describes herself as a desperate housewife, living in the country- with a description like that, how can you NOT read her blog?  It really is one of the best on the web.
She's right, however many you make, you will wish you made more.
You need chillies (obviously) bacon  and cream cheese…..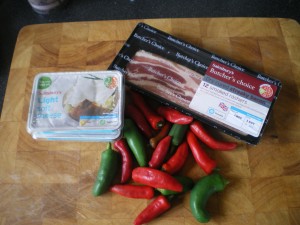 Slice the chillies and scoop out the seeds. The first time I did this I scrupulously removed all the white membrane as well… but then when they were cooked there was no real chilli hit. Best leave a bit in, I think. I love it when my eyebrows start to sweat after I have been gobbling chillies… classy, eh?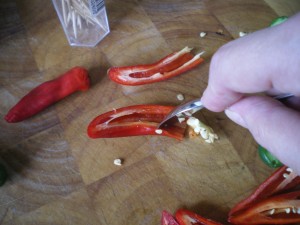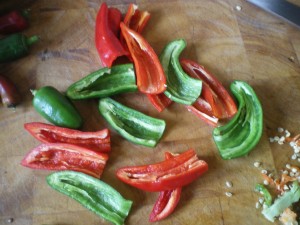 Then… shove in some cream cheese with a spoon… it isn't neat and it won't look tidy but that hardly matters, does it?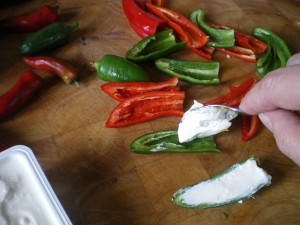 Then, wrap those little tinkers in bacon! The Pioneer Woman stabs hers through with cocktail sticks, but mine seem to be OK like this. They have to be. I just can't manage to do it.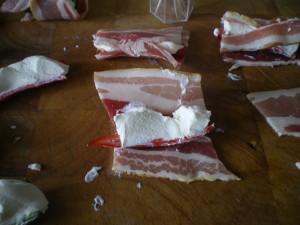 Put them on the grill pan (put some tin foil underneath to catch the drippings unless you positively enjoy scouring grill pans) and put them in a preheated oven at 200 degrees.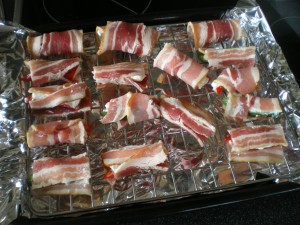 Keep sneaking a peek and sniffing at that lovely bacony aroma… when they look good and crisped (maybe 15 to 20 minutes) get them out!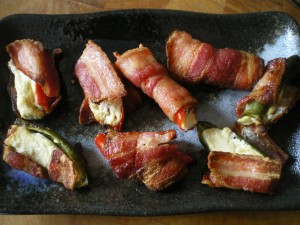 Not as neat as Ree's but pretty good for a person using one arm….
I'd like to think I have the kind of life where I would make these as appetisers, perhaps to be served with an aperitif or two, whilst looking ineffably elegant and making conversation with a variety of sophisticated guests at my regular cocktail party. The truth of the matter is I am just going to gobble these down whilst watching something on TV, or reading more of Ree's blogs. Just as I imagine you will.
They are so gorgeous I don't think I want to share them with anybody.
Actually, I am sure they are a health measure and will drive away any evil cough and cold germs. You'd better make them. You wouldn't want to let your family down by succumbing to illness would you?