Well, if you are going to make soup then you need bread to go with it. You could buy stuff, I suppose, but as we are becoming Domestic Goddesses and nothing fazes us… obviously, the way forward is to make the world's easiest bread.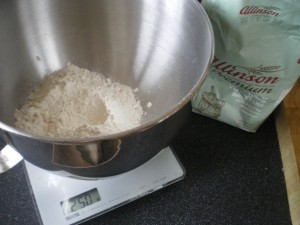 All you need is less than an hour,
250 g of strong bread flour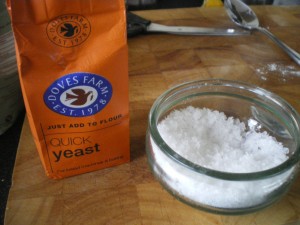 7g of instant yeast (that's a sachet or a teaspoon of instant packet yeast – yes, you eagle eyed baking detectives, I am using a different packet from the  last time. Just thought I'd give it a go, that's all)
Olive oil
Garlic
Rosemary
Salt – you know I love that lovely, crunchy, large crystalled Maldon.
In a large bowl, put the flour, yeast and a teaspoon of salt and add 1 tablespoon of olive oil.  I did it in my food mixer because (am I boring you with this? I only have one working arm you know) I needed to give it a good mixing and there's only so much I can do…. add in 150 ml of warm water and mix it till it becomes a smooth dough.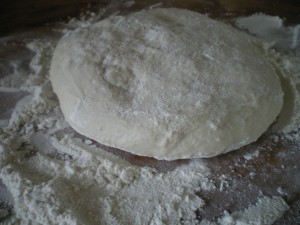 Get it out onto a floured wooden board and knead it till it looks smooth and bouncy. Then, on a clean surface, put down some olive oil, flop the dough onto it and using a rolling pin, roll it out…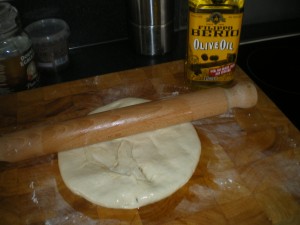 It just needs a rough roll to get it smoothed out.
I use silicon sheets – you can get them anywhere nowadays – I even got some in a Pound Store.  Absolutely brilliant for baking and cooking with. Anyway, put a silicon sheet on a baking tray and put your oiled dough on there.
Chop some garlic and rosemary leaves finely
… then scatter it over your dough, then sprinkle it with lovely crunchy salt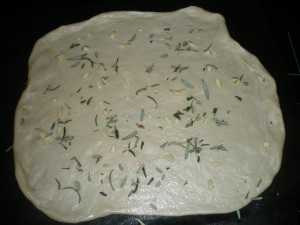 You need to let the dough rise in a warmish place for half an hour or so. Cover it in greased cling flim and let it rise.
I have been known to help it by standing the baking tray on top of the soup pan. Apart from anything else it frees up bench space so you can have a quick wipe down…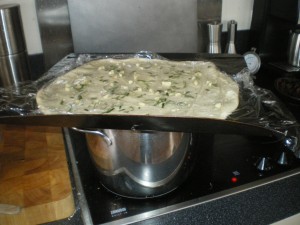 Then, when it has risen up and become puffed up and bouncy. turn the oven on to 200 degrees and while that is heating, peel back the cling film, poke the foccacia all over with your fingers and drizzle it with olive oil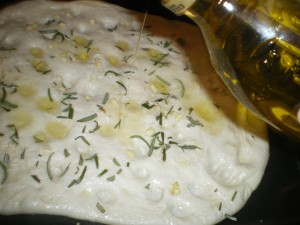 Into the oven with it for fifteen or so minutes until it is golden brown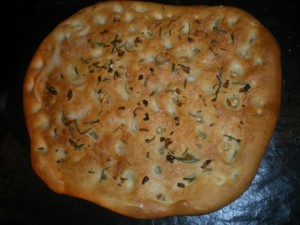 Let it cool just a bit and then…. serve it up. Beautiful garlic and rosemary focaccia, perfect for your soup…. in fact, just perfect.