I needed to make supper but there was only me to cook for as the Bear had gone out to eat at an incredibly smart restaurant (work, you know… ) and I just couldn't be bothered to shop. Sometimes, you know, the thought of going food shopping at the end of a working day just defeats me. It's not that I'm not organised, it's that while our apartment is beautiful, it doesn't have a large fridge so it's not as if I can do a big shop and get everything I need for the week. I have to do little and often.  
I thought first of all that  would just have cheese and crackers but when I got in, I discovered I didn't even have any cheese, never mind crackers. I would have to see what there was…..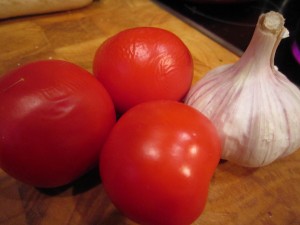 I did find some tomatoes that the Bear had brought back from his Dad's greenhouse and a head of garlic. The tomatoes were going a bit wrinkly but at least that meant they had ripened.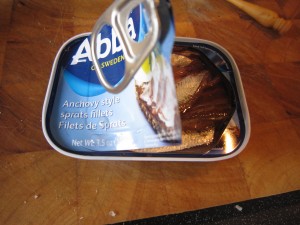 I'd previously opened a tin of anchovy style sprats (the famous Ikea sweet sprats (essential for Jannson's temptation, possibly the world's most succulently decadent comfort food) and had some left over
They had to be used up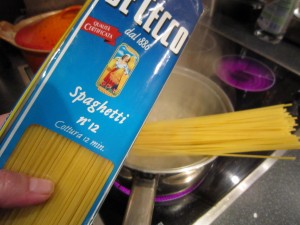 And I had some spaghetti.
I had enough for a feast! I set the water to boil and then added the spaghetti.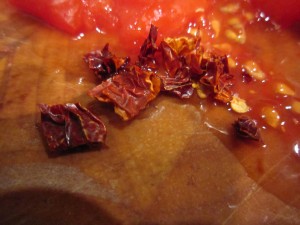 While the water was heating I chopped the tomatoes and chopped in a dried chilli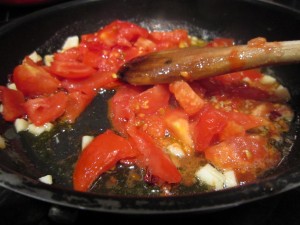 Quickly fried them together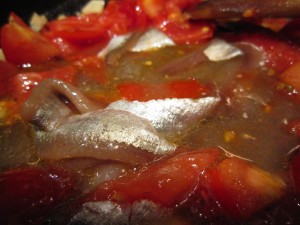 Stirred in the remaining anchovies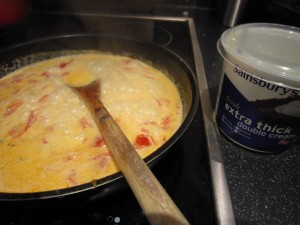 And then realised that there was the remnants of a pot of cream waiting to be used… would it work?
I often eat chilli, tomato and anchovy over spaghetti, but tonight I felt I needed something a little richer, a little bit more comforting. Cream would help, surely?
I stirred it in……it tasted delicious. Probably beyond delicious. It was a gorgeous mix of sweetness, heat and salt, all softened by the addition of cream which made it into a lovely smoothly rich sauce.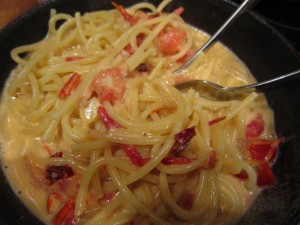 Tossed over the spaghetti it was just what I needed. It was rich and satisfying and, unbelievably, made from scraps.
And all it took was maybe 15 minutes.
Do you know, that was better than anything I could have ordered from that fancy restaurant.
Another Meatfree Monday success!