When I was at school we studied the English Romantic poet, John Keats. To this day, I can still recite many of his odes and whenever my friend J and I get together, something will trigger something in our heads and we will burst into recitation – either sonnets from Shakespeare or poetry or even psalms and verses from the Bible. It must be hard wired into our brains now and it still makes us laugh that after all these decades, the words our teachers drummed into our heads when we were little schoolgirls, still remain. It seemed so hard at the time to learn everything and now it seems we can't forget anything! Makes us pretty good at quizzes, of course, and a source of irritation to our husbands as they weren't taught like us Grammar School girls and they roll their eyes when we go into our synchronised recitation mode at the least provocation or reminder. We can't help it. It just happens automatically. We must have been terrified of our teachers.
 Keats, in his ode "To Autumn" called this the "season of mists and mellow fruitfulness"  and he was right. The apple trees are bending under the weight of the apples and this morning, the first of the real autumn mists filled the valley below us. What might have seemed boring and irrelevant to our teenaged minds is now appreciated and I found myself reciting the ode as I made coffee for breakfast and gazed out of the window.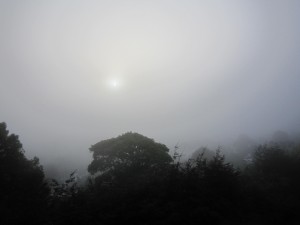 Mists certainly… mellow fruitfulness? Yes. We still had such a lot of apples from our brief foraging trip and I needed to use them.
I was going to be cooking a meal that evening for a visitor from South Africa and another colleague. It wasn't going to be a fancy dinner but it had to be good. I wanted to show what traditional British cooking was like and prove that it is delicious. What better for dessert, I thought, than Apple Crumble? Perfectly British and perfectly delicious.
Last time I made crumble, I made Toffee Apple Crumble and it was delicious – the addition of fudge made an ordinary apple crumble something special. This time, I thought, I would use fudge again but also add the Apple Butter I made at the weekend. That would add in another layer of appley lusciousness to the crumble…..
So, I got in from work and peeled some apples. Normally I use good sized apples and allow one per person. That normally works out about right.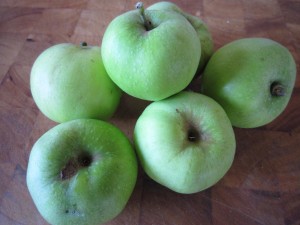 These were my foraged apples – not quite so big as ones from a managed orchard, so I decided 6 would do. Also, I am rather greedy and I was hoping for leftovers the next day.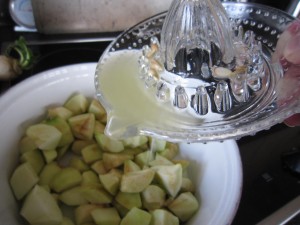 Peeled, cored and chopped, I put them in a large baking dish and sprinkled the juice of half a lemon over the bits to stop them getting too brown.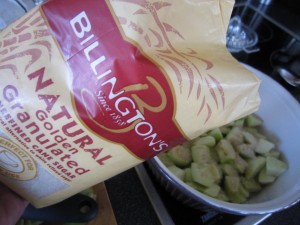 A sprinkling of golden granulated sugar over the top would balance things nicely and help make delicious juices (and I do mean, by the way, just a sprinkling. More sweetness will come from the fudge)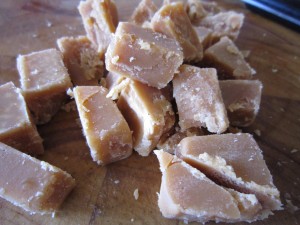 The fudge needed to be cut up too…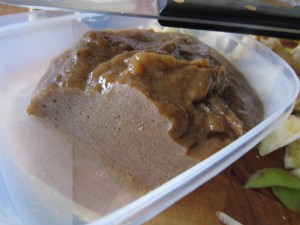 And the apple butter I made? Look how it has set… it can be cut into slices, just like real butter. Apple butter is just apples cooked slowly until their natural sugars caramelise, which is why it is a deep golden brown, and spices (cinnamon, ginger, nutmeg and cloves) stirred in and cooked with the apples.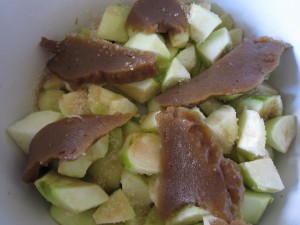 I layered some slices over the apple, knowing that when everything baked, the apple butter would melt over the apple pieces and that lovely spiced apple mix would be perfect in the crumble.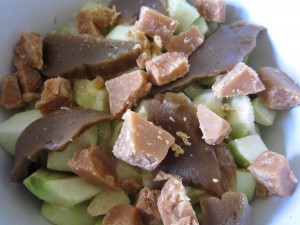 Next, the fudge pieces were scattered over the top.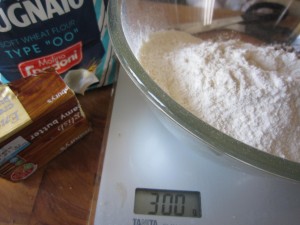 The crumble mix is simplicity itself – 300g of plain flour, 200g of sugar and 175g of butter.
Making the crumble topping is really easy – just rub the mix through your fingers until it resembles breadcrumbs. It doesn't take long.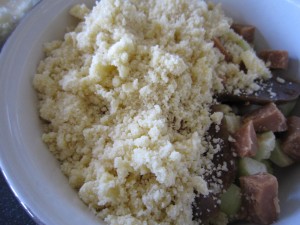 Then scatter the crumble mix over the prepared fruit and fudge.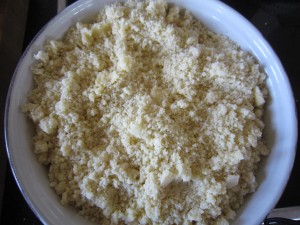 Don't pack it down, just shake the bowl from side to let the crumbs settle round the fruit, fudge and apple butter.
And then all you have to do is put it in the oven at 180 degrees C/350 degrees F for 40 minutes or so.
Oh, the smell of it as it cooked – there was the sweet buttery smell of the crumble itself and the sharpness of the apples and the spicy mix of cinnamon, nutmeg, cloves and ginger from the apple butter.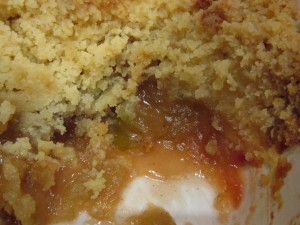 And what was it like?
It was lovely. So lovely I forgot to take a picture of it as it came out of the oven. I just dug into it and served it up.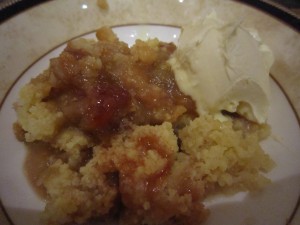 Served with a great dollop of extra thick double cream.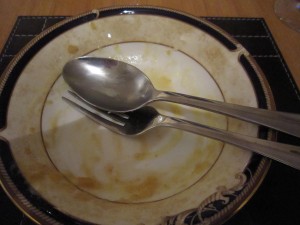 It was eaten and seconds were requested. Our South African friend said she had not wanted to go home without trying a hot English pudding, so that was good. I suppose our traditional hot puddings are famous, and rightly so.
It was a perfect pudding, it really was. Toffee Apple Crumble was excellent but adding Apple Butter as well? That made it truly delicious.
And there are no leftovers.