The Bear was about to set off on his travels again and would be getting up at some ridiculous time in the morning so he could get to the airport. What that means is that he doesn't really feel like eating too early in the morning and would rather have something to eat at a more normal time.
What THAT means is that he is loitering around an airport and picking at stuff. Now I'm sure that what is served at outlets or in the Business Lounge will meet with all Food Health guidelines… it just doesn't meet with mine. Obviously, food produced on an industrial scale, for sale at some point in the future is going to be packed with preservatives or dodgy fats that we don't want and would never have in freshly made food. He knows not to risk my wrath by buying a plastic wrapped muffin or going to a fast food outlet for a burger and he does try to get something looking vaguely healthy but the fact remains, he has to eat at some point while he's travelling. He could try looking a sandwiches but, even there, there are problems.
A simple egg sandwich, for example, will be made with bread that has preservatives, the eggs will probably not be free range (as I'm sure they would be plastering that fact all over their packaging), they are likely to be using margarine instead of butter and goodness knows just when they boiled the eggs.
So I decided to make sure he could have something to eat that he could carry easily, would taste nice and be good for him.
His favourite sandwich is an egg mayonnaise one so I decided to do that.
First I needed to make good bread and as he is particularly fond of seeded or granary loaves, I decided that would be just the thing to bake.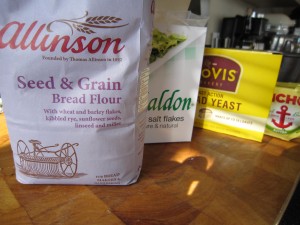 I got a packet of Allinson's Seed and Grain Bread Flour, which is white flour with wheat and barley flakes, kibbled rye, sunflower seeds, millet and linseed. Healthy, tasty, nutritious and perfect to make into a lovely sandwich.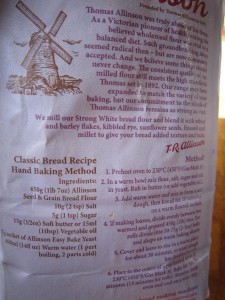 There was a recipe on the back that looked good and I thought I would follow that as I had never used that flour blend before. It looked quick enough, too.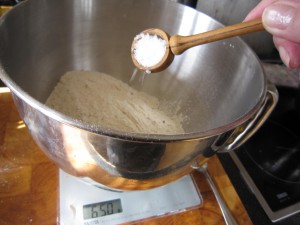 First thing was to preheat the oven to 230 degrees C/450 degrees F, whilst measuring out 650g/1lb 7 oz of the flour, 10 g/2 tsp of salt, 5g/1 tsp sugar and a 7g sachet of yeast.
That was mixed together first to get an even distribution of all the dry ingredients, then 15g/ ½ tsp of soft butter or 15 ml/1 tbsp of vegetable oil was rubbed through.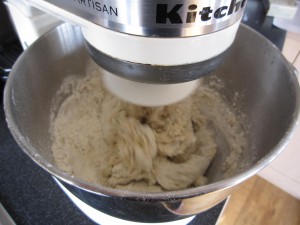 400ml/ 14 fl oz of warm water was added and mix to make a soft dough.
The recipe says to knead it for ten minutes on a floured surface – I did it in the mixer with a dough hook and added extra flour to get it to come together.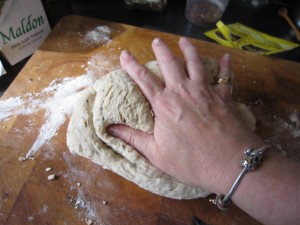 Well I did give it a knead myself…just to show willing and besides I like to feel the dough and by feeling you can judge when it is properly ready.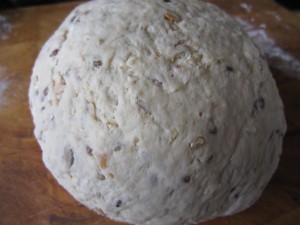 Look at how the dough looks now… smooth and bouncy. If you've ever patted a baby's bottom.. well that's what it should feel like!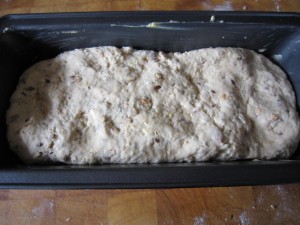 It had to be put in a greased tin (they suggested two 1lb loaf tins but as I wanted it for sandwiches I put it in a long 2lb tin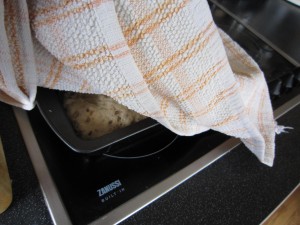 and covered it with a tea towel for 30 minutes until it doubled in size.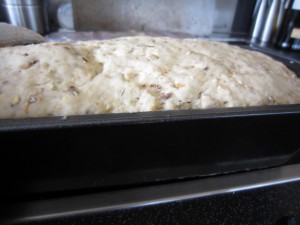 Into the hot oven it went for half an hour or so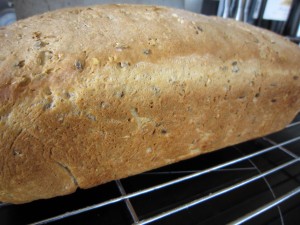 Perfect. When I knocked the bottom it sounded hollow which means it had cooked properly.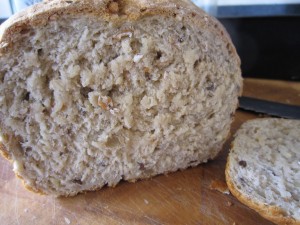 It looked and smelled delicious. We might have shared the end crust with some butter on…. just for checking purposes you understand.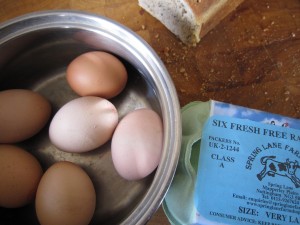 The next thing was the filling. I always use free-range eggs and buy these from our local farm shop so I know exactly where they come from and just how fresh they are.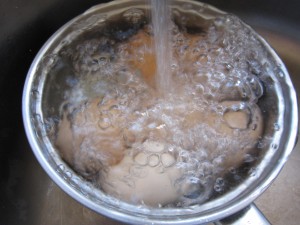 Boil them for four minutes then immediately tip away the boiling water and start filling the pan with cold water because otherwise you get that horrid black ring round the eggs and that terrible sulpherous smell.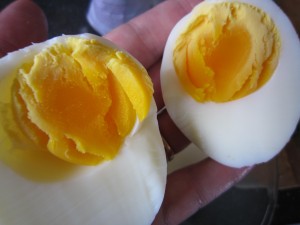 I like the eggs to look like this – mainly cooked but with just a hint of soft yolk.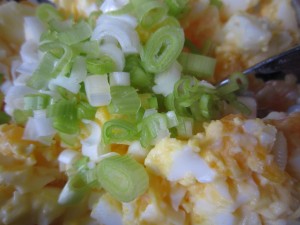 The eggs were  chopped then two slender spring onions are also chopped and added. I wish we still had some chives left but with Autumn rapidly approaching they are all gone now.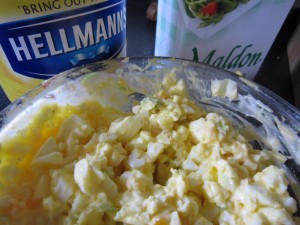 A tablespoon of Hellmann's Mayonnaise and a pinch of salt go in next (Hellmann's switched their production to free range eggs so that's good, otherwise I would have had to make my own, which I have to say is really easy…. but this was easier!)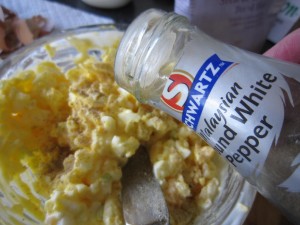 White pepper enhances the egg mayonnaise mix really well,  so a shake or two was added to taste.
And that was it for the afternoon. I was going to get up early the next morning and make the sandwiches. The egg mix went into a lidded box in the fridge and the bread was put to one side.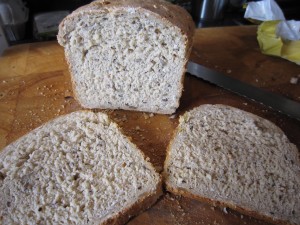 Next morning, at around 5.30 am, I got up to sort things out. The bread cut well and is ideal for sandwiches. It was a good even texture and the seeds and grains made it slightly dense, which is a good thing for a sandwich. You need the bread to hold together and not collapse, spilling your filling everywhere. Especially when the person about to eat it is in a business suit… This might have happened on another occasion.  not this time, though. That bread looked like a winner in the samdwich stakes.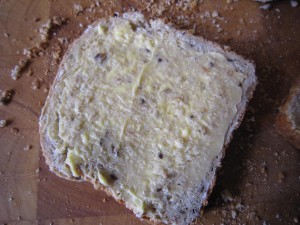 It's important to spread the bread with butter as this makes a waterproof layer and stops the filling seeping through. And butter is important because, well, it just is. I believe in butter and I do not believe that some weird kind of vegetable fat with emulsifiers added to it could possible make anyone believe it wasn't butter.
Butter is cream shaken up until it turns to butter. A pinch of salt can be added but that's all. No chemicals, no E numbers. Nothing but creamy milk and salt. Healthy, that is, I'm sure of it. Anyway, we don't have any margarine or spread or whatever it is called. Butter it is and that's an end to it.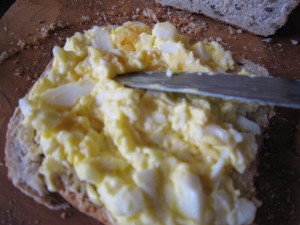 Delicious. And I always make sure I spread to the edges. I hate it when you get a sandwich and there's just a tiny dot of the filling in the middle.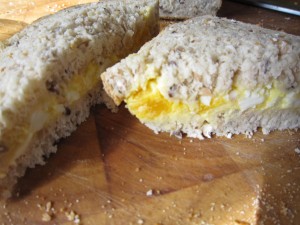 Sliced in two so it's easy to eat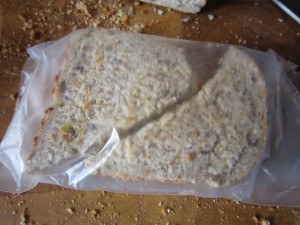 And wrapped in a sandwich bag so he can throw it away afterwards.
So, the Bear left for some other country and I went back to bed, happy knowing that he would have something to eat without having to buy an overpriced, low quality sandwich.
Was it worth it? Yes, it was.
Making the bread took quarter of an hour mixing and kneading. The bag of flour cost less than £1 and there's still a well over a quarter left. What I used made a 2lb loaf so there's plenty left for sandwiches for me for work. I suppose the two slices I cut for him would work out at maybe 15 or 20p. The eggs cost £1.65 for a half dozen, but what I used on his sandwich was probably less than one egg so there's another 28p. Maybe adding in 10p for the other ingredients and you have a perfect additive free sandwich for 58p or thereabouts. Even if you add in 20p for using the oven it is still incredibly cheap when you consider that in an airport the average cost of a sandwich is £2.80. And if you wanted decent bread and free range eggs? That would be another £1 or so added onto it.
For all of you who are wary of making bread (and you know who you are) this was a simple, quick and very tasty loaf. It saves an incredible amount of money for what is really very little work.
Go on – get baking!