It's always handy to have the makings of mayonnaise in the house. In just a few minutes you can have a lovely thick, tasty dressing that you can modify in all sorts of ways to match whatever you want to use it with.
 I made fish and couscous and wanted something to tie it all together. I know that Bear would have been happy with tomato sauce but I wanted something nice. Lemon mayo, I thought, would be just the thing. So….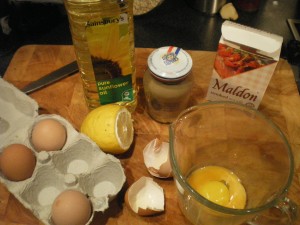 Two eggs were separated (the whites can go into something else tomorrow) and the yolks put into a jug.
Stir a sparse teaspoon of mustard (very, very sparse if you are using English mustard as that is hot, maybe just a touch… but I was using Dijon which is mild) into the yolk and blend it. Add a pinch of salt and then, if you are feeling energetic, whisk it fiercely. I stuck the balloon whisk on the end of my blender and whizzed away.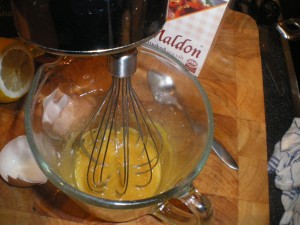 You can see it start to thicken slightly and change colour a bit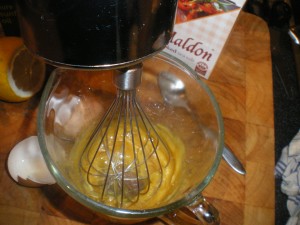 And then you trickle in some oil. Use a flavourless oil, like sunflower, rather than olive oil as that can make it taste just a bit too strong. I have saved the oil from jars of roasted peppers or sunblush tomatoes (you know how there's always loads left and it seems such a waste to bin it) and used that before as an addition to the sunflower oil. That just gives it an extra taste dimension – useful if you are making it for a specific dish.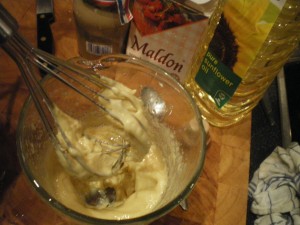 Suddenly it thickens even more and the colour lightens…
I wanted a lemony mayonnaise to go with the fish so I added the juice of a lemon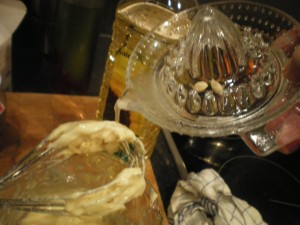 Whisk, whisk, whisk! Add more oil and maybe a couple of teaspoons of white wine vinegar. Taste it to see if you have the flaovouring right.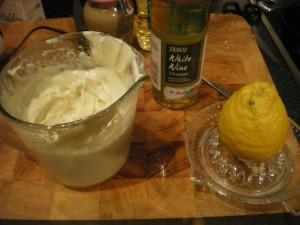 You'd be surprised how much mayonnaise you can make if you keep adding the oil. In one of my favourite books, ' The Curious Cook' Harold McGee experiments with just how much oil can be emulsified with just one yolk. Make as much as you need.. just keep whisking and adding the oil slowly.
You end up with a wonderfully thick, unctuous, deliciously flavoured mayonnaise. Less than ten minutes (I made it while the fish cooked) and you have something to be proud of. This was lemony and savoury and oh-so-right for that fish.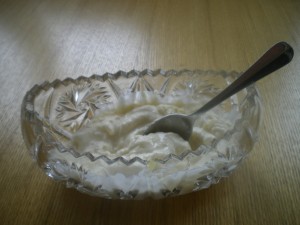 In fact, it was so nice that the Bear went and got an extra spoonful and he's not a mayonnaise lover. Mmmmmmmm…