As the Spring advances, I seem to be getting more lively, almost as if I am speeding up.
I walk faster and I feel brighter and more alert. Must be the increased sunshine, I reckon.
The same goes for my cooking. I am moving away from slow cooked food and wanting faster results. I want to get in from work and make something quickly. Something brighter tasting and lively.
And who would have thought that lentils would fit the bill?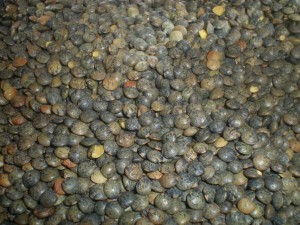 Not red lentils – these are lovely nutty, green and brown speckled  Puy lentils.
They cook really quickly, too.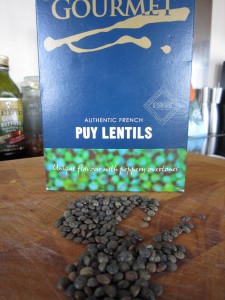 Before you dismiss lentils as dark and stodgy, try them. They are packed full of protein and deliciously tasty and  make a perfect accompaniment for fish or meat. Sometimes potatoes just seem so… potatoey. Sometimes you want a change and lovely Puy lentils give you that.
They take the same time to cook as does roasting a piece of salmon in the oven… how about that as an easy supper option?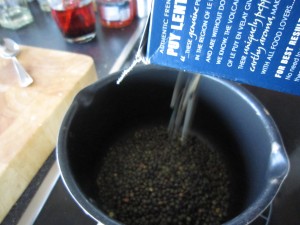 All you have to do is pour some Puy lentils into a pan, add some water and a stock cube (for added flavour) and start to boil gently.
The stock absorbs within a few minutes  – just try them and see if they are at the state of tenderness that you would prefer. They aren't going to go mushy like red lentils, they keep their shape so don't guage by looking, taste them. Maybe ten minutes or so should do it.
Then, just as you are ready to serve, add a handful or so of frozen peas.
Stir them round so they defrost.
And the surprise secret ingredient that changes this to a really lovely side dish that you will want to make again and again?
A spoonful of mint jelly. Stirred in, once everything is cooked, it  adds a lovely sweet brightness to the finished dish and really lifts it.
Don't be put off by this – it doesn't give it an over powering taste of mint, more of an elusive sweet sharpness that works wonderfully with fish and meat.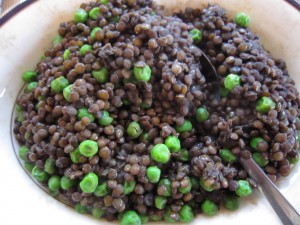 In actual fact, I am happy to eat this all by itself it's so tasty.
Go on… you really should make them.