So. It's cold. I'm bored and then H rings to tell me I have some temping work when I can work again. That cheers me up immensely but I feel even happier when H says she has been reading this blog. And she has a request – H wants soup, mushroom soup in particular. Well, what H wants, she can have… and that also solves the dinner dilemma. I hadn't the faintest idea what to cook and now I know.
I set off to the greengrocers to get the necessary ingredients… mushrooms! Mushroom soup is easy and simple but it can equally easily be given extra bits to make it more luxurious.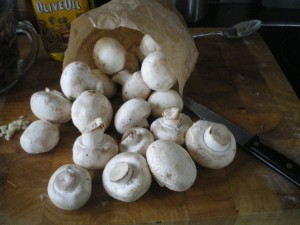 I got mushrooms – a brown paper bag full.
An onion and some garlic.
Some single cream
I already have dried mushrooms at home – but you don't have to add them if you don't want to.
Chicken or vegetable stock cubes or granules.
And my added extras – I have yoghurt in the fridge and from the cupboard some porcini powder and truffle oil for drizzling
First of all, chop onion and saute it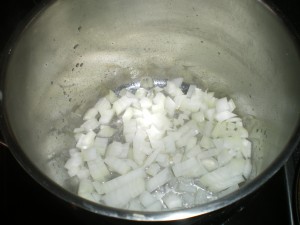 Putting salt in keeps the onion soft. You don't want crispy brown onions as the basis of the soup.
Chop your mushrooms roughly – it doesn't matter because you will be whizzing them later to get a deliciously smooth soup. Add that to the softened onion and throw in a couple of chopped garlic cloves. You'll see all the juices start to come out and it starts to smell gorgeous. Add a couple of stock cubes, crumbling them into the mix.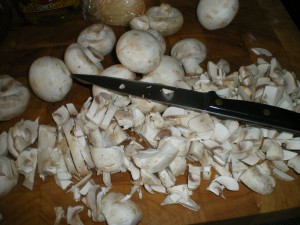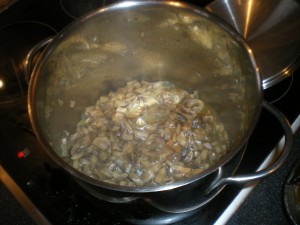 The next bit isn't essential but it's what I'm doing today… I have decided to add dried mushrooms to the soup for extra flavour. Packets of dried mushrooms usually contain, amongst other varieties,  porcini mushrooms which have a deep, intensely mushroomy flavour. Get a jug and put some dried 'shrooms in… top up with boiling water and let it steep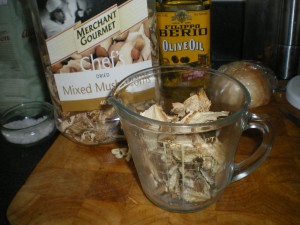 Now that soup base is coming along beautifully – how about making it even more delicious?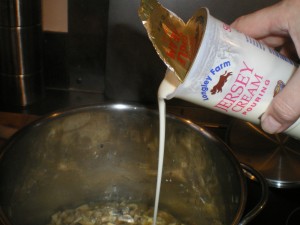 Yup. Add some cream.
(But here's a handy hint.. you can use milk instead or… and this is so handy to know… always keep some dried milk in the larder. It is always skimmed milk powder and that means lower fat, obviously. If you add the dried milk powder to the liquid of the soup, whisking it well, or using the hand blender, then you keep the liquid balance right but add flavour whilst not adding fat! It does make it taste creamy and rich and unlike a pot of cream, it stays in the larder without going off! Result eh? Try it. It works. )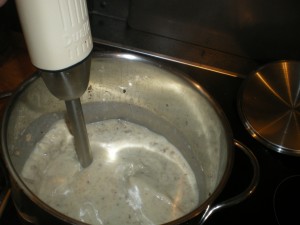 Then this is when those brilliant hand stick blenders come into their own. Start whizzing it to make a lovely smooth base…
Now, if you are using the dried mushrooms, this is where you add the mushroom water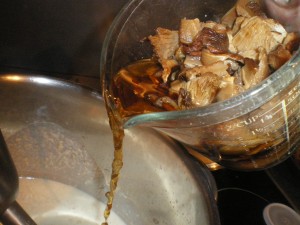 See how it has taken on the colour of the rehydrated mushrooms? Stir it all in and check the taste… it might need a bit of a lift from something.. salt? Pepper?
I leave the rehydrated mushrooms mainly whole, those I do a quick whizz round to partially chop them (The Bear tells me he prefers it all whizzed smooth but I like pieces of mushroom in it. It's up to you. Do what makes you happy)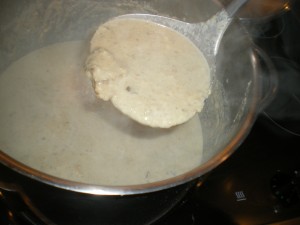 Now for some added extras – if you want to add them do so. If you don't……then don't.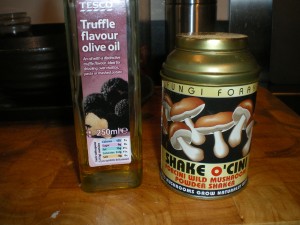 The truffle flavour oil can be drizzled across the top to give a really heavenly truffley, mushroomy scent and the porcini powder dusted over the top of that for another layer of 'shroomy luciousness.  Drop a spoonful of yoghurt in the middle, drizzle and dust away and you get this…..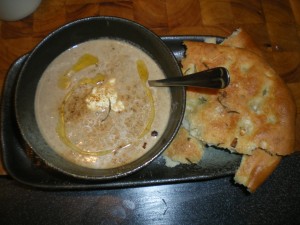 So, mushroom soup – as simple or as layered as you'd like.  If you make the foccacia bread to go with it you can expect yet more declarations of love from those around you.
Going to do it then?