I was looking in the freezer for something to cook while I was at work and found some lamb neck and decided that would be perfect for the slow cooker but the gloom of December is getting to me and I need something with a bit of zing to it… some brightness to cut through the dark…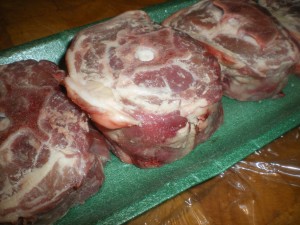 Lamb neck is inexpensive and, if cooked correctly, incredibly tasty. Those four fat slices cost just £1.70.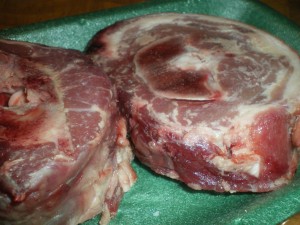 There's a good amount of meat on them, with fat running through it that, if cooked slowly and cossetted with spices, will turn the meat into something that is so tender and melting and so mouthwateringly lovely you can't help but  smile.
I wanted spices with it, spices and a touch of sharpness and thought that a kind of Middle Eastern theme would work. In my cupboard I had a bottle of Pomegranate Molasses which would be perfect. The flavour it adds is a rich and tangy one – a mix of sour and sweet and it goes perfectly with all sorts of meat, particularly the fattier kinds as it cuts right through, really letting the meat flavour expand , if you know what I mean.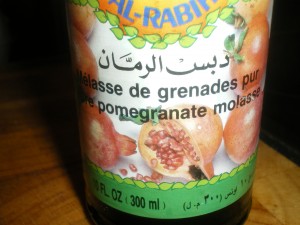 As with any kind of slow cooking, the best thing to do is to brown the meat – not only does it add a deeper flavour but it makes it look better too.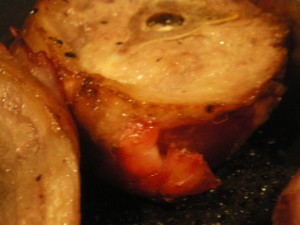 Then, maybe other Middle eastern flavours…. garlic and ginger – crush some, or squeeze some from a tube and fry it off in the pan after you have taken the meat out.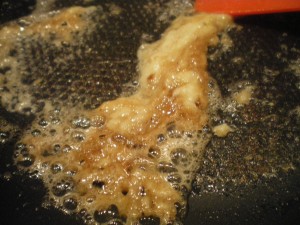 Add some stock and stir it round to loosen up the caramelised meat bits and the lovely garlic and ginger.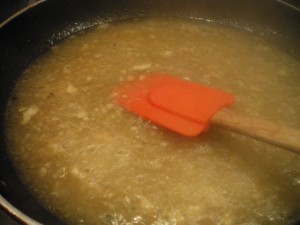 A good pinch of saffron will add a deeper note and the most wonderful colour.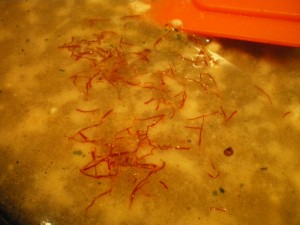 And crush some cardomom seeds – break them open first and then crush the little seeds inside the papery cases…. they are the bits with the flavour… sprinkle them over the bits of lamb in the slow cooker..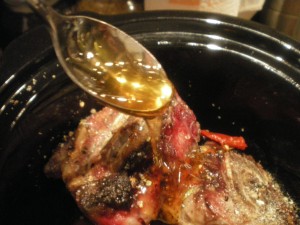 Add a couple of teaspoons of honey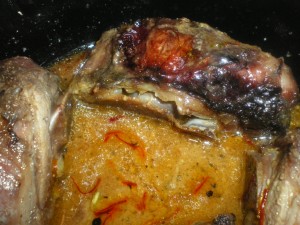 And a couple of tablespoons of pomegranate molasses, then pour over the saffrony stock.
You know the chilli oil I made? Well those chillies are soft now after their long bath but just as hot… one of them dropped in there will add another layer of flavour… a spike of heat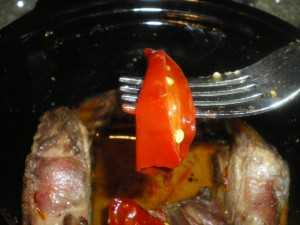 And that's it.
Well that's it till the next day, anyway. The slow cooker can go on before setting off for work in the morning and then,  on getting in from work?
Then you will find your home filled with the most beautiful smell and know that you are going to eat the perfect supper for a dark and gloomy night…. oh it was gorgeous.
There was this deep, rich smell blended with a  fruity sharpness and the underlying tang that comes from saffron. Quite mouthwatering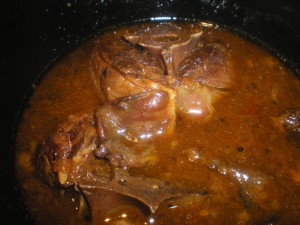 The meat was falling away from the bone… all I had to do was make some couscous and then spoon the tender, aromatic lamb and gravy over it….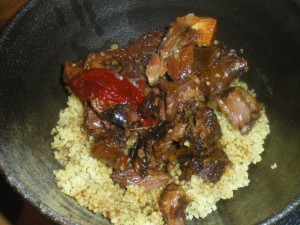 And then tuck in…..