I can always be tempted by salt and pepper dishes from our local Chinese restaurant and when the Bear returned home clutching  raw king prawns and a bottle of rose it seemed that this would be the night to make salt and pepper prawns. I didn't want to do a deep fried dish (lovely though that is) so I decided on a more or less dry fried way of cooking so I could at least say I was giving a nod towards healthy eating.
The rose went into the fridge to chill – that lovely pink fruitiness goes so well with spicy seafood – and I started on the spice coating.
All you need is salt, black peppercorns and Chinese five spice powder. Well, actually you should use Sichuan pepper as well, but I didn't have any.
Actually, I didn't have ordinary salt, either, which meant I had to crush some….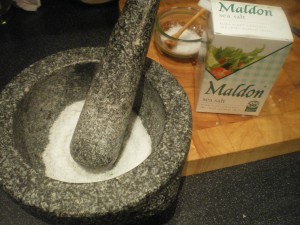 So, about 2 tablespoons of salt are put into a dry frying pan and toasted…. you will see the salt change colour slightly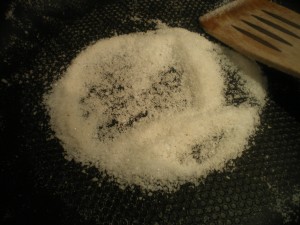 In the meantime, crush a  teaspoon or so of black pepper corns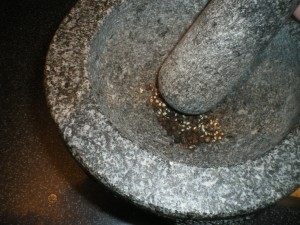 And then pour in a teaspoon of Chinese 5 Spice powder and stir it well. If you had the pink Sichuan peppercorns then add a teaspoon of them and grind them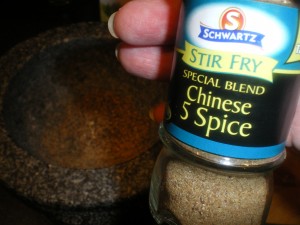 Once everything is smooth and fine, add the spice mix to the salt and toast. Again you will see a colour change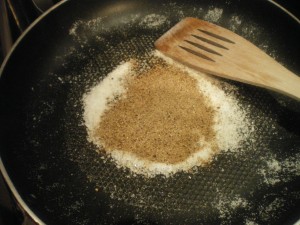 You can see it smoking in the pan… a word of warning – aromatic though that is, it doesn't half make you cough if you breathe it in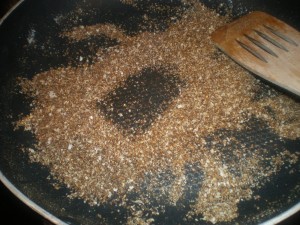 Leave it to cool and then remove it from the pan and get your prawns out. A spring onion, finely chopped and a squeeze of lemon juice will set them off beautifully.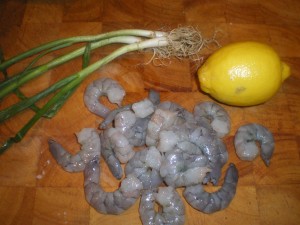 You can see they are grey and raw…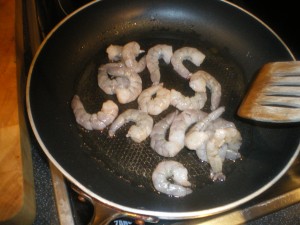 put the minimum of oil in and get it hot and then throw them in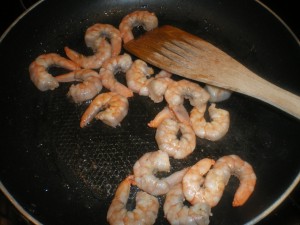 Thirty or so seconds later they are pink and opaque.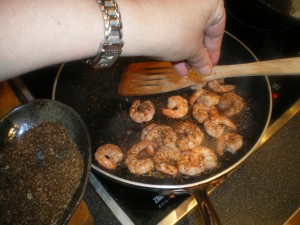 Scatter over some of the salt and spice mix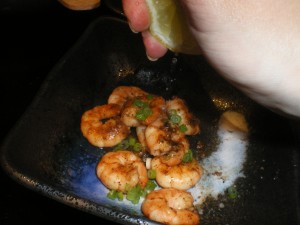 ………………….then serve with a scattering of spring onions and a squirt of lemon juice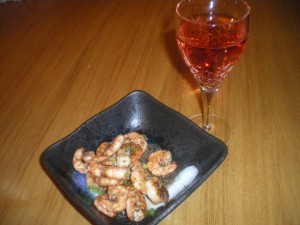 And the chilled rose is just perfect along side it.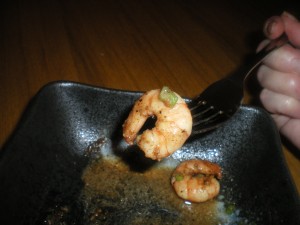 The Bear, who has always been hesitant about prawns and only bought them to please me… ate his portion with gusto and decided he liked prawns after all. I'm not sure that is such a great result.. on the one hand, it is lovely that we both like prawns but on the other… well, I have had to share!