Celeriac always reminds me of weirdly tentacled aliens from Dr Who. I'm sure there was an alien looking much like this on there once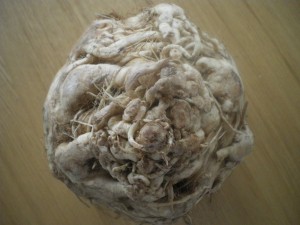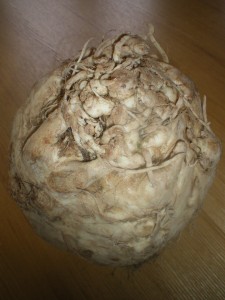 Anyway, it is a tasty old vegetable and makes a good change from potato all the time. It does smell of celery but the taste is more subtle. I mash it sometimes but tonight I am making a quick gratin.
First of all peel it. I'm usually very strict about using a peeler to take off the bare minimum of skin because that is where so many of the nutrients lie but in the case of gnarly skinned celeriac, well, I am prepared to make an exception.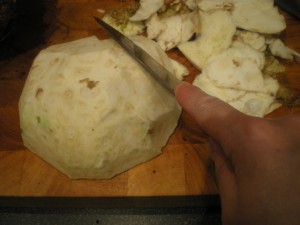 I take a knife and just slice at it. One thing to know about celeriac is that it needs to be cooked, if you are boiling it,  in acidulated water (that is, water that has lemon juice in or, as I tend to do, the squeezed out half of a lemon… moneysaving, eh?) otherwise it starts to blacken. If you are making it into a gratin then just work quickly and expect to see it browning if you aren't moving fast enough. Get it peeled and slice it….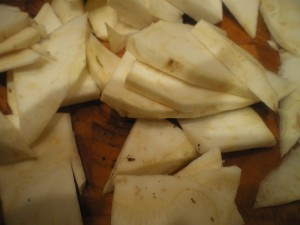 Anyway, lightly butter a baking dish and place the slices of celeriac in – half of them at first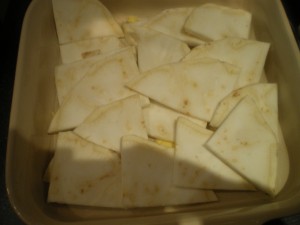 I like to add a thinly sliced onion. It adds to the flavour, I think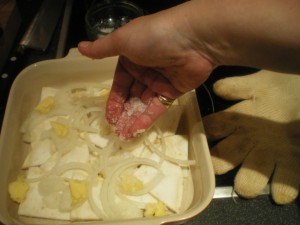 Scatter some salt and a knob of butter, cut into cubes over the slices then add another layer of slices on top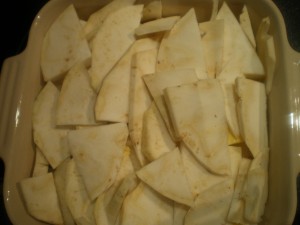 More onion and then pour some milk over it all – not much, you don't want to cover the celeriac, just enough to cook it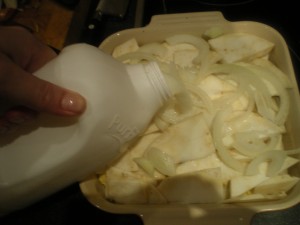 I would have used cream but I didn't have any and that was skimmed milk so I added some Greek yoghurt to give it some richness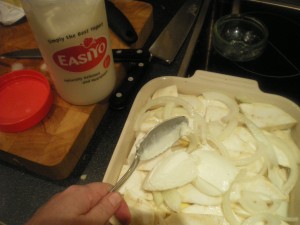 (I make it with EasiYo which is, as the name suggests, an easy way to make yoghurt. I always make the Greek yoghurt with acidopholous in and use it in smoothies and as toppings)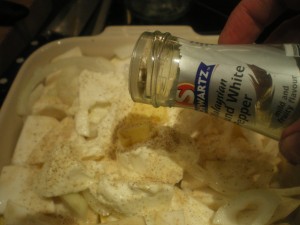 A quick shake of white pepper and it is ready for the oven. Cover it with tin foil to keep the moisture in on the first half of the cooking process – that will concentrate the flavour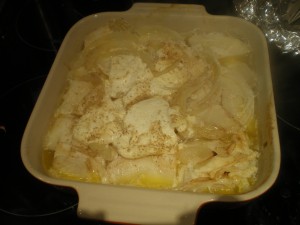 After half an hour take a look – you will see the celeriac has started to soften. Give it a jab with a knife and you will feel the difference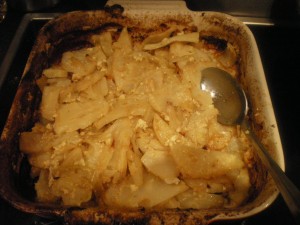 and after another hour or so? Looking good. It would have been a lot smoother with cream but as we all know, needs must when the devil drives and the important factor is what does it taste like?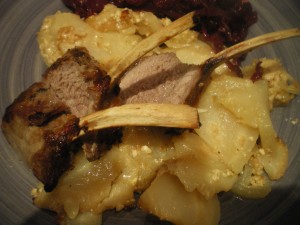 It tasted delicious. And with a lovely bit of rack of lamb? Well, all I can say is that there was nothing left over.