In the very first Cookery Lotto, Looby selected "The Prawn Cocktail Years"  by Simon Hopkinson and Lindsey Bareham using the completely random method of picking a number and then I counted along the bookshelf. That's fair enough, isn't it? We don't need fancy machines to give us our answers. The National Lottery could learn a lot from us. Cheap and efficient!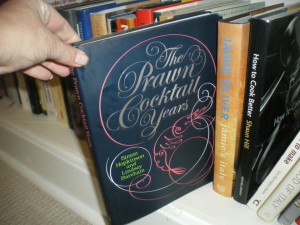 "Here they all are, fresh as paint, as if they'd never been away. Why did we let them go? Neglected, derided, dismissed as hopelessly naff, in what dismal Midlands eateries have they been waiting out the years of shame? No matter, they're back. Prawn Cocktail, Steak and Chips and Black Forest Gateau are the signature dishes of The Prawn Cocktail Years, a bravura collection of favourite restaurant dishes from the Fifties, Sixties and Seventies–years when Britain was learning to eat out."  – Amazon
How could you not like a description of a book like that?
The next step was to find the recipe in there…. first off the mark was Els, texting in from work …. no 49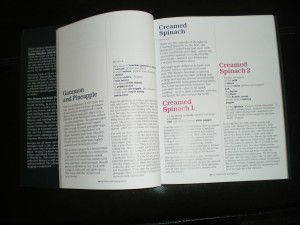 and…. as you can see, the recipe is Creamed Spinach! Bit of a bonus that, for me, because I love creamed spinach. I would eat it once a week at least. Maybe daily.
In essence, it is blanched spinach, finely chopped and added to a creamy bechamel sauce with a grating of nutmeg. An unctuous, smooth, tasty helping of spinachy gorgeousness….
The Bear cries when I make him eat creamed spinach. He's very odd like that. He has a spoonful and then screws up his face and says he can't eat it. But he can, you know, and even admits that is isn't that bad.
That, I think, is the secret to spinach. Make it nicely and it becomes the most delicious, savoury, creamy vegetable with just a bit of a tang to it and it is oh-so-good for you. Serve it with some roast meat and you have heaven on a plate. I'm thinking some roast pork would be good. Sunday lunch it is then!
So tomorrow's shopping list will include spinach, double cream, milk and an onion. From the store cupboard you'll need cloves, nutmeg, flour, pepper and some butter from the fridge.
Oh, I'm looking forward to this!