One of the many great things about being married to the Bear is that we can sometimes manage to travel to lovely places together. If he is going to a conference and has air miles that would pay for my ticket, it's the perfect opportunity for me to go too and then we extend our stay so that we can explore and have a little holiday.
Our last trip was to Argentina  (OK, so he was flying Business Class and I was in the cheap seats at the back but I did get to make new friend, Maria and we have stayed in contact ever since) but at the end of the conference we set off and explored the north of the country..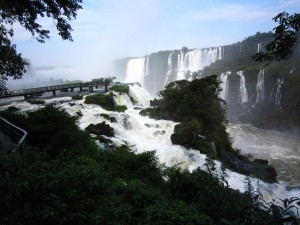 We saw the amazing Iguazu Falls that act, in part, as the border with Brasil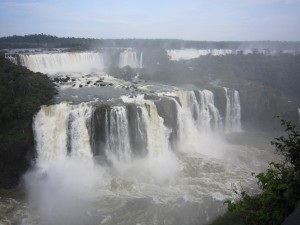 They stretched for miles and miles… so many falls, so much water….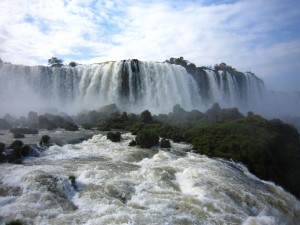 ….and we even walked out, on a perilous walkway, getting drenched as we looked up at one section of the falls above us. I have to say that this will stay with me  as one of the most memorable and astounding sights of my life.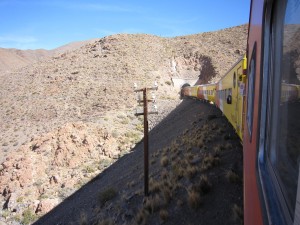 We travelled up the Andes on a train, the Tren a las Nubes , so high that I got altitude sickness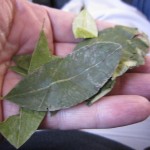 and was given coca leaves to roll into a ball and put in my cheek to absorb the coca….the train hostesses hand them out and spend their journey with their own rolls of coca leaves tucked into their cheeks. The effects of the coca minimise the worst of the symptoms of altitude sickness and here, everyone chews and sucks the leaves.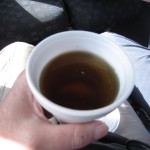 The train company also makes coca tea  to help, but in the end, I had to have some oxygen. I suppose it was a big change for someone brought up at sea level.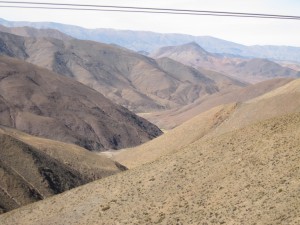 But the view? That was worth it. I sat quietly and gazed at the mountains falling away below us.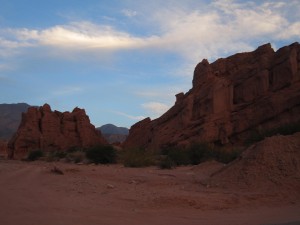 We hired a car at the top and drove down through the mountains, gazing at the beauty of the red earth desert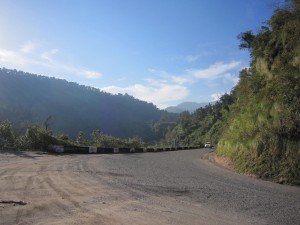 and headed to Tucuman, where the parents of our friend, Natalio,  lived…
All of that had been organised by his wonderful mother, Perla, and it allowed us to see the real Argentina. We wouldn't have known about the Falls or the train journey, nor the wonderful villages we passed through on our days of driving. When we got to Tucuman and met Perla and Leonardo, we were shown the most incredible and generous hospitality. We were treated to barbecues and evenings of drinks and empanadas  (something I am certainly going to make in the future) and had the most fantastic time. I really think our time there was one of the best holidays we've ever had.
There's no way we could have managed to see so much without Perla organising everything and we swore that when she came to England we would try and repay her, just a little bit, for the outstanding efforts she made for us.
On the flight home, I passed the time thinking about what I could possibly cook… I wanted to make her a special meal. I had it all sorted in my head by the time we landed. All I had to do then was wait for her to say she was coming to the UK.
And then the call came! Perla and her sister were coming over and I had bagged the Saturday night to cook for them.
I planned to end the meal with cheese and crackers and I had seen in the Australian Gourmet Traveller Annual Cookbook of 2008 a really interesting way of doing it….This is probably my favourite food magazine ever and luckily my sister, who lives in Sydney, sends it to me every year. When I read this issue I was stuck, with the Bear, in Melbourne airport, waiting for a delayed flight to Tasmania. In the nine hour delay, I read every word and then imagined cooking most of the recipes. This one, however, stood out.
Honey and Muscat Wine Jelly to serve with blue cheese and Salted Water Crackers… and I would be making the honey jelly and the crackers. It was to be served with a blue cheese…..  That would be something special to end the meal with, I knew it….. A soft and sweetly quivering jelly made from honey to spoon onto crisp water crackers, scattered with sea salt, to eat with blue cheeses.
The first thing to do was to make the honey jelly….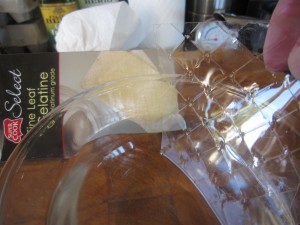 And the first part of making the jelly was to soften the gelatine leaves. You'll find packets of these in the baking aisle of the supermarket – I use the Super Cook Platinum Grade – and three of these clear, hard sheets need to be soaked in a bowl of cold water.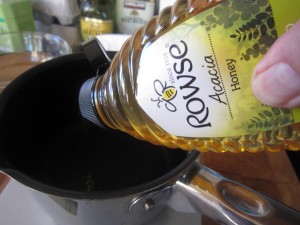 While they are softening, mix 250 gm of clear, runny honey….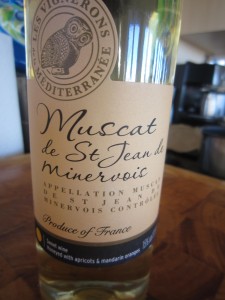 …. with 100 ml of a sweet dessert wine (you can serve the rest with the cheese course)  and 60ml of water.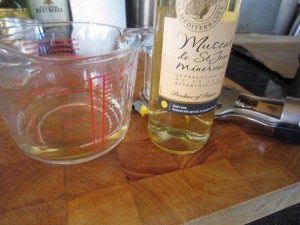 Heat it over a medium heat, stirring gently until it simmers.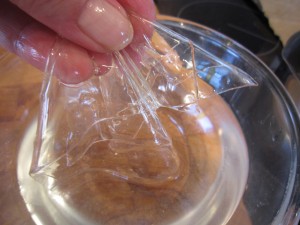 By now the gelatine leaves are soft and you can lift them out of the bowl and squeeze the excess water out of them before adding them to the gently simmering honey and wine mix.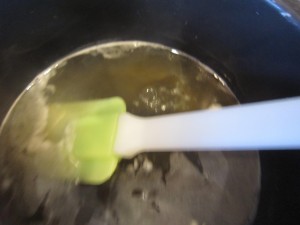 The gelatine dissolves almost instantly, so stir it round and get your prettiest jelly dishes ready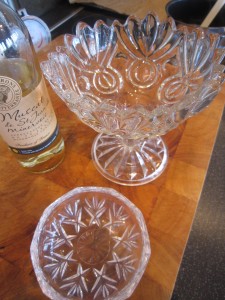 Choose the prettiest things you have because they are going to go onto the table…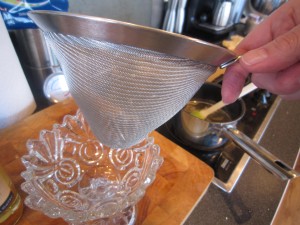 All you have to do now is strain the jelly mix into the bowls…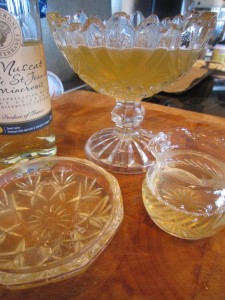 … and then put them to set in the fridge for at least three or four hours.
The easiest thing to do is to make this the day before so you are quite certain everything has set to a soft and quivering jelly. But how easy is it? Maybe twenty minutes work? If that?
Now, of course, you must make the crackers…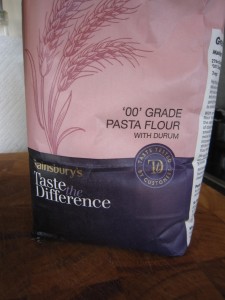 I decided to use the finest flour I have, my '00' pasta flour, but it doesn't matter if you haven't got that. Any plain flour will do.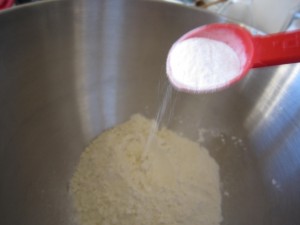 Add two thirds of a spoon of baking powder to 200g of the flour and a teaspoon of sea salt  and stir round to get an even mix.
Mix 30 ml of vegetable oil (remember those cough medicine measuring cups? They are ideal for small quantities like this)  with 120ml of warm water and add it to the flour mix, to make a dough.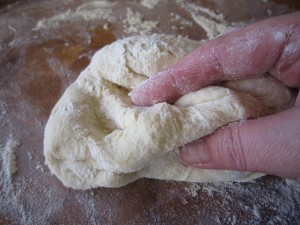 Knead it lightly until it is smooth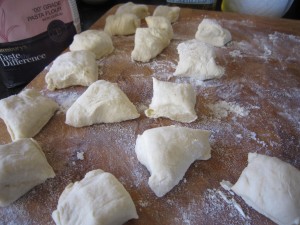 And then cut the dough into 16 evenly sized pieces.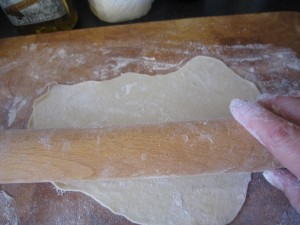 Then, you take each piece and roll it flat …….the Australian Gourmet Traveller suggested until it is a 2mm thick oval, but that wasn't working. Oval? That required more rolling skill than I had and anyway, I liked the look of the oddly shaped crackers that were emerging. There's no way they could be mistaken for anything manufactured by professionals ………..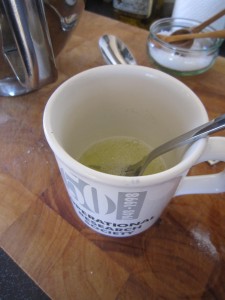 The oven needs to be pre heated to 200 °C or 400 °F and while that gets to temperature, whisk up an egg white and then brush those rolled out pieces of dough.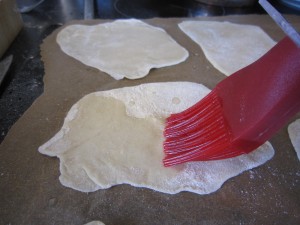 They look artisinal, don't they? Let's not mention the fact I couldn't roll out the dough neatly…..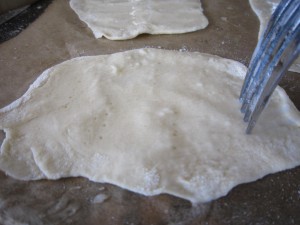 Prick them all over with a fork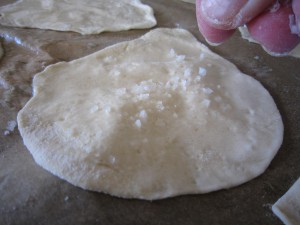 Then scatter them all over with sea salt, before putting them in the oven for ten to fifteen minutes until they are golden and crisp.
You'll have to do them in batches but it's not a big deal… they cook so quickly you can have one batch cooling while another cooks. Once they are cool, store them in an airtight plastic box, where they will be perfectly all right for up to a week.
See? Another thing done in less than an hour. Pretty good for what will be a marvellous course….
And then it was Saturday, time  for dinner with Perla… and Sylvia her sister, Nat and Lenka , Jaume and us….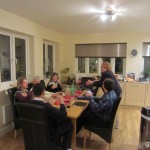 We ate and we drank, we laughed and we toasted each other for getting here, for being friends, for getting engaged, for getting promoted, for having a Saturday night together and anything else we could think of until finally it was time for the cheese course.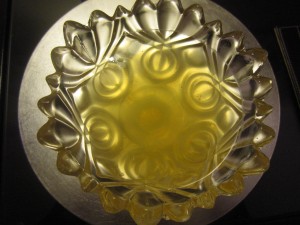 The jelly was soft and quivering and the smell of the honey and muscat wine was sweet and aromatic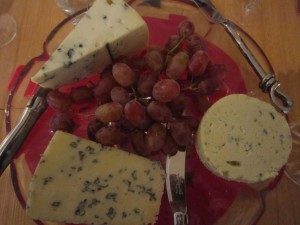 I'd got a selection of blue cheeses and piled them on a cheese plate with grapes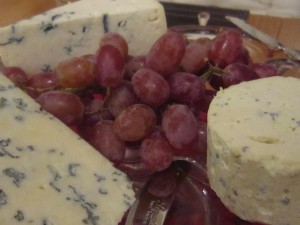 There was Roquefort and some amazing British ewe's milk and buffalo milk cheeses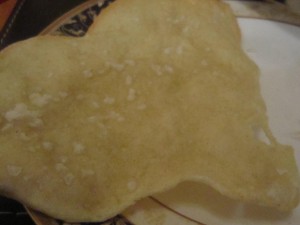 The crackers were crisp and golden…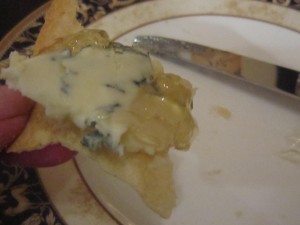 And with a morsel of cheese, a spoonful of jelly piled onto a piece of the cracker… it really was the perfect mouthful.
The combination of sweet and salty flavours, the softness of the jelly and cheese and the crisp snap of the cracker were wonderful.
And you know what? I was happy… I had done what I could to welcome Perla to our home as she had welcomed us to hers.
And you know something else? This was easy. Try making it yourself. Your guests will be pleased and you will feel proud. It can be made the day before (always a plus point in my book)
It's simple and delicious. And a perfect ending to a lovely evening.