Sometimes… when I have a  few minutes, I loiter around the web, looking at things I might want to buy. I'd spotted that lovely madeleine tin on Amazon and I could justify buying that because I'd never made madeleines before and I was absolutely sure you'd all want me to make them… and I was right, wasn't I?
Anyway, on my idle perusal of other things I hadn't got (yet) and possibly wanted to get, I spotted a shortbread mold.  A beautiful stone mold with thistles and segments.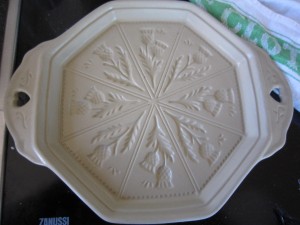 I love shortbread. I love its buttery, crumbly, sweet but not too sweet, sandy- textured biscuitness.
A good slice of shortbread with a cup of tea can make the whole world seem better.
It was obvious, then, I had to buy the shortbread mold.
What happens if anyone drops in and I don't have anything nice for them to have with a cup of tea? What happens if there's a crisis and I have to offer comfort, tea and shortbread to get them through it? I can't take risks like that with my friends' happiness.
Well, that's what I told the Bear when he found me smuggling in another package from Amazon.
So, I set to.  The oven was switched on to 150 degrees C/300 degrees F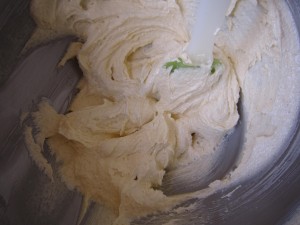 250g of unsalted butter and 125g of golden caster sugar were creamed together.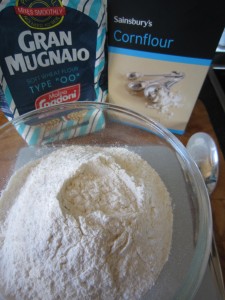 250g of good, fine plain flour and 125g of cornflour were sieved in and stirred lightly together.
If you had fine polenta (cornmeal) or semolina that would be a lovely thing to add, giving it a lovely crumbly texture. I didn't have any so I stuck with cornflour.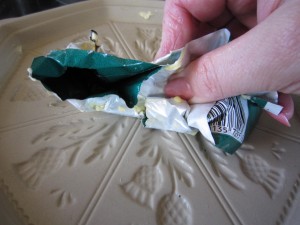 I used the butter wrapper to wipe out the stone mold and get a thin layer of butter into all the crevices. (I'm thinking that one of those sprays of cooking oil might be good here)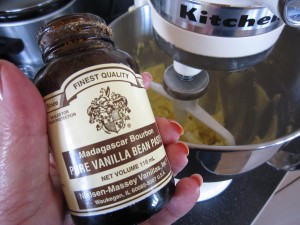 Because I love it and because I wanted it, (what better reason do I need?) I added a quarter teaspoon of vanilla bean paste to the butter and sugar.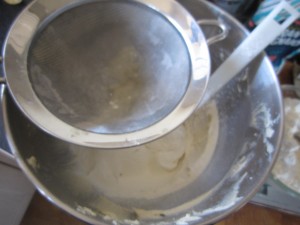 The flour I had chosen was a good '00' (extra fine) so it will be smooth but just to make sure, I sieved in the flour and cornflour mix.
Sometimes, you know, I do like to faff about in the kitchen and sieving isn't essential it just panders to my inner domestic goddess…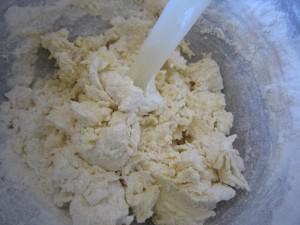 Bring the mix together but don't go at it too heavily – overworking the flour will make the shortbread tough and that would never do.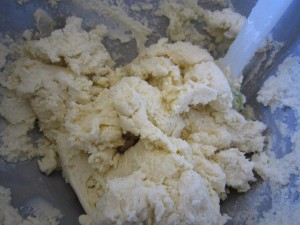 See? It looks almost sandy. That's what you are after.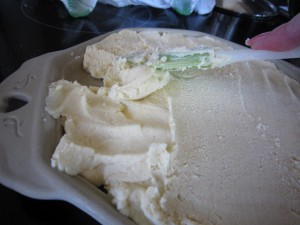 Now, just pack it into the mold and press it down firmly.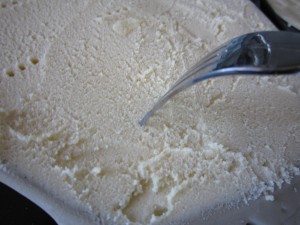 Once it is flat, prick the shortbread with a fork before putting it in the oven for about 50 minutes.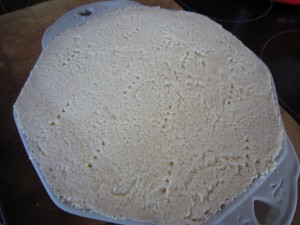 It will cook to a delicate golden colour.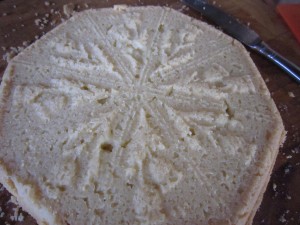 Look! Out of the mold you could see the thistle pattern.
Next time I do it, I shall pack it down harder to make the pattern more defined but, as it was the first time I used that mold, I didn't mind…. it all tastes the same anyway.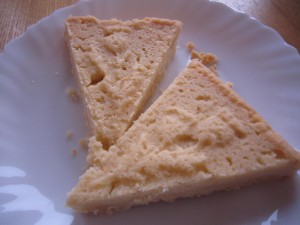 Lovely. And I could eat it happily… there was no crisis (but how comforting that shortbread would have been if there had been one) there was just a cup of tea and the rest of the afternoon to enjoy it all.
It was crumbly, buttery, sweet enough but not too sugary… it was shortbread. Plain and simple shortbread.
Perfect.