Today has not been a good day for me – my arm is hurting and I have just idled around, wanting sympathy. Thinking of what to cook for supper was beyond me so The Bear (who got home at midnight, last night) took matters into his own hands and rummaged through the cupboards for something to make.
I haven't been shopping for ages so the cupboards and fridge are empty……. except for basics….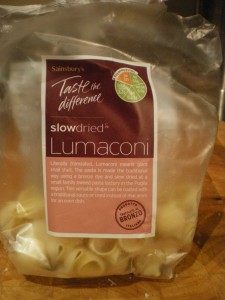 He grabbed some pasta – a lovely large, snail shaped pasta shell that catches the sauce you serve with it – and then started to look for something to make sauce with.
In the fridge he found the last few baby pomodorino tomatoes and some parmesan cheese. There were chillies growing on the balcony, some garlic in the vegetable box and… on the shelf at the back of the fridge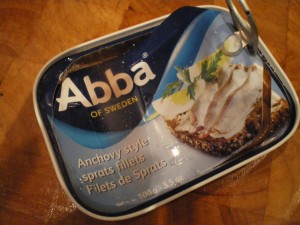 Of course, the tin wasn't opened then.
That was it. He started boiling the pasta and while that was going, he roughly chopped the tomatoes and garlic, with half a chilli (to give it a bite) and sauteed them in some chilli flavoured oil. Then (this is the hidden masterstroke) he put in half the tin of anchovies and stirred them all together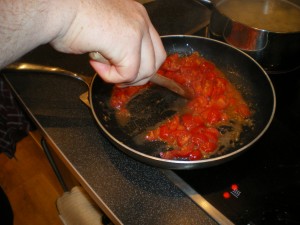 By now the pasta was ready so he drained that, adding a couple of spoonfuls of the pasta water to the tomato sauce to loosen it all up a bit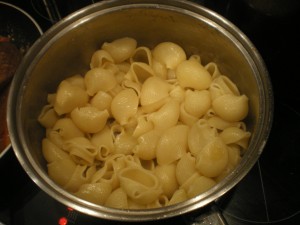 A quick stir round, then into the bowls with the pasta, and then top it with the sauce and a grating of parmesan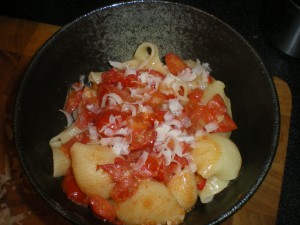 And there you are. A perfect supper. The anchovies dissolve away and give the sauce a gorgeous depth of flavour and the chillies give it a bite. All from scraps and bits and made in minutes.
Delicious. Everyone should have a Bear who can serve up dinner in minutes from the bare scrapings of the larder.