Caron was first to pick a number and a column…
Page 99 of Australian Gourmet Traveller Annual Cookbook, 2008 is in the pasta section and the second column  is papardelle.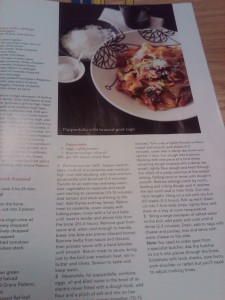 We're making pasta!  And the only ingredients are 4 eggs, 1 tablespoon of extra virgin olive oil and 560gm "00" durum wheat flour.
Pappardelle is broad flat strips of pasta. Broader than fettucine.
All I can say is thank goodness she didn't choose column 1… because we'd have been searching for  a kid's shoulder on the bone to make a ragu with.
That's a goat's kid's shoulder, obviously.
So, this weekend is pasta time! Goodness knows what sauce I will make to serve with it – I shall cross that bridge when I get to it.