As I lumber my large and ungainly way into January and prepare to go back to work, I make a start on the diet. My cunning plan to emerge as slender as a supermodel is based around eating tasty but sensibly low calories breakfasts and lunches and then having something truly delicious, yet very low calorie for supper.
Lunch.. that is the problem. I want something really tasty to keep me going. I drink black coffee all day and I need a different taste.
Now. It is Sunday night and I haven't really thought it through, so I start rummaging in the cupboards. There aren't any tins of tomatoes…. I can't believe it, because I always buy plenty. There's lots and lots of stuff in there to make delicious meals but I am trying to cut calorie corners.
What I do find is a carton of V8 vegetable juice … look at the goodness in that…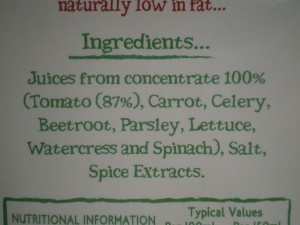 and an  onion.. and a packet of bonito stock, or dashi.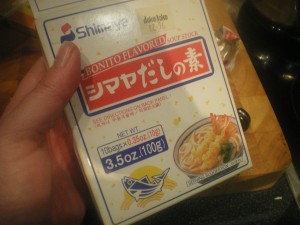 This is a combination of fish flakes (a bonito is related to the mackerel and tuna, dried and shaved into flakes)  and seaweed… it may sound strange but it is going along the umami route – a deep, flavoursome stock that gives you "mouth feel" as if what you are eating is rich and certainly more calorific than it seems. It doesn't taste fishy… just savoury.
Don't add it if you don't want to, or if you can't find it – add ordinary vegetable stock or miso instead. The aim is to make what would otherwise be a thin soup (with, therefore, very few calories in it) into something that tastes if it has more body and richness to it.
So, one onion, chopped (about 100 calories, raw) and one tablespoon of oil  (about 120 calories) – see how much work I do for you? Calculating all this?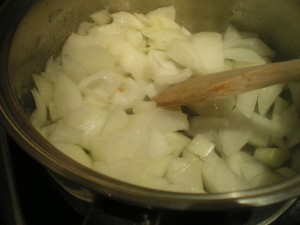 Sweat the onions till soft with a pinch of salt (that makes them stay soft and translucent)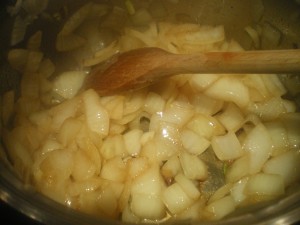 Add a sachet of bonito stock and stir round.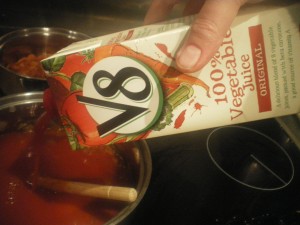 Pour in the V8 (190 calories for the litre)  … how healthy is this going to be? All those vegetables in there…stir it round and let the onions finish cooking.
Now, if you have fresh coriander chop it and stir it round.. or, if you have a tube of it (always handy to have some in the fridge) give a quick squirt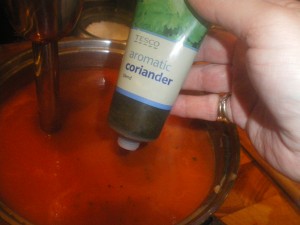 Remember those chillies I made chilli oil with? I got one of those out and added it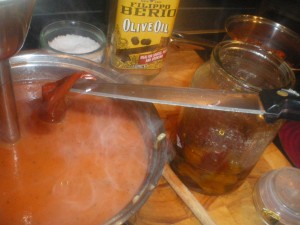 And a squirt of ginger as a livener…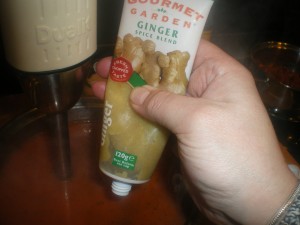 And whizz it all to a silky smoothness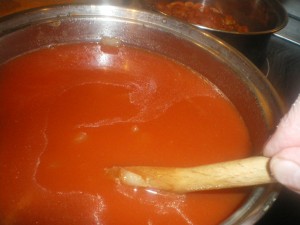 Now, by my reckoning that comes to maybe 500 calories or so for the litre…. that's a LITRE.. That's a panful.  A good sized mug full will only be 100 -125 calories.
There's a richness and fullness to it that makes it so very satisfying. It's tomatoey (as it should be) and savoury – not just salty… and there's a hint of a nip of ginger and chilli.
It's not just one dimensional.
Flashforward to Monday lunch….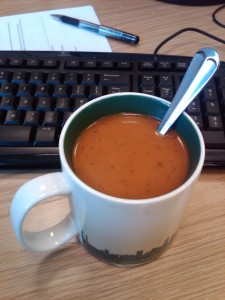 It's a winner. Can this be the way forward?