October morning mists
…. it is the beginning of October, the beginning of this blog and, it seems, the beginning of Autumn. When I got up this morning instead of being able to see for miles from kitchen window, it was cool and misty. When I went out onto the balcony there was a definite chill in the air. The kind of chill that suggests a need for big meaty dishes.
The Bear had set off early to work and crept out trying not to wake me so I thought I would make a decent effort in return and have something  ready for him tonight. I also needed to make sure there was enough for him to eat tomorrow night as I was going back to the north for a couple of days. Not that he couldn't cook for himself, but  I had plenty of time and he was busy. Might as well make myself useful. What I wanted was something with minimal effort and maximum kudos. I had bought the November issue of "delicious." at the weekend and one of the recipes in the slow cooking section,  Spiced Shoulder of Lamb,  sounded just the sort of thing for a chilly day – with the added bonus of gorgeously aromatic smells filling the apartment while it cooked. The sheer simplicity of the recipe meant that it had a lot going for it as certain of my friends (yes, you know who you are) prefer not to exert themselves too much…… and they need encouragement.
It did suggest making it in a slow cooker but as the one I have is a very small two person pot and this recipe serves 4-6, then it seemed a good idea to do it on a low heat in the oven all afternoon… and that would also warm the place up a bit.
Spiced Shoulder of Lamb from delicious. November 2009 issue
1.5kg shoulder of lamb,
good pinch of saffron,
1 onion finely sliced,
2.5cm bit of ginger, peeled and cut into matchstick sized pieces,
2 garlic cloves, 
1 tsp chilli flakes, 
1 tsp coriander seeds,
1 tsp. cumin seeds,
 2 tsp garam masala.
I bought a piece of rolled shoulder – not for any other reason than that was what Mick the butcher had.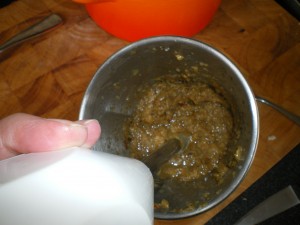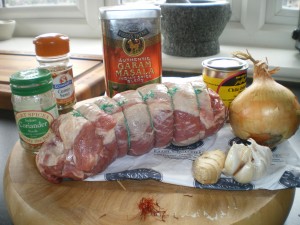 The lamb was browned all over in a hot frying pan before I put it in my Le Creuset casserole. While that was browning, I soaked the saffron in 2 tbsps of warm water and started on the paste. All of the other ingredients needed to be blitzed to a rough paste and then the saffron and water added. The paste was seasoned well and then rubbed all over the lamb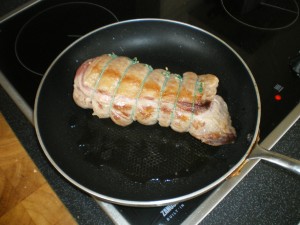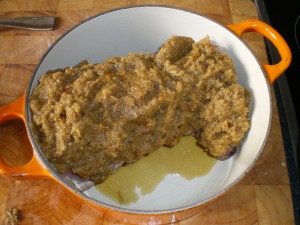 That was it. Into a preheated oven (160 degrees/140 degrees, fan assisted/gas mark 3) and leave it to do its stuff for 4 or so hours.
Now I'm just lolling around while the apartment smells gorgeous…… 'delicious. ' suggests serving it with couscous, which I will make later and making a garlic, mint and yoghurt sauce to go with the lamb.
The sauce is made with 150ml Greek yoghurt, 1 crushed garlic clove and a handful for chopped fresh mint, all stirred together .
So, my friends, do you think you can make this? It's not hard is it? Five minutes work and then leave the oven to deal with it?
The outcome?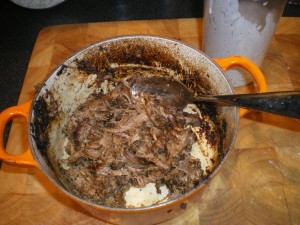 Lamb – the finished dish
Finally… after several hours, the Bear returned home from work and demanded to be fed. I should have taken a photograph of it before I took the string off (carefully with scissors… no running around waving knives, please!) and broke up the meat with two forks.
Oh, and then we took several portions out so there was a lot more than this. It really did fall apart. It really was soft and luscious. I made the couscous – which for coeliac/gluten intolerant amongst us wouldn't be appropriate, you'd be better off with a jacket potato – anyway, for those that can eat couscous it is a simple matter of pouring boiling water on it and letting it fluff up.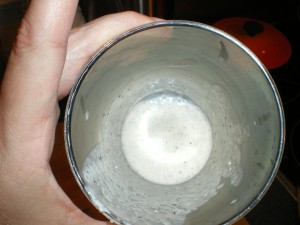 I made the sauce with Greek yoghurt, some chopped garlic and the last handful of mint growing in the pot on the balcony. I just put it in a jug and whizzed it till everything  was smooth then put it in the fridge to chill. I think if you make the lamb then the yoghurt sauce is a must have – it gives the finished dish a bright sharpness and livens up the couscous.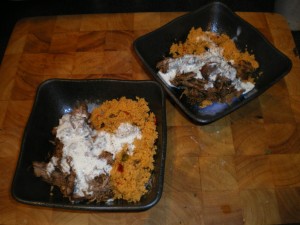 I possibly could have presented it more attractively but after a full day of taking photographs whilst cooking (I kept forgetting… I was into "The Zone") and trying to upload them… well, by the time it got to putting it in a dish, I just dished up.  No doubt the style gurus amongst us will suggest a white dish for better effect but hey ho… I have these. I like them. They'll do.
Final thoughts? It was easy, it wasn't expensive (£5 for the lamb and that is from my butcher who doesn't do cheap) there's enough there for at least 6 people. The apartment smells nice, the Bear seems happy. You can prepare it and stick it in the oven or the slow cooker and then get on with other stuff. It is very forgiving if you don't know when you will be serving it up. I say do it. You won't regret it….