Yesterday was a work day and I was up before 6 as usual. I got up, showered, dried my hair and got ready for work and was out of the door by 7.25. I didn't go to work though.
Instead, I spent the day here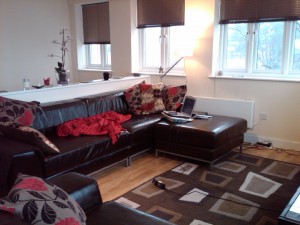 stretched out on the sofa, wrapped in a blanket, with an ice pack on my head.
Why? Well, I got out of the main doors of our apartments and slid along the black ice to my car. The pavements were like a skating rink and I thought things were bad, but at least it wasn't snowing heavily.
I scraped the ice from the windows and waited till the car  was warmed up before setting off. The car (a huge and heavy old diesel, but excellent in bad weather) was slipping a bit… but at least I was moving. I got to the corner where we turn to go down the hill and saw cars sliding down sideways in the ice. Our grit ran out days ago and despite the best efforts of us all to keep the hill clear, there's only so much we can do.
This was getting ridiculous and I thought that the best thing to do would be to put the car back and get the bus into work.
Turned out that the buses were cancelled. Our neighbours were all standing around and we watched the more foolish young ones try to drive up the hill to get out … the snow was whirling round and their cars were sliding backwards. One of the neighbours said the road had been closed to stop accidents and that the cars were being turned round.
So, being a good neighbour I went to see if they needed help pushing – the Bear and I had been out over the weekend to help and with just a couple of people helping, the cars can get moving again. Once it was clear maybe the roads would be better and we could all get out. Great idea, eh?
Except I stepped on black ice.  My feet soared upwards and I fell backwards cracking down on my head on the pavement. I lay there completely stunned until a really lovely neighbour picked his way across the ice to haul me up. That was it for me. I made it back home to show the Bear what a stupid thing I'd done.
I have a huge egg sized bump on the back of my head and all I wanted to do was to sit still with a bag of ice on the back of my head. I just lay there feeling very sorry for myself while the weather got worse outside. The snow had been thawing and the grass clearing  but now it was back with a vengeance.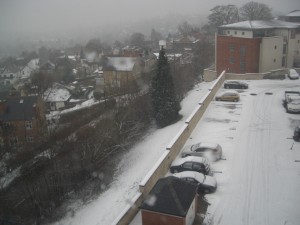 Just as well, then, that I had started making the oxtail I had planned for tonight and the last thing I did before setting off was to turn on the slow cooker.
I'd been thinking about cooking the oxtail I had in the freezer and I wanted to do something different with it. I was thinking of a sharper taste to it than the normal beefy gravy and vegetables …… so at 11pm the night before,I started getting things ready.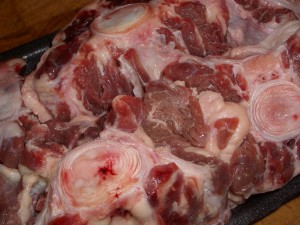 That beautiful oxtail was only £1.98.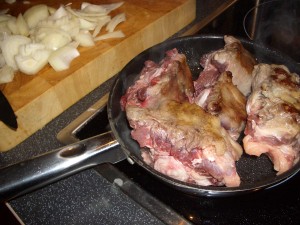 As with any slow cooked meat, you need to sear it, browning the outsides before you put it in the  pot. This is not just for cosmetic reasons, because the brown outside is so much more appealing, but because the slightly caramelised burt brown bits add to the flavour of the gravy.
While that was searing, I chopped an onion and put half of that in the base of the slow cooker pot.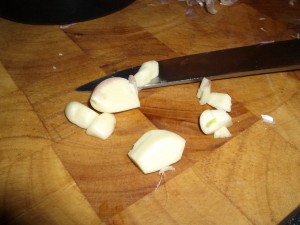 A few cloves of garlic would be great with the flavours I was planning…….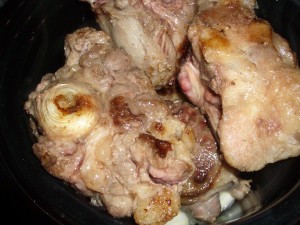 The oxtail pieces went in on top of the onion, then the rest of the onion went on top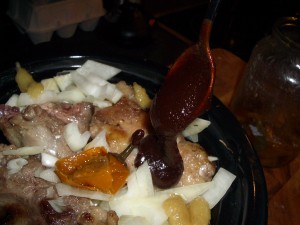 Then three dessertspoonfuls of hoisin sauce, with some ginger .. I was using a tube because, with all the bad weather, I hadn't gone shopping much and I was running low on fresh ingredients.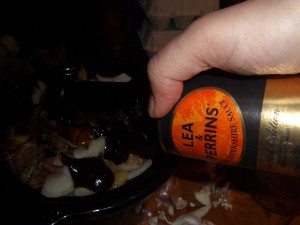 I put in some Lea and Perrins to sharpen it slightly – a good shake of it, all over the top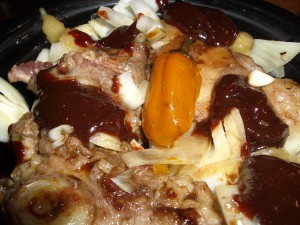 and one of those lovely chillies from the chilli oil jar.
Some water and some stock granules to make sure there was enough liquid in there and that, as they say, was that.
OK so it was a bit late to be searing meat but I knew that all I had to do in the morning was turn it on.  I would get the Bear (who was to be working at home) to put in some cubed sweet potato at some point in the afternoon.
Still, it had only taken me ten minutes to get that ready so I couldn't complain.
And how glad I was that I did it. I really couldn't have managed to sort anything out after that bang on the head. I just lay there, listening to the occasional gloop and bubble sound from the slow cooker and breathin in  the spicy, meaty smell as it cooked.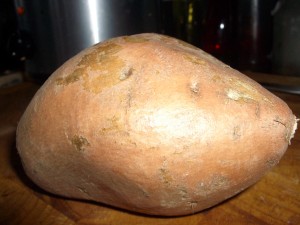 I did manage to peel a sweet potato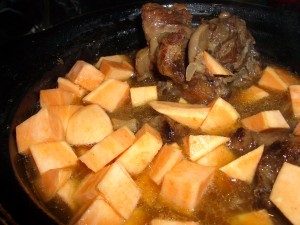 and cube it, before putting it in on top of the half cooked oxtails, before going back to lie on the sofa.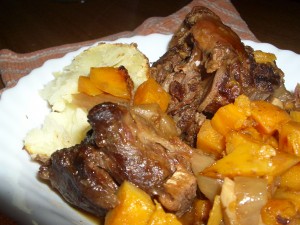 And that was delicious. A jacket potato on the side was perfect to soak up the gravy.
We ate it at about 7 pm and it was a lovely mix of sweetness, sharpness and meatiness. You wouldn't have particularly known that it was a mixture of hoisin and Worcestershire sauce but it did make a really lovely gravy.
All that from one oxtail, one sweet potato and one onion. Bargain!