Even though it is the weekend, I still wake up before 6am, just as I do for work.  And, just as I always do, I go, quietly, upstairs to our kitchen to make coffee and look out at the city below us.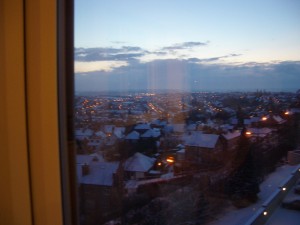 It's been snowing again and even though we are right at the top of our apartment block and even though it is bitterly cold with the wind howling past, the snow is piling up against the windows.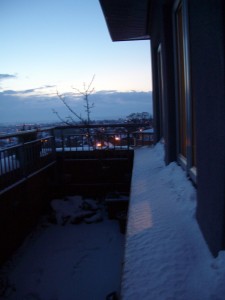 I know I said I wanted to be snowed in but this is ridiculous.
This is not the morning for having a cold breakfast. This is the kind of morning that something like a fried egg sandwich, say, is just what is called for. White bread, all soft and giving, with a hot, fried egg, sizzling as it drops on to the bun, then oozing golden egg yolk down your chin as you bite into it.
There is, as there so often is, a problem…. we have no white bread. There's time enough, though, to make some buns  – and, as an added bonus, putting the oven on will help warm the place up a bit.
As I get the flour out of the larder, I see there's a recipe on the back of the Hovis bag. I usually make slow risen bread, bread that has some texture, taste and strength to it, but today I want soft, white rolls. I just want fresh white bread that will mop up buttery, eggy, tomato saucy dribbles…….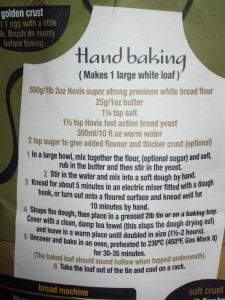 Good old Hovis, eh?
500g of flour, 25g of butter, 1 and a quarter teaspoons of salt, 1 and a half teaspoons of fast action yeast (that's one sachet of the instant yeast),  300 ml of warm water and 2 teaspoons of sugar ( that adds flavour and thickens the crust, apparently)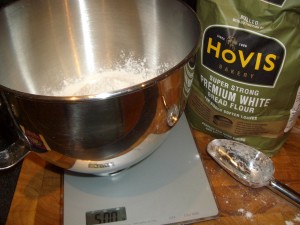 Add the dry ingredients to the flour and mix them through (it's the only way to make sure it all mixes evenly before you add the butter and the water) Then add 25g of butter – cut it into pieces so it is easier to deal with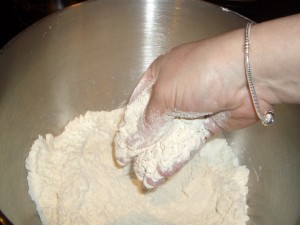 Then, using the tips of your fingers, rub the butter through the flour – you need to get the bits of butter evenly distributed through the flour… just rub it through till there are no more big bits left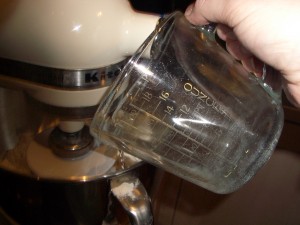 Then add 300 ml of warm water and stir it together.
I wanted to go and read the papers on line while I drank my coffee (that weighing and mixing everything together only took a few minutes) so I put it all in my mixer, with the dough hook and set it away to knead.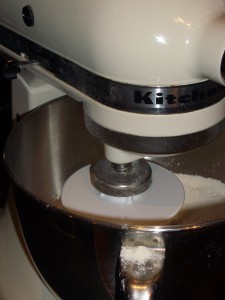 You can do it yourself, of course, but luckily… I don't have to! I left the Kitchen Aid  whirring softly, at a gentle speed, for five minutes as I read about the widespread snow and the probability of more.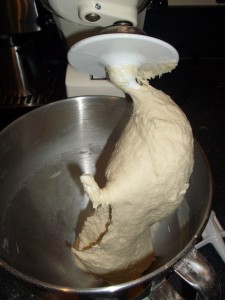 There you go… beautifully silky dough, ready to make into buns and let it rise.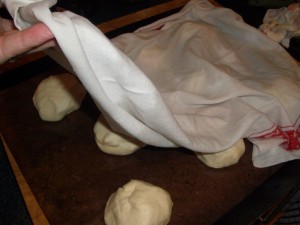 A quick roll into bun shapes, then pop them onto a silicone sheet on a baking tray and cover them with a dampened tea towel to stop the dough getting a crust before it is ready to bake.  The buns need to rise for an hour or so before you bake them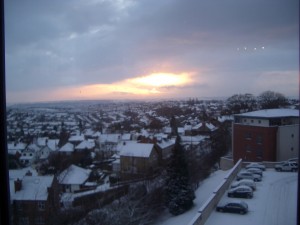 But it was, still,  just after 7 am so there was plenty of time before I needed to make breakfast… and it was snowing again.
The oven went on at 230 degrees and when the dough had doubled in size… in those buns went for half an hour so so…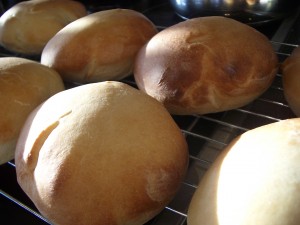 Oh they were lovely! The kitchen was warming nicely, the smell of baking bread was filtering downstairs to wake the Bear….. beautiful little plump, white breadbuns emerged from the oven… time to get the breakfast ready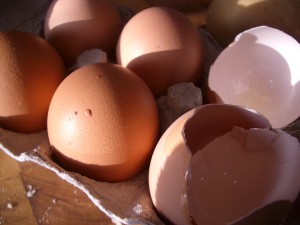 There are some lovely free range eggs from the farm shop….
some butter to spread on those warm buns….
a squirt of tomato sauce…..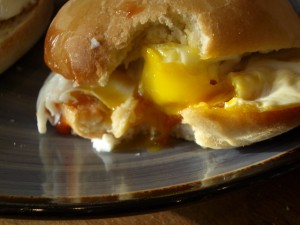 Breakfast bliss…….now that was an easy way to happiness.