January, eh? There are many downsides to January – bad weather, enforced dieting because of Christmas excesses – but there are some good points. Sales, for one. And with the terrible state of the economy, the sales start on Boxing Day, if not sooner.
I had been wanting to go to the Le Creuset shop for ages and what I really wanted was to get there in the sale and buy a terrine…. I love making pates and terrines and while I can easily do them in other containers I really, really wanted a terrine. I have a square one but I wanted a long, loaf tin shaped one….
So I dragged the Bear to the car and we set off. Only to find that not only were there no terrines  in the sale, there were no terrines at all.
It's at times like this that I thank my lucky stars for the Bear because when we got home he started looking for terrines online. He not only found one, he found one at a bargain price……under £50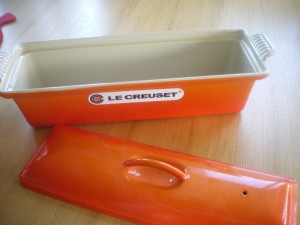 ………………….and it was delivered on New Year's Eve.
Now, I make No Knead Bread and bake it in either my round or my oval Le Creuset casserole. You need a lidded pot to cook it in because you have to create, as near as possible, a steam oven effect. You have to get it scorchingly hot and throw in the dough and put the lid on to make a lovely chewy crust with a gorgeous, almost caramelised flavour to it. The bread is made from a slow risen dough, which gives it a distinct taste and good texture and crumb.
Thing is, it takes the shape of  the container you cook it in…. so, I thought, if I made it in a long, thin, cast iron pot, it would make a long, thin, baguette type loaf.
That would be perfect for garlic bread….. and I could make some for part of our New Year's Eve party.
I had started my dough the night before and when it was ready, I rolled it in flour and let it rest for ten minutes, then cut it in half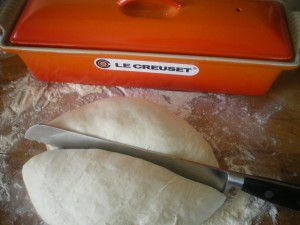 I realised that there  was too much for the terrine pot so cutting it in half  would mean it would fit and I could make a small round loaf with the other half of the dough.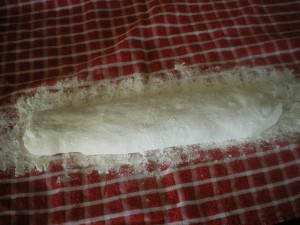 One bit was stretched into a baguette shape and lain on a flour dusted tea towel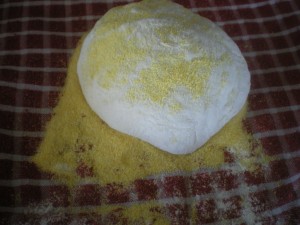 While the other bit was rolled into a round and sprinkled with cornmeal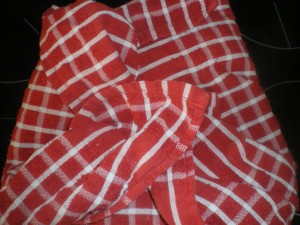 And both bits covered with the edges of the tea towel and left to rise for two hours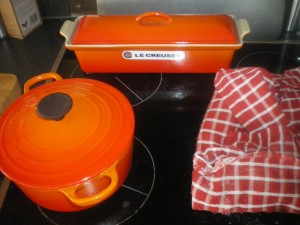 Half an hour before the bread was ready, I put the oven on to just over 200 degrees C and put in the terrine dish and the small casserole
Once the half hour was up, I carefully lifted them out and dropped in the dough, giving the pots a shake to get the dough to settle before putting the lids on and putting them back in the hot oven.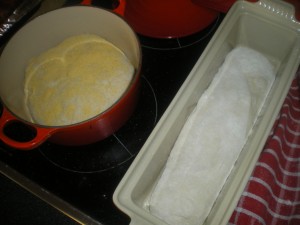 Half an hour later…..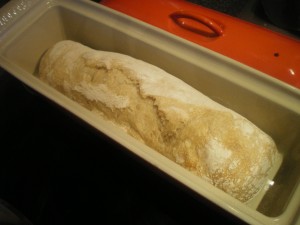 Take the lid off for the next 15 minutes or so….and turn out a beautifully baked baguette shaped loaf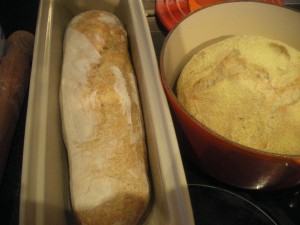 It was fantastic.
Ever since I started baking the No Knead Loaf, I have become more disillusioned with other bread. This really is a wonderful loaf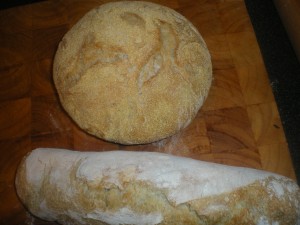 Two beautiful loaves…. and so lovely that the bread was just eaten as it was and not, after all that, made into garlic bread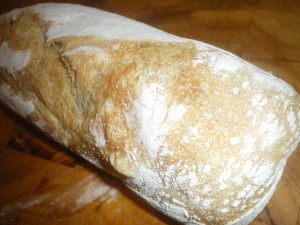 I knew I was right to ask for a terrine.
Just look how useful it is going to be – pates and terrines one day and baguettes baked in it the next day to have with the pate!