The Bear was finally home from his travels and we were  not at work.  It was also not raining or blowing a gale. For everything to come together like that,  is actually a very rare occurrence in our lives so we decided to make the most of it and go for a stroll and see how the blackberries were doing in the hedgerows. Goodness knows why the Bear and I went out to get more fruit because our freezer (and the freezer of everyone associated with our family) is already packed with fruit already. I suppose it's just that  I just can't bear to see waste. The brambles are absolutely laden with fruit and even the birds can't get through that much.
This year has been fantastic for fruit – my apples and figs were fruiting heavily on the trees on the balcony and my mother's fruit garden has produced more pounds of goosecurrants, redcurrants, whitecurrants and gooseberries than we know what to do with.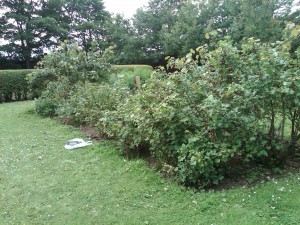 We have had family and friends round to pick as much as they want and there are still pounds more to pick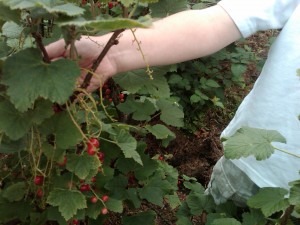 It comes to something when even her young grandson is sent out to help get the redcurrants. He carefully showed me how best to get them off the stems using a fork to drag down the stalks, knocking the currants off as it goes and a bowl underneath to catch them.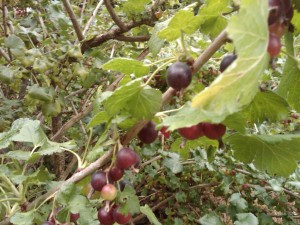 The goosecurrants (two ancient bushes) are a cross between a blackcurrant and a gooseberry and they have been particularly prolific this year.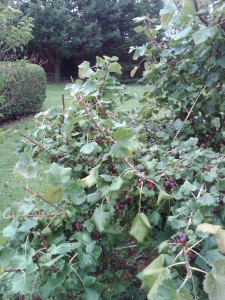 They make fantastic jam or jelly and my sister in law has made some spectacular jam that puts my mother's to shame. Mind you, she is the one who did the Pheasant Breasting Masterclass  while my brother took the pictures,back in December, so you know from that that she has a real talent in the kitchen.
Even my mother's  ancient apple tree that hasn't borne fruit for the last 20 odd years has suddenly started producing. There are bags of cleaned fruit in the freezers just waiting to have something done with them. Enough jam has been made to go on toast and fill cakes until all of us are old and grey and we still have more bags than we can count. Cordials and ice creams are next on the list to make – all we are missing is the time to do them all.
But still, we thought, we might as well go and look at the blackberries. And besides, I had an idea for something. Something that wouldn't take up any more freezer space. If we did get blackberries I would use them that evening.
We live on the top of a hill and to the side of where we are, is a lovely park. We can walk out along the private path and down into the park itself. It is a fantastic walk in every season of the year – in winter it really looks magical in the snow… in summer, people are out on the grass and now? Now the bushes are laden with fruit and people are walking round with bags.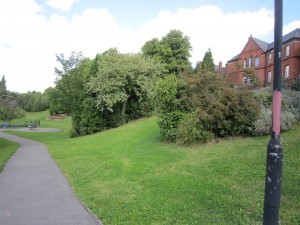 The park is well maintained and the grass is mown and even the edges where the hedgerow plants are, are looked after. The gardeners  always leave the blackberry bushes to fruit.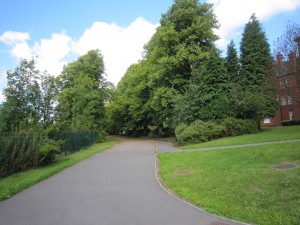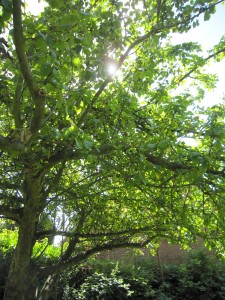 Deep inside the bushes that line the edge of the park are old, abandoned apple trees that fruit heavily and the apples just fall to the ground.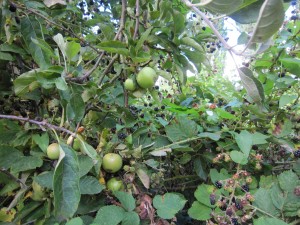 Today though, we were there for blackberries. Plenty of people had been there before us so we were going to have to head deeper into the bushes.
We went further into the wild tangle of brambles – so wild they had entwined themselves around apple trees and the blackberries hung down alongside ripening apples.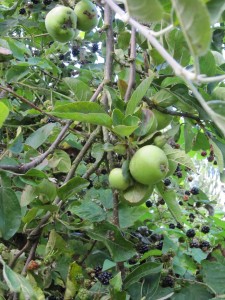 Luckily I brought along a straightened out wire coat hanger (with the hook left, of course) so I could pull down the best of the blackberry branches.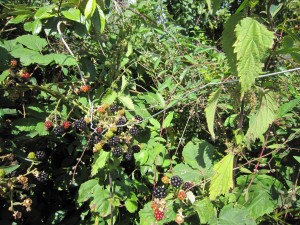 We got lots of great big, fat and juicy blackberries with only minor damage to ourselves – a few scratches here and there and a minor tumble into the stinging nettles… but, as I assured the Bear as he lay there yelping in agony, it would all be worth it.
The thing about blackberries is that you have to use them the day you pick them. They must carry mould spores on them because if you leave them for a few hours, once picked, they will go mouldy.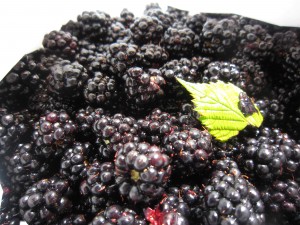 There was a reason for me wanting to get more fruit, though. I wanted to try something I had read about over the past few years. When we first met, for our first Christmas, the Bear bought me "Preserved" by Johnny Acton and Nick Sandler – fabulous book that details all kinds of methods and recipes for preserving food. I'd read it and made plans to work through it but, as always, life got in the way and I never got round to it.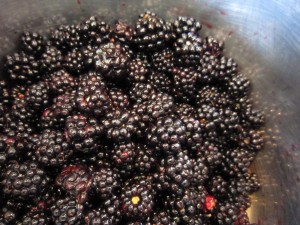 The thing I was most intrigued by was fruit leather – where quantities of fruit were pureed and then dried, in a thin layer, making a dried fruit sheet that lasts  without having to freeze it. It's called leather because that is what it looks like – it is soft and chewy in reality.
So… something that could use up extra fruit and wouldn't take up space in my freezer? That had to be worth a go, right?