When I was growing up, I remember the excitement when Marks and Spencer introduced the baked cheesecake into their ready made food section. This was the 70's, you know, and British food was hardly at its finest.
We'd had cheesecakes before of course, just not the baked ones. We'd had those  strange pre-frozen cheesecakes where the middle seemed to be made of some kind of whipped creamy nonsense and laden with luridly coloured strawberries….well, we'd had them when our mothers had got them for a dinner party and, if we were lucky, the following day there may have been a slice or two left over to be sneaked before (or even instead of, if Ma didn't catch us) breakfast. Food like that was far too good to be specifically given to children. Maybe we'd had some at a friend's birthday party where the mother was trying to outdo every other mother and you know, they were pretty fancy for the 70's but they weren't the be all and end all of desserts. They were OK.  Real cheesecakes? They weren't available. Or at least if they were they never made their way to the North. Maybe it was something lucky young Londoners had.
I'd read in stories that Americans had cheesecake and they loved it but as far as I was concerned, as far as I knew, cheesecake… well it came out of a frozen packet and it was nice, but not brilliant.
Anyway… one day my friend F got a slice and let me taste it. I couldn't believe the rich, dense filling. No lurid strawberries, just a lemony hint. I couldn't believe how deep it was. A solid wedge.
I loved it. I loved the way it stuck, almost, to the roof of my mouth in its glorious clagginess… the way the flavour seemed to be so luxurious. Now I understood why people loved cheesecake.
Of course we still didn't make it (there was no internet to look up recipes in those far off days) and sometimes we were lucky when we ordered cheesecake in a restaurant… and sometimes we weren't. Sometimes we got real baked cheesecake and usually, I suppose, we got the defrosted thin one from the packet.
I don't know when I first made a real baked cheesecake but it wasn't so many years ago. I do know that I realised just how simple it was and how much I had been missing out on. This really was the stuff of that amazing childhood memory – that delicious, thick, sumptuous and dense filling. So very different to the thin whipped and set filling that appeared so often elsewhere.
I suppose it is because of that that I think of cheesecake as a special treat. It has to be a special treat, really, because if I made that just for the Bear and I we would end up eating it all and let's face it, we are fat enough.
Anyway, the one I was going to make was for a special occasion – we had friends coming for dinner and we wanted to have a good time. There may have been an element of hoping (just like back in the 70's) that it wouldn't all get eaten and then I could maybe have some for breakfast……
I'd  used a recipe from Good Food before and it had turned out very well  and would be worth doing again. All I needed were some digestive biscuits; 100g of butter; 250g of mascarpone, (that's one tub); 600g of soft cheese, (that would be two tubs of Philadelphia); 4 eggs, ( but you won't need two of the whites. Save them for something else… or maybe have an egg white omelette the following day to make up for any indulgence. Maybe not, eh? Maybe make meringues instead!);  3 or 4 lemons and some caster sugar and some plain flour.
Once it was baked, a small pot  soured cream and some lemon curd and fruit were to go on top. Simple. But oh so delicious.
So, I needed my springform tin and to make sure there were no leaks I got out a preshaped baking paper liner.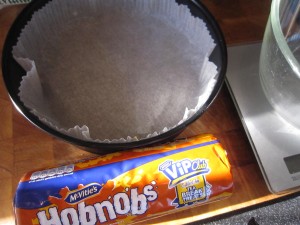 I decided that Hobnobs would make a lovely crumbly, rich base… because I love them.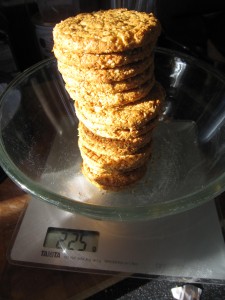 And as I needed 225g – which came to 16 Hobnobs in case you are interested (or can't find the scales to weigh them) then that also meant, I thought, that  there would be a few Hobnobs left over to have with a cup of coffee. Always thinking, that's me.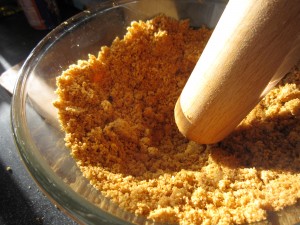 Making the base is the simplest thing ever – and with such crumbly biscuits it is so easy to give them a bash with the end of a rolling pin to crumble them.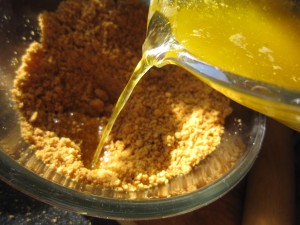 100g of melted butter (heat it gently and carefully in the microwave) was poured in and stirred round until the butter was absorbed. Pour the buttery, crumby mix into the lined springform tin and press down.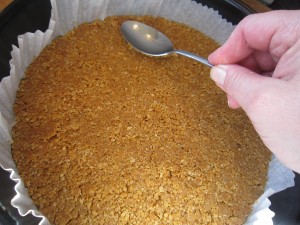 Using a spoon round the edges means you get a good firm base and then put it in the fridge for the butter to set firm again and the base to chill.
Heat the oven to 160°C (fan assisted)/320°F.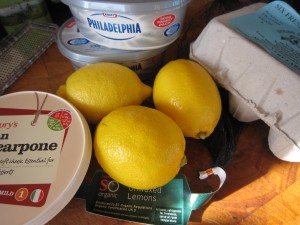 Then start to get everything else ready. This is so easy.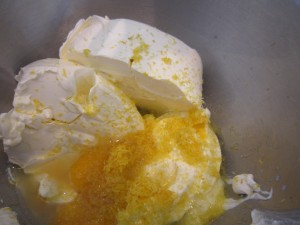 Zest all of the the lemons, add the two whole eggs and the two egg yolks, the pot of  mascarpone, the two tubs of Philadelphia cream cheese and  the juice of two of the lemons to a mixing bowl.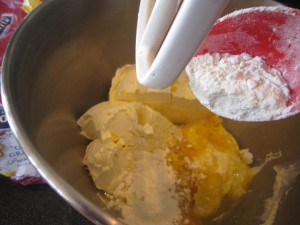 And then add 175g of caster sugar and 4 tablespoons of plain flour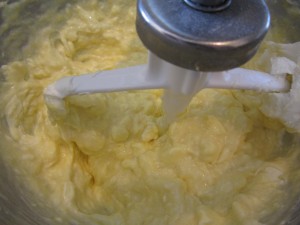 And start whizzing it together.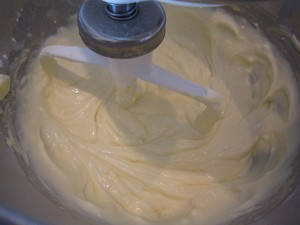 The colour changes  as it becomes smooth and delicious.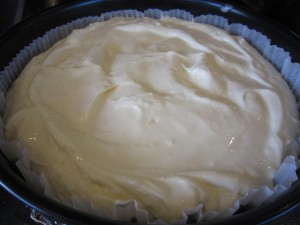 Now, take the chilled crumb base out of the fridge and spoon in the lucious filling.
If you give it a gentle side-to-side shake the mixture settles and the top smooths slightly… though this will also happen in the oven.
Put it carefully into the oven for thirty five to forty minutes and when you check it, give it a little shake…. it won't (or it shouldn't) slosh, it will just have a gentle wobble to it.
Turn the oven off and leave it to cool completely in there.
That was handy for me because I had to get things ready. There were floors to wash, a table to lay, cushions to be plumped, surfaces to polish…. and a mad rush to get me looking half way presentable before the guests came.
Now, you may have read about the mushroom pate with caramelised red onions, and the squash and goat's cheese lasagne and the singing. This cheesecake was the final part of the meal and I was going to put the topping on just before serving it.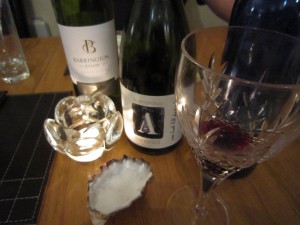 And, as I am sure you will agree, if you are eating you will probably have been drinking….not to excess, you understand, but enough to laugh happily.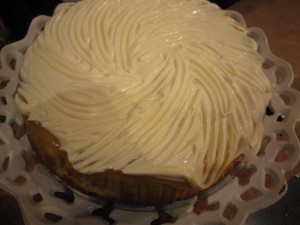 Enough to laugh happily and cover the top of the cool cheesecake with some lemon curd and then spoon the soured cream over the top and, still, laughing happily, make attractive patterns with a fork on it before realising that photographs should have been taken.
Oh well.
Imagine it instead… the top of a baked cheesecake, looking pale and beautiful has a few spoons of  good quality lemon curd spread over it. I used lemon curd I made but any good brand will do.
Then the soured cream was poured over the top of that… and then I got artistic.
Right, we are caught up with ourselves and the pictures now.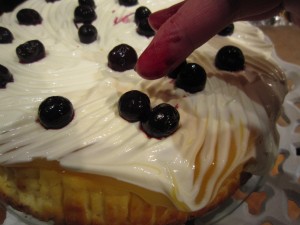 In the freezer I had some frozen blueberries so I grabbed a handful and dotted them over the top.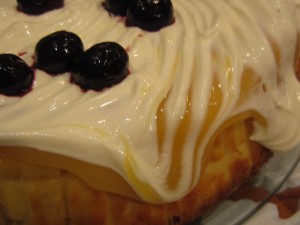 (Look, you can see the lovely lemon curd poking through the swirled sour cream!)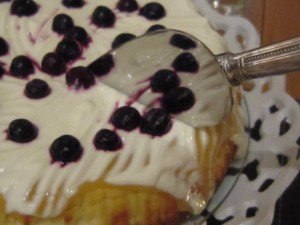 The blueberries defrost quickly when you put them on top of the cake and the beautiful juices run down through the tracks of the fork in the soured cream.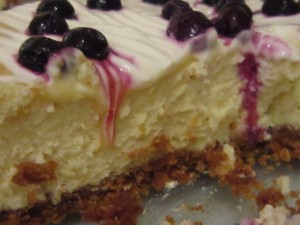 Oh… it was delicious.
The beautiful baked cheescake filling had the perfect mouth-sticking texture that dissolved into lovely creamy lemon-ness.
The soured cream and the blueberries were the ideal match to the rich smooth sweetness.
I say again, ohhhh it was delicious.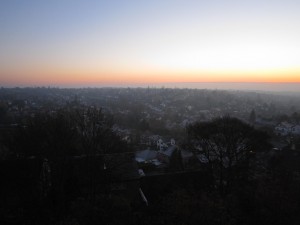 And the next morning, while I stood, waiting for the kettle to boil, looking out of the window at the early Sunday morning city below us, I might (just as I did back in the 1970's)  have cut myself the tiniest sliver of cheesecake to eat as a pre-breakfast, post dinner party treat.
Except this was far better than any 70's cheesecake. This was a perfect baked cheesecake.