Sometimes, you know, my thoughts go back to the UK and I think of my family and friends there that I miss so much. Right now, they tell me, the weather is icy, frost lines the branches of trees and the grass has turned to thick white, iced strands. I miss the beauty of an English winter, even if I don't miss the aching pain of frozen feet. Nor do I miss having to chip ice from the inside of my windscreen, as I had to do last winter when the temperatures were regularly -5° to -9° C.
I do have other problems here….  I get out of my air conditioned car and my specs steam up; here, my hair is permanently limp in the humid heat. Minor, I know, but constant. That's the thing about the Tropics. We have no seasons, no changes… sunrise and sunset are at much the same time every day, twelve hours apart and the weather is pretty constant. Sometimes it rains a bit more than other times but, generally, one day is much like any other.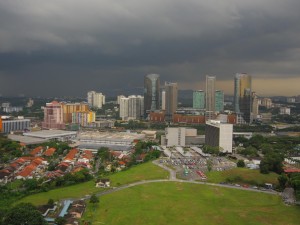 When you are inside, with air conditioning however, the weather can look very different… I looked out at this, dark and stormy skies and the promise of a thunderstorm and rain later. It looked like November in the UK. Yet I knew that once I was outside on the balcony it would feel hot and humid. It's quite disconcerting at times.
It did make me think of cold days in the UK and I remembered the last meal I cooked for friends in Nottingham before we left for Malaysia. It was a fabulous night where we laughed till we cried, we ate till we were fit to burst, we drank cocktails and wine and then moved on to whisky and we even danced across the floor in the early hours of the morning…. we finally said our goodnights at about 4am.
Maybe it was all the drinking. I blame one of the puddings for that as I am sure we wouldn't have had the whisky if we hadn't had a tot to go with the Whisky Toffee Almond Tart….
I'd seen the recipe in Delicious a couple of years or so ago (maybe even more) and I'd saved it, wanting to cook it for a special occasion. Us leaving the country seemed pretty special to me and besides, one of our lovely guests is Scottish and he loves whisky… and even more to the point, we were moving somewhere we couldn't take our whisky anyway! Waste not, want not, I thought.
All I had to do (and it was a pretty simple recipe – always a plus point when you are cooking lots of things)  was make some pastry. 200g of plain flour, with 100g of chilled and chopped unsalted butter needed to be rubbed through (or, easier still, whizzed on pulse in a processor) until everything comes together into fine crumbs.
Add about four tablespoons of cold water and mix it together so it comes into a ball, then roll it out into a circle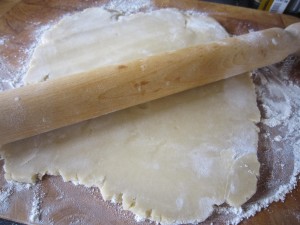 I'm pretty useless at rolling evenly as you can see, so if you are the same, don't worry, it works even if you have to piece bits together when you put it into a 23cm/9 inch fluted flan tin.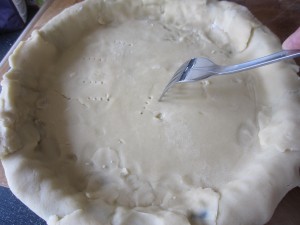 Don't handle it too much and leave the edges hanging over. You can trim them off later so it is all neat and anyway, pastry shrinks when it cooks, so you get a better fit.
Prick the bottom with a fork so that when it cooks the steam can escape and you have a flat bottom to it and just put it in the fridge to chill right down for 30 minutes.
After you have wiped up the mess you will have made after dusting the board to roll the pastry on, you have plenty of time to get the rest done. Put the oven on to heat at 200°C/fan 180°C/390°F.
You can put the pastry shell into the oven, lined with baking paper and baking beans to weigh it down, for fifteen minutes. After that, take the paper and beans off and put it back in to bake until golden… but no more than five minutes. Take it out and let it cool.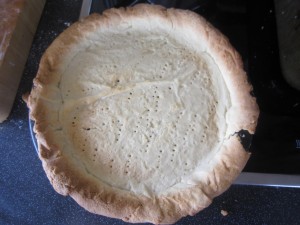 Now for the good stuff…. you'll need 300g flaked almonds, a 284ml carton of double cream, 225g granulated sugar and some single malt whisky. You don't need much, so before the whisky lover in your family shrieks at the thought of cooking with fine whisky, assure them it is for the best of reasons and anyway, you only need 4 tablespoons….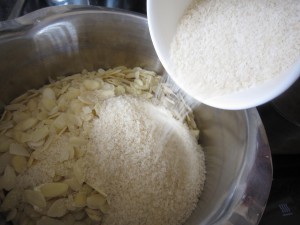 Put the almonds into a pan and add the sugar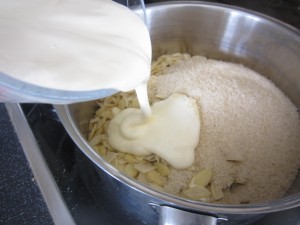 Add the cream….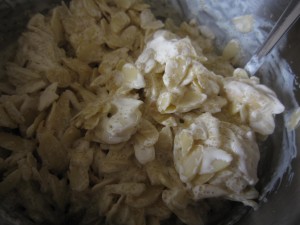 And mix it together. It's looking good so far……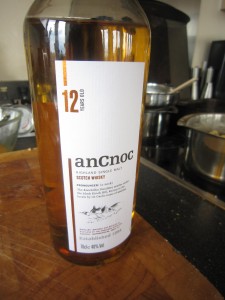 And then, select your whisky…. I chose anCnoc,  a smooth and almost sweet Speyside single malt.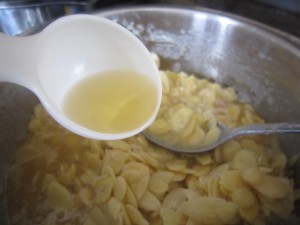 Measure 4 tablespoons of the good stuff, pour it in and then just stir it all round and add a pinch of salt to round out the flavours…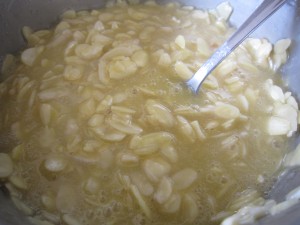 … and then heat it all through, gently, until the sugar dissolves and it thickens slightly. This will take about twenty minutes and you will see it turn a beautifully pale golden colour. Take it off the heat and put to one side.
Turn the oven down to 180°C/fan 160°C/355°F.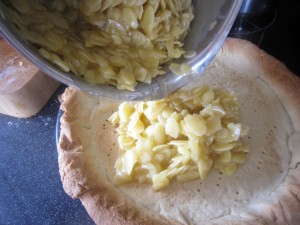 Pour the filling into the pastry shell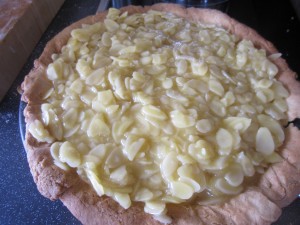 … and then smooth it out. (Yes, the mixture DOES taste delicious) and then bake it for another ten minutes or so until it looks golden. Don't overdo it and don't worry if it looks like it hasn't set. It does that as it cools.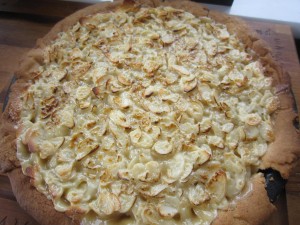 After you have put it on a tray to cool slightly, drizzle it with just a little more whisky so it sinks in as the filling cools and firms up.
Let everything cool completely before you trim off the edges to make it look neat and put on a cake stand, ready for serving.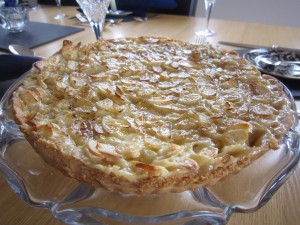 And then, of course, you are ready to serve it with a wee dram to go alongside it at the end of the meal..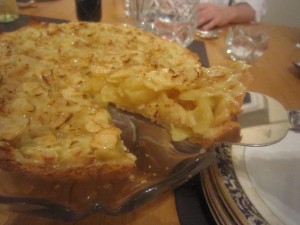 Slice it…..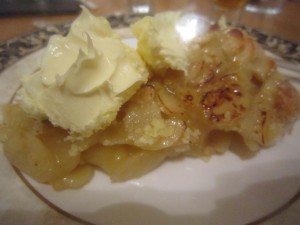 … and serve it with a dollop of really good, thick cream.
It really was lovely.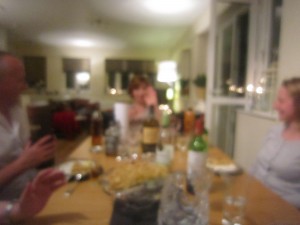 Was it a success? Well, that picture was taken after we'd had the whisky toffee and almond tart, at the end of the meal. I think the blurring of the shot says it all.
I can't blame the tart for that, I suppose, but it certainly was a fine ending to a lovely meal with our friends.
A fitting goodbye to those we were leaving behind us and an excellent start to the laughing and dancing that followed.
Maybe you could make this? Not necessarily because you are leaving the country… but how about as a dessert for a Burns' Night supper? Then the whisky is justified… not only justified but essential.