As it is getting towards Halloween you see pumpkins everywhere, in every farm shop and greengrocer.
I thought that I would make pumpkin soup this week and then the Bear had the brilliant idea of also making our own roasted pumpkin seeds to have as a snack. They are full of fibre, high in protein and anti oxidants so they are, actually, a health food… despite tasting absolutely delicious.
First of all, get your pumpkin!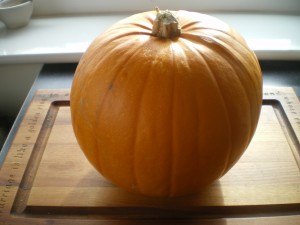 Cut it open ……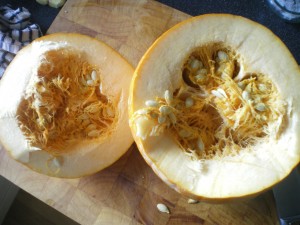 and start scooping out those seeds! They are your bonus – you're making soup with the flesh and what you would have discarded you are now going to make into tasty little bites. Put the oven on to preheat at about 150 degrees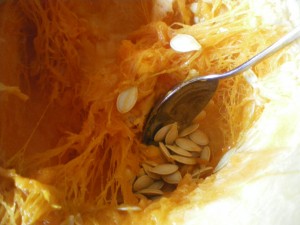 You need to scrape the fibres off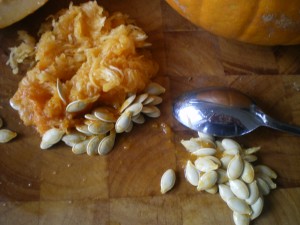 And then give them a good rinse under the tap because they are very slippery and the gloopy bits rinse away easily enough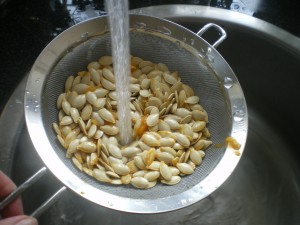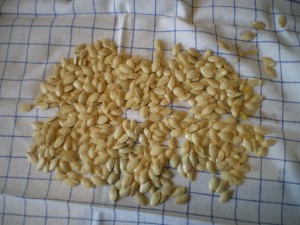 Put them on a clean tea towel and rub them dry… well, you won't be able to do that but you can get a lot of moisture off them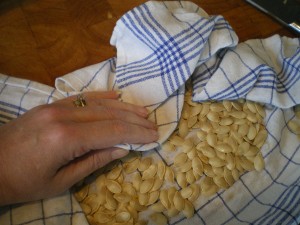 You need to think about how you want to flavour the seeds – I fancied spicy ones and looked to see what was in the cupboards that I could use. I regularly make chilli oil by popping chillies into a bottle and topping it up with grapeseed or sunflower oil. It's not particularly hot but it just adds a hint of heat. Worcestershire sauce would be nice too and I also found some Jerk Seasoning which I thought would just fit the bill as a flavouring dust to help crisp things up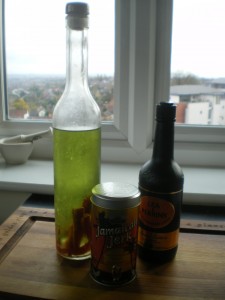 The oven should now be hot, so get a baking tray and put one of those silicon sheets on…. or cover it with tin foil, sprinkle that with the oil, pour on the pumpkin seeds, add a teaspoon or so of Worcestshire Sauce,  salt and then shake that Jerk Seasoning over the whole lot.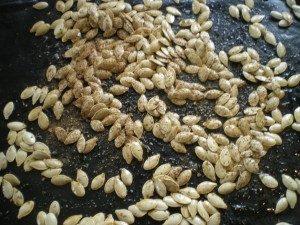 Into the oven with it and that's where it will stay for the next 15 – 30 minutes.
You need to keep checking though and stirring them round because they can burn easily but you'll see them turn a lovely toasty colour. Put them onto some kitchen towel to absorb any extra oil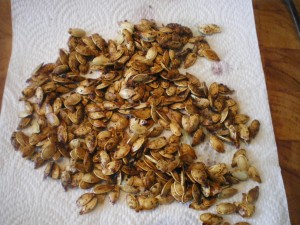 Let them cool  and then serve those crunchy morsels up. If you served them with a glass of wine, I reckon you'd be hitting every health button there was!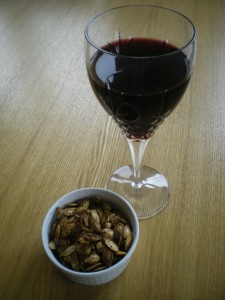 There you have it – tasty snacks from the stuff you would otherwise throw away. I think we deserve medals for being so creative and cost concious. Cheers!