If you look at the far right hand column on this page you will see a section called Blogroll. That's where I keep a list of my favourite blogs so I can click on the links and go straight to their page. Have a look and see if there's a blog you might not have come across before – you might find a post there that really interests you.
That's what happened one day when I was having a coffee and taking a break from work – I thought I'd look at Katie's Cosy, delicious and see what she was up to. Her latest post was Watermelon and Basil Martini… intrigued, I read on. It sounded great! She had infused some vodka with basil and made a mixer with fresh watermelon juice.
Thing is, I didn't have any watermelon and I'm sure that the watermelons Katie gets in the States will be much sweeter and fresher than anything we could get here in England… but it left me thinking.
I had lots of basil so I could try infusing the vodka anyway (after all, I made the old favourites Toffee Vodka and a Coffee Liqueur just before Christmas last year) and whatever you do with vodka and an infusion has to be fun….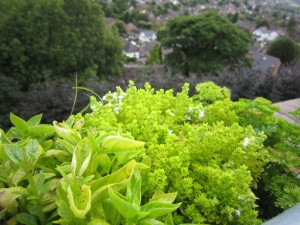 In my pot on the balcony, high above the rest of the city, I had Sweet Basil and Greek Basil growing   – and as the weather was turning cooler and autumn was on its way, I really should get it used up.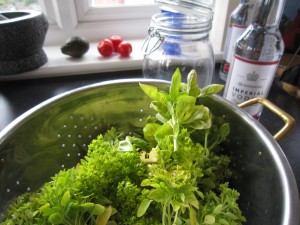 I thought I would try with both kinds of basil to see what it was like.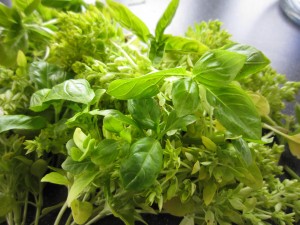 Katie said she had used 2 cups of basil to 4 cups of vodka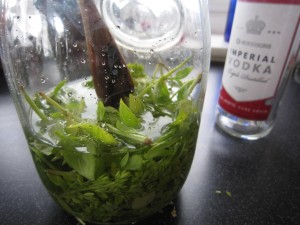 So twice as much vodka as basil was poured into my large storage jar and it was put into the larder to keep it in the dark for a day or two. Two days is the maximum but check it to see how it is doing.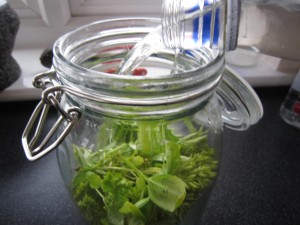 Now, as I didn't have lovely watermelons, I started to think of what else I would put with the basil vodka when it was ready.
And what came to mind was basil's perfect partner – tomatoes……
…………………… but not that thick and gloopy tomato juice you make a Bloody Mary with, no, I wanted a pure, clear, almost sweet, essence of tomato juice.
It would be like my favourite salad in a martini glass!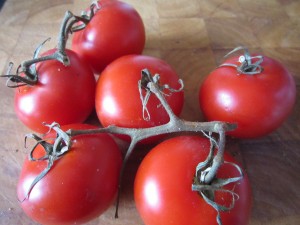 I had some beautiful tomatoes that I knew tasted delicious. I'd read about people making clear tomato juice by straining the tomatoes to get just the juice and none of the pulp. That was what I wanted… just translucently clear, pink, sweet tomato juice.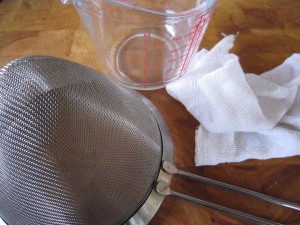 To make it, I'd need a sieve, some muslin and a jug to catch the strained juices.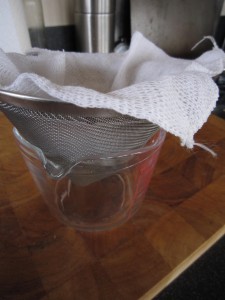 Lining the sieve means you keep more of the pulp out of the way and allows the pure juice to drip through.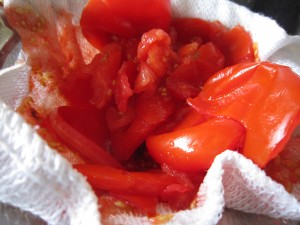 I chopped the tomatoes roughly and gave them a little squeeze as I put them in the lined sieve.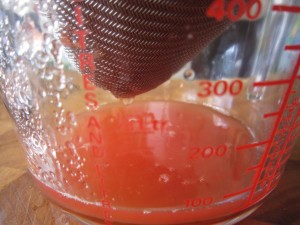 And watched as the pink juice dripped through.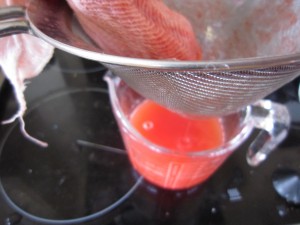 It really was a beautiful, bright pink.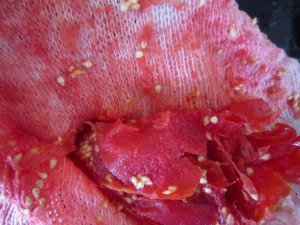 I squeezed the cloth to get more juice out but what that did was thicken the juice. I'd have to strain it again….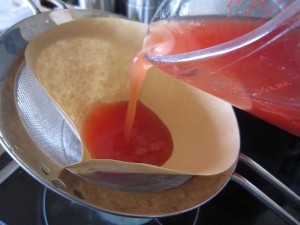 I used a coffee filter paper this time and poured the juice into that.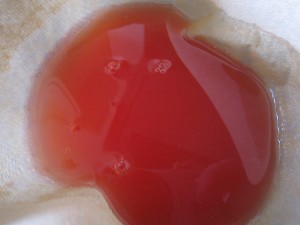 The juice looked almost clear and I wanted this to be the most delicately coloured drink imagineable.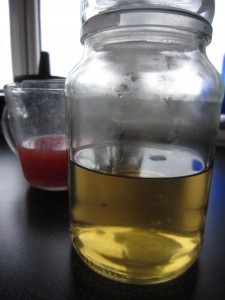 I got the jar with basil infusing in vodka out of the dark cupboard – it had been in there for 36 hours and, when I checked it, the vodka had been tinted by the basil leaves and it smelt delicious. It had a softly sweet smell of basil – not harsh, just sweet and fresh smelling.
All I had to do to that was pour it out of the jar through a sieve to get the leaves out.
See how pretty that looks!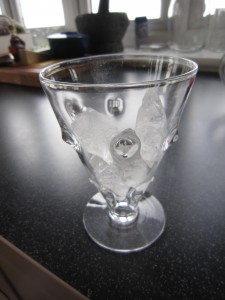 What I imagined would be the perfect cocktail had to have the perfect glass. I had just the thing. An old, handblown glass with intriguing bobbles on it. It's been one of my favourite glasses for years, ever since I was given it by an old friend. I have no idea how old the glass is or where it came from originally but I love it.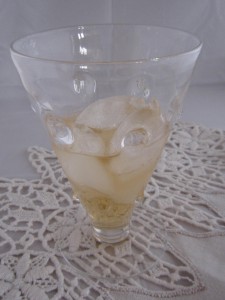 A measure of the delicately tinted basil vodka was poured over the ice.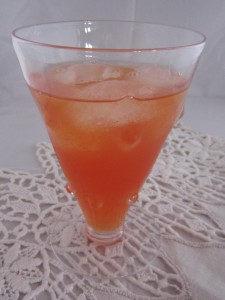 The sweet, clear tomato essence was added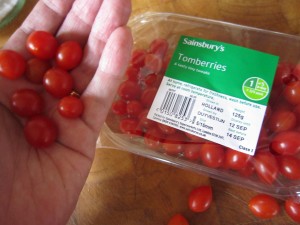 And as a finishing touch? Tiny Tomberries (the smallest, sweetest tomatoes there are) and a baby leaf of basil were speared with a cocktail stick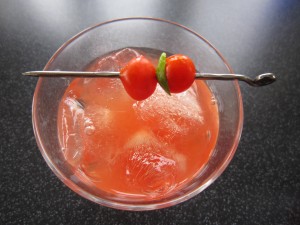 And what was it like?
It was delicious. It was sweet and aromatic with the most subtle flavour of basil – not overwhelming at all.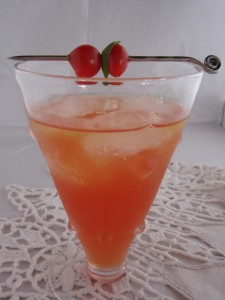 It was the essence of summer in a cocktail.
I had one… the Bear had one and we agreed this was possibly the most delicious drink there ever was. Every sip was perfect.
I'm going to make this again and again and perhaps when I next serve a tomato and basil salad I will make this and serve it alongside to highlight their pure, sweet and aromatic flavours.
You really have no idea how much this cocktail pleases me… I suppose, all I can say is have a go yourself.
And cheers!