Once upon a time I had a good job. A great job. And I had great friends working with me. I still have the friends, it's just the job that went by the wayside.
One of those friends is Lolly who was always there to sort everything out – she was the one who listened to me trying to run over my phone in my desperate attempt to get shot of the dreadful thing and get another…. she has listened to me shriek in disbelief at the tortures inflicted on me by computers… she has rescued me from all sorts of things and made sure that all was well in my world.
And what did I give her? A potato ricer. It just goes to show what a brilliant person and cook she is that she loved it!
And now the lovely Lolly is reading my blog…..
She decided to make the Blueberry Yoghurt Cake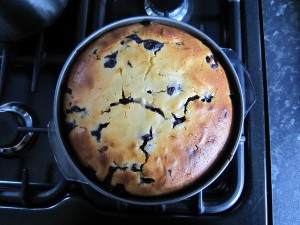 Doesn't that make your heart skip a beat?
That truly is one beautiful cake! I don't think I have seen a more beautiful one.
And she decided to try No Knead Bread….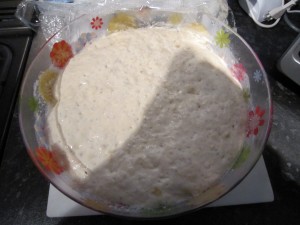 That's her bread in progress – and it is a testament to her skill as a baker that as soon as it was ready to eat, her parents and her beloved ate it!
I shall get Lolly to tell you more, but until them, look at her pictures and drool at her cake!  
October 2010
Autumn is here as is the apple crop. We have all been trying to do as much as we can with the huge haul of apples and the lovely Lolly is no exception.
We both love cake baking and Laura and I have been working on delicious cakes using apples. One thing we found on our searches was that apple butter or stewed apples can reduce the need for fat in a cake and anything that can make cake almost a health food is good for us!
  Lolly had emailed me one morning and we were talking about the potential for cake " I was having a look at your blog and came across the recipe for the Apple Cake that you made with Apple Butter, and some chopped up apple pieces. I have 3 smallish apples left from my bounty, as well as a small Tupperware box of stewed apple and I wondered if you thought it would work if I made it like this….
Peel and core my 3 remaining apples, mix with juice of ½ lemon.
Put 250ml greek yogurt in a bowl and add 200g golden caster sugar, 60 ml veg oil, 2 eggs and the seeds from one of your wonderful vanilla pods and gently mix
In another bowl put 300g plain flour, 1 ½ tsp baking powder, ½ tsp bicarb, and then instead of the apple butter, two heaped dessert spoonfuls of stewed apple and a tsp of cinnamon.
Mix through and add dry ingredients and chopped apple.
 Do you think that this would work, or do you think I should also add a little bit of butter for a bit of fat?"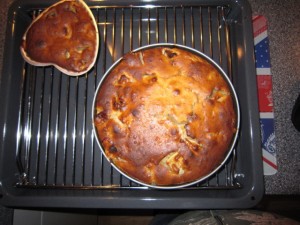 Look at that! I think you could say that it worked!
Lolly says "  Well I made it! I think that I put too much of something in, perhaps flour as the cake is a little dense. However, that hasn't stopped it from being devoured by everyone at work so it must taste alright!!! I also made a small heart shaped one for Giles…!"
I think that is how it should be for a cake that is best eaten with tea or coffee – somehow, light and fluffycakes belong more with afternoon dainty teas. This is the sort of cake that is perfect for a mid morning break, say. Nothing too sticky… nothing too airy, just a perfect slice to have with a hot drink.
Well done, Lolly… and I bet Giles loved his heart shaped cake!