Some of you may have picked up on the fact that nowadays the Bear and I live high above the city, in an apartment. We are at the top of the block, which is itself on top of a hill and have the most marvellous views over the city below us. One of the best things about living here is that in the morning the dawns are fantastic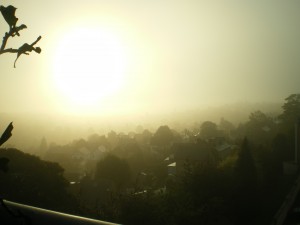 I've always been an early riser and I love to make my coffee and look down over the city sleeping below.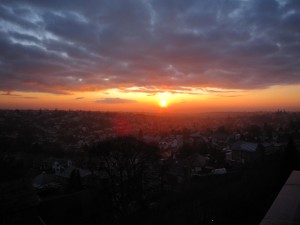 Each day the dawn is different… sometimes misty and calm and sometimes outrageously colourful. It probably is the best part of the day.
We have the most incredible views all round because our apartment is on two levels and the top floor has walls of windows on three sides.
… and running the full length of the apartment is our balcony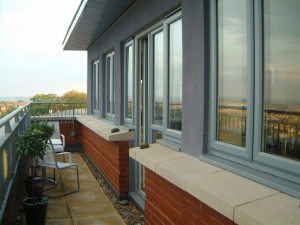 It's not a big balcony – it's quite narrow, really – but I have managed to make the most of what I have. I knew I would be able to grow something – there were so many things I just didn't want to be without.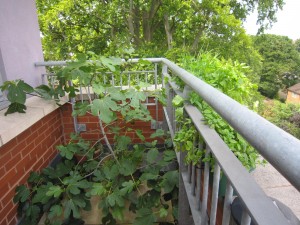 There's a fig tree in a pot with (so far) over thirty figs, ripening nicely.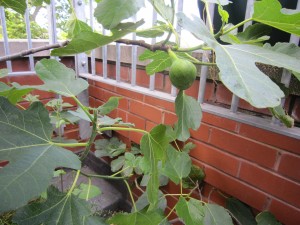 Who would have thought you could grow figs so high up? It can get very windy up here but Brown Turkey Figs are very hardy (that tree was with me in the far north, in Durham and fruited well up there too) Figs produce best when their roots are confined so keeping it in a pot is the best thing for it.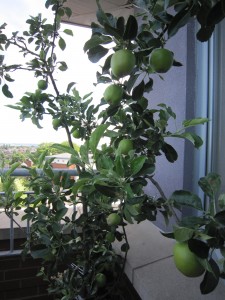 I even have an apple tree up there – if you buy the single stem fruit trees, specifically grown for containers, it is amazing what you can get away with in the smallest of spaces. Despite being told that I should keep the balcony clear………
Of course, the Bear is forever on at me as I smuggle more and more onto the balcony. I just wait until he is travelling and then I bring something more from the north… Of course he was going to notice a five and a half feet tall apple tree. And as for that fig tree – well, that is in a terracotta pot and it half killed me getting it up to the top floor. Still, he is going to be happy when he can just wander outside and pick a fresh apple or ask for a juicy fig…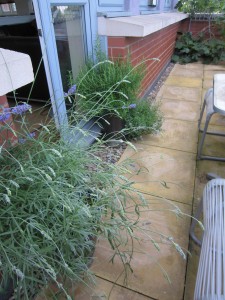 I have herbs, of course, there's thyme and rosemary standing next to a pot of lavender on either side of the french doors and a large pot of sage. When I walk out onto the balcony when I get in from work, I brush past the plants and smell their gorgeous perfumes.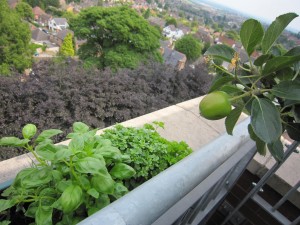 We have herb pots (carefully attached to the railings) all along the top of the wall, so I can go and cut fresh sweet basil, coriander, parsley (both curly and flat leaved), mint, chives, garlic chives, a huge selection of salad leaves that I can cut at and go back for more almost daily.
It's where I grow pots of chillies, ready for cooking with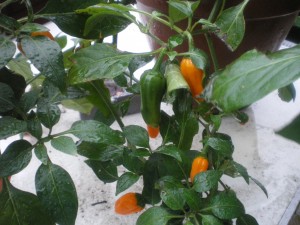 or preserving in oil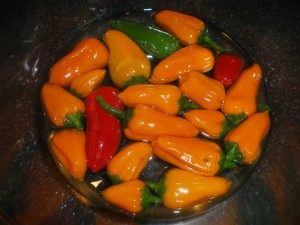 This year, my brother has given me three chilli plants – Pinocchio, Decayenne and Heatwave, all grown from seed. I really should get some jalapeno chillies going as well, though at this time of year I'll have to buy a seedling.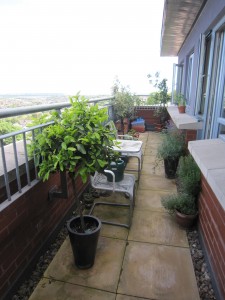 And that's not all I have up there… there's a bay tree and an olive tree growing there too. OK, I use the bay leaves but somehow I don't think I will be brining my own olives.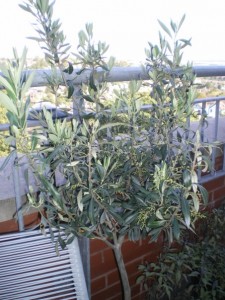 It's flowering now and it did have fruit on it last year but they were small and didn't amount to much.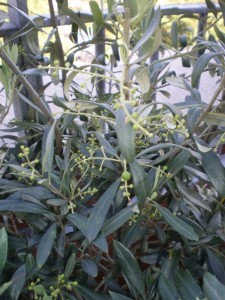 The top of an apartment block in the Midlands just isn't the same as a sun scorched hillside in Greece.
My cousin has her own allotment and always starts her seeds off in time and sends me the seedlings… this year her gorgeous french beans and a couple of sunflowers.  I like to snap off a bean and eat it as I water the pots. There's a sweetness about them, straight from the stem.

My wild garlic grows up there in a pot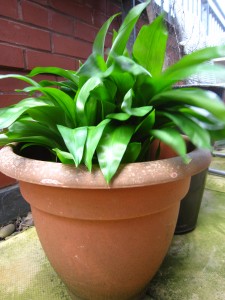 and it is the first thing I can eat from my balcony garden.
I'd love to grow more, of course, but what I do grow is pretty good for such a small space. I would love an allotment but the ones nearest to our apartment, St Ann's Allotments, have a waiting list as long as your arm. I've been on the list for a couple of years now and I suppose I shall be on there for a few years yet.
When I moved here, to be with the Bear, I remember thinking there would be so much I would miss and so much I wouldn't be able to do if we lived in apartment. Do you know what? I probably grow more up here than I did in the north.
No matter how small a space you live in, there is always room for something to grow. And there's nothing like the wonderful sense of achievement you get when you can just walk outside and bring in something perfectly fresh that you have grown yourself.
What do you grow?  What couldn't you live without?