At this time of year, the shops start to fill with pumpkins. Halloween is not far off and millions of pumpkins will be bought to make into Jack O'Lanterns.
You can't just buy a pumpkin and carve it… you have to DO something with it. Last year I made Pumpkin Soup, flavoured with smoked sweet paprika and drizzled with Chilli Oil . 
I separated the seeds from the fibrous middle and roasted them with jerk seasoning to make a tasty roasted pumpkin seed snack
This time, though, I wanted to make a soup that would be a meal in itself.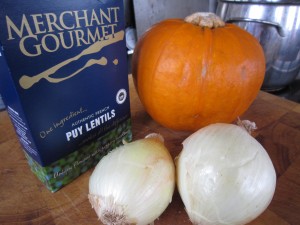 I had a small pumpkin that would be ideal for soup. I also had a craving for something with a bit of spice because I had a cold that was dragging on. I needed a burst of heat in that soup to burn through the fogginess that an autumn cold makes you feel.
I remembered a soup I had seen in the Australian Gourmet Traveller for Green Lentil Soup with Pumpkin and Harissa that would be perfect. My little sister lives in Australia and sends me (if I'm not there to buy a copy) the Gourmet Traveller Annual Cookbook as my Christmas present… the fact it costs way more in postage to send than it costs to buy is neither here nor there – it truly is the magazine I most look forward to getting.
It looked a fabulous recipe. I knew that adding my favourite Puy lentils would add heft to the soup and jazzing it up with Moroccan spices would enliven the whole bowlful.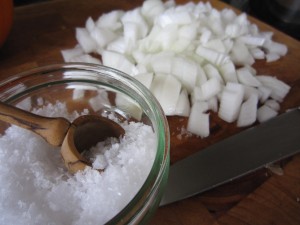 I chopped two sweet white onions, then put them in a pan to soften with a teaspoon of Maldon Sea Salt.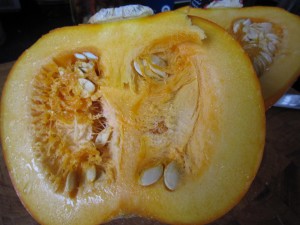 While they were cooking I halved the small pumpkin I had and scooped out the seeds.
Don't throw the seeds away, because you can roast them later for a lovely, healthy snack.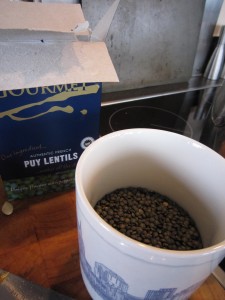 I roughly measured half a mug of Puy lentils – now, this is one of my Starbucks City Mugs that roughly hold 20 fl.oz, so the equivalent measurement will be 10 fl oz if you use a Pyrex jug… or, about a full normal coffee mug size. Me? I like coffee so I have a very big mug!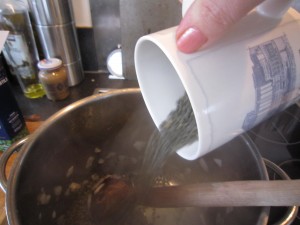 Once the onion has softened and looks translucent, add the lentils and then pour in a mug and a half of water (that's roughly a pint and a half) and let the onion and lentil mix slowly cook.
Add in a vegetable stock cube for flavour.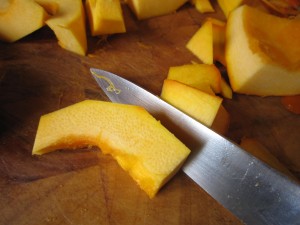 While that is gently cooking, start preparing the pumpkin.
The rind of the pumpkin in very hard and I have found that the best way to peel it is to cut the pumpkin into segments and then slice off the rind.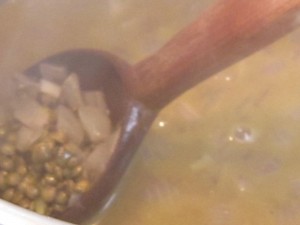 By the time you have it all segmented, the lentils will have started to soften and the colour will have leached out into the water and stock.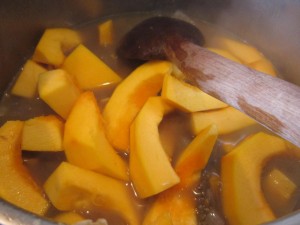 Now add in the segmented pumpkin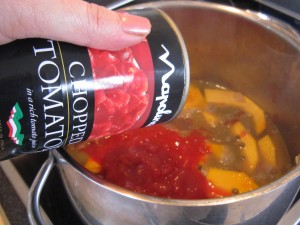 And then add a tin of chopped plum tomatoes.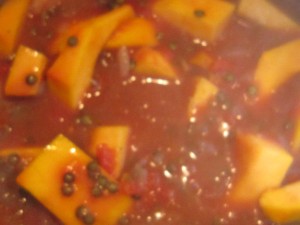 Stir it all round and let it simmer gently.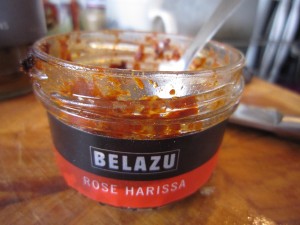 I wanted a bit of heat in the soup and a Moroccan feel so Rose Harissa paste was the obvious choice. You can buy Harissa paste in most supermarkets now – this one has rose petals in it and a deep and complex flavour. It is essentially a chilli paste so add it according to your preference. A teaspoon full will not make it too hot – if you want more heat (and I do) add another.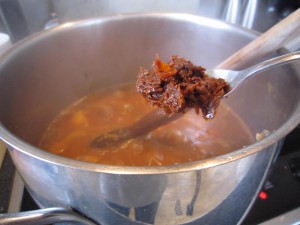 Stir it in so it blends with the lentils, pumpkin and tomatoes.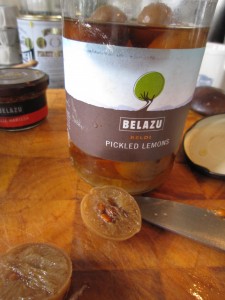 I also have some Belazu Pickled Lemons which will add a marvellously sharp-sour element to the rich and earthy soup.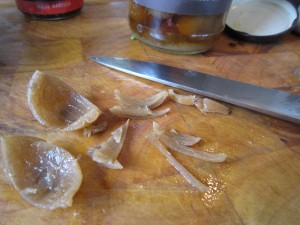 A quick scoop out of the middle of the lemon and the rind is ready for slicing then adding to the soup. I used two small lemons.
And then stir it all round… the pumpkin should have softened, the lentils will be tender and the flavours will have come together to make a deep, rich, spicy soup with sharp overtones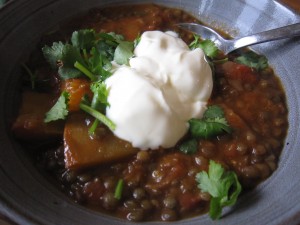 Serve it in a bowl with a spoonful of natural thick yoghurt and a sprinkling of coriander.
And there it was. Steaming perfection in a bowl.
Meatfree and delicious.