I do like a bit of a challenge. Nothing too strenuous, you understand and nothing too difficult.
I like to call in at a supermarket on the way home from work and see what is in the reduced-for-a-quick-sale-as-it-has-to-be-used-today section. It means I am approaching cooking the evening meal with no preconceptions. I start with what's there and then decide what I am going to cook and what else I need. See what I mean? It's a bit of a challenge at the end of the working day, but it's a fun one. And I end up with a surprise while I save money.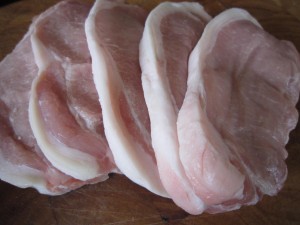 When I called in one night, I found lovely pork steaks from outdoor farmed, happy, well-looked after pigs (though I do wonder how on earth you could keep a pig indoors?) Still, this was premium pork and it was half price.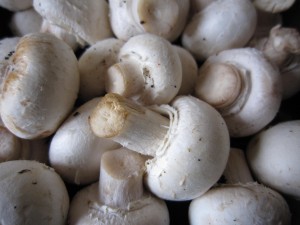 There were also some baby button mushrooms.
That would do I thought. I could make something from that. As I drove back home I was thinking about what else I had in the kitchen….. and remembered that friends of ours had brought home some lovely saffron from their holidays. Pork and saffron…. pork in a cream and saffron sauce… with mushrooms. Bet that would be good, I thought.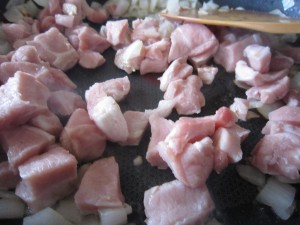 Within five minutes of getting into the apartment I had chopped some onion and started to soften it, while I cubed the pork.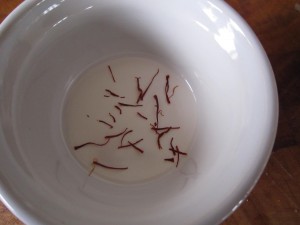 A few stamens of saffron were put into a ramekin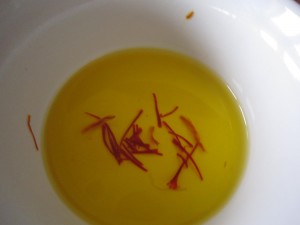 And some hot water added to release the flavour and glorious colour.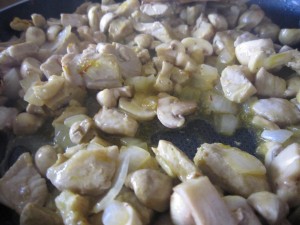 Little mushrooms were sliced while the pork cooked through and then were added to the pan.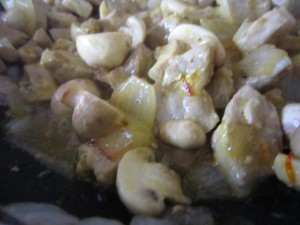 The saffron was added… actually it looked far more golden that this, but hey… I'm not a photographer so I have no idea why it DOESN'T look more golden. Just use your imagination.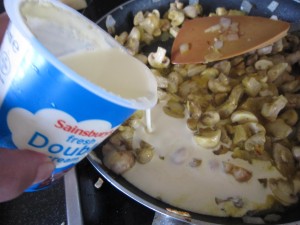 Then just over a quarter of a pot of cream was poured in to make the sauce….. I always seem to have cream in the house. Cream and butter – if you have them then you can always make even the meanest of ingredients taste delicious.
While I'd been doing that I put some basmati rice on to cook. That only takes a few minutes to cook and if you measuer the rice to water ratio correctly (just a bit over one and a half times the water to the rice) you can cook it through without having to drain it. A tea towel on the top once the pan is off the oven absorbs any extra moisture and leaves you with tender, fragrant, perfectly separated rice grains.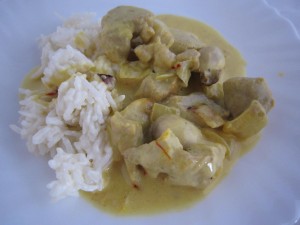 And there you have it. In less than twenty minutes I had supper ready.
The pork was tender and the mushrooms cooked through… the saffron cream added a lovely savoury hit and the rice mopped up the sauce.
Can't do better than that, I think. It was quick, easy, tasty, inexpensive and best of all… it was a surprise.
I might just pop into a store on the way home tonight to see what other surprises I can get!