"99, column 2"
As statements go, that has to be, when taken out of context, one of the most random and mysterious comments ever.
If you had been following our adventures in Cookery Lotto, you would have known instantly that this was the answer we had been waiting for.  We had (great team effort there, everybody) managed to get a number that led us to finding the cookery book that I was to cook from, but to make sure I couldn't deliberately pick something that I knew I liked, or that was easy to do, someone had to suggest a page and column number.
I said at the time I was glad it was column 2 – column 1 involved making a ragu from a kid goat's shoulder. I would have tried, of course, but I was almost certain that Mick, our butcher, didn't have any on his meat counter.
Luckily Caron picked column 2, which led to me making pasta yesterday with two little girls.
It  just goes to show that if we three could make pasta successfully in less than an hour then anyone could do it.
The girls set off home with their tagliatelle and I was left with, as instructed by the rules of Cookery Lotto, a bowl of pappardelle.
I wanted to make something delicious with this, my beautifully soft and silky, hand-cut pasta ribbons. And I didn't have any part of a goat at hand.
I did, however have mushrooms, a lemon , some garlic and sage.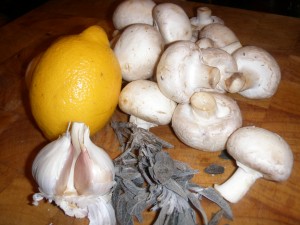 Which, as Good Food pointed out, was exactly what I needed for a "light but filling Italian supper, ready in just 20 minutes"
And even better, delicious though this sounded, gave me just 386 calories per serving. That meant it could be included in my 400 and Under category – diet food that tastes divine but with minimal calories. Things were just getting better and better.
On with a large pan of well salted water to get it to a brisk boil, while I chopped 250g of mushrooms.
They needed to saute in 25g of butter and after a couple of minutes, stir in a crushed clove of garlic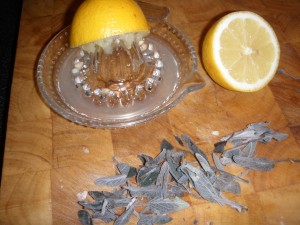 Squeeze a lemon and chop a handful of sage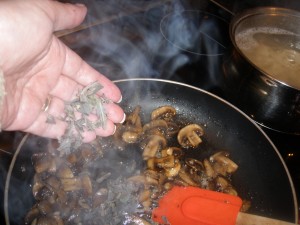 Stir in the sage and add the lemon juice.
Check the papparedelle – as it is fresh pasta it will only need a couple of minutes cooking – drain it but leave a tablespoon or so of water in there.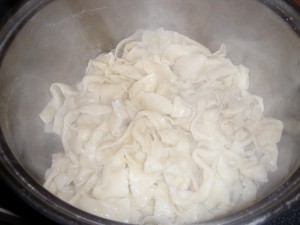 And then toss it in the delicious lemon and garlic sage-scented buttery mushrooms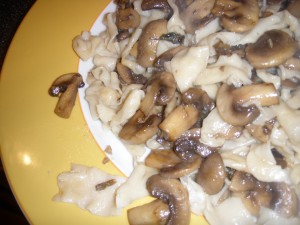 Perfection.