Sometimes I just get fed up with the ordinary things I make to go with a meal. Sometimes I just don't have time to make the ordinary things… mashed potaoes? All that peeling, boiling, draining and mashing? What if you are late in from work and need something quickly? Or, quite frankly, if you are fed up to the back teeth of mash?
At times like this I make butter bean mash. I always have tins of beans of various sorts in the larder because they are a brilliant standby and you don't always have the time to soak the beans overnight.
First of all, get a couple of tins of butter beans, open them and rinse the beans till all the gloopy stuff goes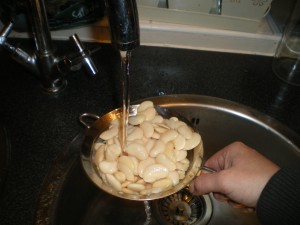 Then, while they are draining, get some herbs if you have them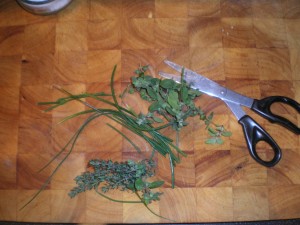 I found some thyme, chives and oregano in the herb boxes on the balcony and, after stripping the leaves from the stems, chopped them roughly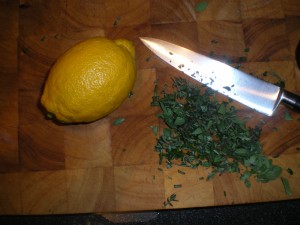 Then, as I heated some butter in a pan, I squeezed in some lemon juice to sharpen things up a bit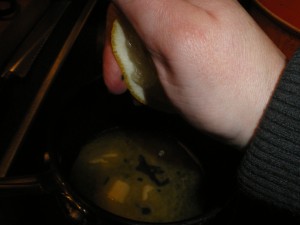 And if you look closely you will even see a drop of lemon juice perfectly captured as it falls into the pan.
I'd like to say that shot was planned that way, but really it was just sheer luck.
By now the beans were well drained so they were added to the buttery lemon mix and stirred round, with the chopped herbs thrown in to soften in the heat. Once they were good and hot, I gave them a bit of a bashing with a potato masher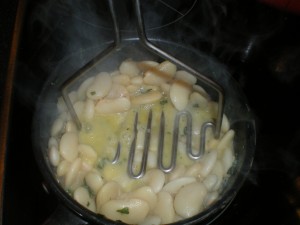 Not too much though because you don't want a smooth puree, you need something of the butter bean left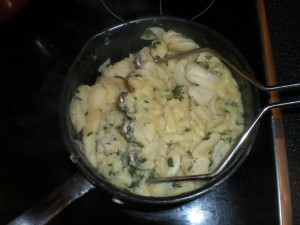 And there you have it… a good, roughly smashed dish of butter beans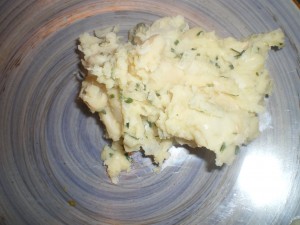 Just right to serve up with whatever you fancied.
On this particular night, what I fancied was some delicious stewed beef and mushroom that I had made a few weeks ago and frozen ready for a night like this….. and served it in a good old Yorkshire Pudding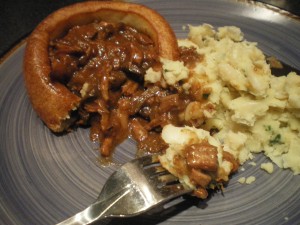 It was gorgeous. The butter beans made a lovely change from ordinary mashed potato and were quick and easy. The buttery, lemony, herby tang livened them up brilliantly… and for a side dish that took less than 10 minutes? Perfect.
Well, what else could you ask for on a cold and dark night?